Gringo Trails is anthropologist Pegi Vail's over 10-year effort to document the effects of travel on formerly "undiscovered" landscapes, namely in Thailand and Bolivia. Through compelling imagery and interviews with travelers, local residents, travel writers and guides, the documentary demonstrates how these locales have changed over time. In this two part Q&A series, I asked her a few questions about the film's findings, her thoughts on tourism's impact, and what we as travelers can do about it.
AA: One of the perspectives the documentary offers is the role of guidebooks is creating the "gringo trail." How can guidebooks be changed to avoid tourist pressure on the same location?
PV: The guidebooks make you feel random enough for most people to feel they are making the decisions themselves on where they are going. Yet [guidebooks] are the glue -- the structure that holds together the subculture. The fact that people started referring to guidebooks as "bibles" or Lonely Planet as "Holy Planet" needs no further explanation into the role they've played in the rise of independent (or maybe we should say dependent independent?) travel since the 1970s.
Perhaps the time has come that guidebooks highlight newer destinations in favor of one that's overrun to allow them some breathing space. The locations that have experienced years of tourism influx won't be in need of the tourist dollars the same way as newer destinations, particularly those that are more community-based initiatives. More importantly, why not include even more local voices, guides and writers from the host countries and communities as collaborators in how their locale is represented? I recall one funny take on the authority of guidebooks by a Malian guide named Grand Père based in Dogon country. He told one traveler "Don't go there, it's a sacred place". She wouldn't listen. She responded, "But it's in my guidebook; they say that I can visit".
AA: Since my first trip in 2006, there has been an exponential increase in travel blogs and mobile apps. What role can blogs or mobile travel apps play in stemming the problem your film discusses?
PV: The blogs are more malleable, fluid and instantaneous in that they can be changed at any moment to accommodate new thoughts, whereas guidebooks, once published are set. Updates take much longer to incorporate. With such rapid changes these days, that makes blogs a plus! But in general, some of the same issues may arise in the blogs that are present in the guidebooks because the writers tend to come from the same pool of people: economically, culturally or nationally, and are often foreign to the country they are writing about. While this has changed a lot in the past few years, increasing numbers of voices from a myriad of perspectives provide a richer, varied outlook and cultural lens on places.
The issue may be more about changing our habits overall and creating tools (like new apps!) and increasing travelers' ability to access and use them.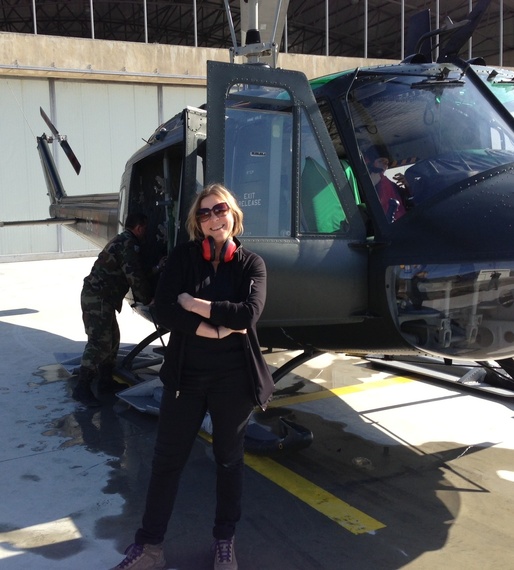 AA: I myself am guilty of searching for "authenticity" as your film calls it. I failed in Inner Mongolia (yurt tour) and in Dubai (desert safari, okay I knew that wasn't authentic) but I have been successful elsewhere, namely in Beijing, Addis Ababa, and Mombasa. Most of this success was with CouchSurfing, or with the ability to blend in. Can sites like CouchSurfing mitigate the problem your film speaks to?
PV: Haven't we all been guilty of searching for authenticity or the idea of what we think authenticity is? As American traveler writer Rolf Potts put it in the film, "it's often a National Geographic cover shot." At this age, those of us traveling have mostly grown up with similar imagery presented in Hollywood or popular novels, another point made in the film by one traveler we filmed who honestly admitted her ideas of West Africa came from totally unrelated films set elsewhere, such as Out of Africa or Lawrence of Arabia. Both of these films also feature foreign protagonists as the cultural interpreter or guide to places. Perhaps we are looking as much for 'sincerity' in the tourism encounter as "authenticity," which [New Zealand anthropologist] John Taylor wrote about some time ago.
I have yet to try CouchSurfing, although, in theory, I love it, and friends who have done so have expressed their love for it in practice, as well. I certainly think CouchSurfing facilitates easier "ins" to spending time with people in the cultures one visits versus staying in hostels or budget hotels where you will most likely be around other travelers. For example, during our filming and in my ethnographic research on backpackers in Bolivia, travelers told me they spent approximately 85 percent of their time with other travelers.
For more of Part 1, you can pick up exactly where you left off at adedana.com. There you'll find a discussion of Bhutan's sustainable, but perhaps exclusionary, model, advice for first-time travelers and the tough questions surrounding development and tourism.
Stay tuned for Part 2 on Monday, March 24 where Pegi and I continue to discuss her documentary, possible solutions, and her new initiative.
Gringo Trails will be screened at Washington, D.C.'s Landmark E Street Cinema on Wednesday, March 19 at 7 p.m..
Related