It was a bright and warm day when I went to visit an old friend whom I hadn't seen in many years. After calling up each other a few times over the past few weeks, we were finally able to fix a time and date for our meeting. And a place. Her home - the one she had bought ten years ago and which I hadn't visited until now as we had lost contact due to various reasons, only to resume the friendship we once shared, now that both of us were once again in the same city.
I was most excited at the thought of meeting her again and catching up with news of the intervening years. I also looked forward to meeting her family, her husband, a Brigadier who had taken voluntary retirement to join his father's business, and her two daughters who were home after an extended stay abroad. Both were pursuing a career in teaching in universities across the globe.
"You must come for lunch," Anuradha had said, "so that we get we get plenty of time together. I do remember how you are so particular about early nights, so dinner won't be practical." I had smiled when she had said that, marveling that she remembered that little detail which most others disregarded while organizing informal gatherings. "I am also inviting two other friends whom I'm sure you'd love to meet." "And let that be a surprise for you," she had added impishly.
Once I had selected a special sari for our little re-union, I wondered what to take for her. It was a difficult task as she liked things only natural, pure, organic, handmade, home-made or home-grown. I went into the modest vegetable patch at the back of our house and picked some vegetables. I would make her some vegetable pickle. Mom had taught me to make it when we were in college and Anu had often shared my packed lunches of this achaar with parathas. I knew she would relish it even now. She did mention that in army postings whenever they were allotted houses with gardens, she had spent considerable time and effort tending her kitchen garden and frequently cooked off it. Regrettably, the modest flat they had now purchased didn't allow this luxury.
As we were ready to leave, my daughter asked me, "Mom, what about flowers? I think you should also take a bouquet. Shall we pick up something nice from our regular florist or would you rather take flowers from the new one that's opened in the mall. There was a pamphlet in today's newspaper. They have imported some real exotic flowers. It's on the way in any case."
"Hmmm, yes, good idea. But do you know what your Anu Aunty's reaction will be - Very pretty, dear, but I would have treasured something from your own lovely garden."
"Oh," exclaimed my daughter, looking crestfallen. Her idea didn't turn out to be that good after all. As we walked towards the gate, I looked around at my garden, all dug up these days as I had embarked on a minor landscaping project. There was nothing to pluck from there. Nothing, except, maybe.......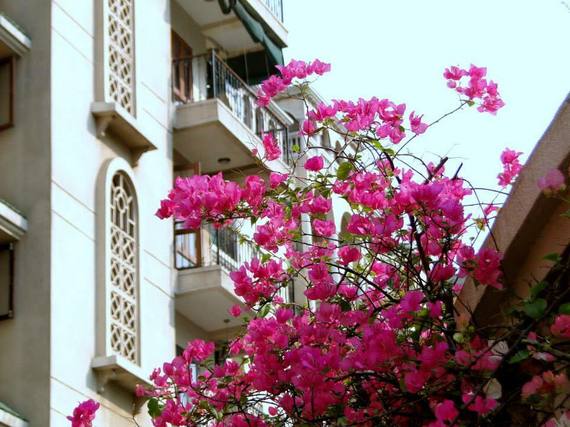 Photo Credit: Arti Sheopuri
"Heyy, wait a minute," I called out. The bougainvillea bush in full bloom was in sharp contrast to the upturned garden. "Just look at the boundary wall. It's a riot of color. I will take some for Anu." Even as my children laughed out loud, I ran indoors, got a pair of gardening scissors and a roll of aluminium foil. Snip, snip, snip..... Soon I had an armful of glorious bougainvillea, bursting with life and color - white, burnt-orange, pink tinged with mauve and another of a darker shade, almost ruby-red. I carefully wrapped aluminium foil along the length of the stems to avoid contact with the sharp thorns the plant grows to protect itself.
It was a lovely afternoon full of laughter, reminiscences and an elaborate meal. And while Anu absolutely adored my home-made pickle, she couldn't quite get over the flowers. "I so miss the bougainvillea that bordered many a house we lived in. It never occurred to me that it could grace the interiors too."
A slight twinge of uneasiness clouded the moment. Did I violate the plant in any way? How long would the flowers last? What was its off-the-branch life? After all, it wasn't conventionally used to adorn a vase in someone's living room, let alone take as a gift. But what the heck. The flower arrangement Anu had deftly made did look striking, and, to an extent, even 'exotic'. Maybe the new florist at the mall would now have competition. After all, who says bougainvillea should only hug walls? Don't we know better now?
Related
Popular in the Community