It's Mother's Day, and I'm reminded where I learned to love whimsy and adventure -- my mother. You can read here about the influence of her curiosity, and how it saved me. She also taught me about the vitality of joy in the moment. It started with dance.
In third grade, my mother sent me to ballet classes. Every Saturday afternoon she'd walk me down the street to the house at the dead end, and I'd spend an hour every weekend in the neighbor's basement at the bar and sashaying across the oak-wood floor in her homemade studio.
I loved the freedom and silence of dance, the meditation, and the athleticism. Dance was my relief, an escape from the angst building in me about my feeling not normal. The music, movement and physical focus eased a struggle I later learned related to sensory integration issues.
I'm blessed with the exposure my parents gave me. They took my brother and me to theater, ballet, modern dance, poetry readings, museums and everything kooky and experimental in the arts.
The magic of dance and mime touch my soul more than anything, then and now. From the moment I sat in a darkened theater with my parents when I was about eight, and Marcel Marceau tiptoed on stage in his white ballet shoes and mimed inside an invisible box, I dreamed of dancing. But I was a tomboy, and later, a tough girl in a gang of thugs. After high school, tutu and my love of dance just didn't fit with the ten-inch switchblade I tucked in my jeans back pocket and the .38 special I packed in my jacket. I convinced myself, tough girls don't wear tutus. Plus, the ballerinas on stage, and ballerina dolls on shelves in the toy store, only had blond hair, not thick dark wavy hair like mine.
If we're honest with ourselves, many of us at one time or another don't feel "good enough." My reasons back then: The tutu-clad image clashed with my born-in-prison identity, the secret I packed away for decades. I thought being prison-born meant I needed to walk in the world as a tough girl. A prison baby, especially a brown skin one, doesn't wear a tutu. Definitely not a pink tutu.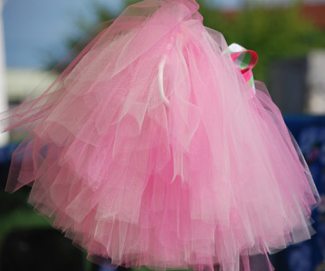 When my childhood dance training and dance recitals petered out, I pursued another creative interest: writing. But both my parents published poetry and taught English lit, and my dad devoted his career to 17th-century literature. No way would I let them catch me writing. Rebellion got the best of me and I quit writing. Drugs and running the streets called me more.
After high school I trained again as a dancer for a few years and even spent a summer in London to train. When I returned, I dislocated my right knee. The pain and year-long rehab, and return to drugs, pull me out of the studio again.
Fast forward to last month. I posted a status update on Facebook, something like, "Working on a memoir chapter about my childhood clash of identities, the tutu and the tough girl. Now all I need is a tutu." Out of nowhere, a dear Facebook friend sends me a tutu. From the moment I wrap it around my waist, I'm in love with it.
The tutu takes on a life of its own. I wear it in unexpected places and begin a tutu photo journal -- tutu in the park on a rainy day, or tutu picking up my kid from school.
Now I write tutu quotes, a perfect metaphor about the ride of life, both frilly and fierce.

Another friend provided me with just the right word for my tutu passion:
Cacoethes (kak-oh-EE-theez) Noun. An irresistible urge: mania.
Not to confuse with cacodyl, a poisonous, oily, flammable liquid which contains arsenic and smells like garlic. The last thing I want on my tutu is flammable oil and garlic scent.
It's true, right now I'm consumed by all things tutu. I get the feeling this goes beyond the chapter I'm in the midst of writing about the power of the tutu and its clash with my childhood identity.
When I researched the roots of the word 'tutu, no wonder I'm drawn to it. The tutu itself is rooted in a clash of opposites. Contrary to its image as an elite garment for the stage or high fashion only, commoners in France first used the word 'tutu.'
'Tutu' is a modification of cucu, French baby-talk for cul-cul, meaning "bottom" or "backside."
Another story offers a similar source for the word. While the wealthy sat in the upper levels in ballet theaters, common folk sat in the lower levels and looked up at the dancer, at her rear end. 'Tutu' refers to the area seen under the ballerina's skirts. An elegant and romantic garment, it's forever tied to its roots to common people.
Tutu for me symbolizes the tension of opposites, exactly my journey and the story of most people. While my prison story is extreme, who doesn't face the tug of conflict and opposition at one time or another?
One answer, find your inner tutu, the place where beauty, even if it's a little kooky, brings relief or joy in the moment. Why not a tutu belt like mine over jeans with boots? Even snow boots.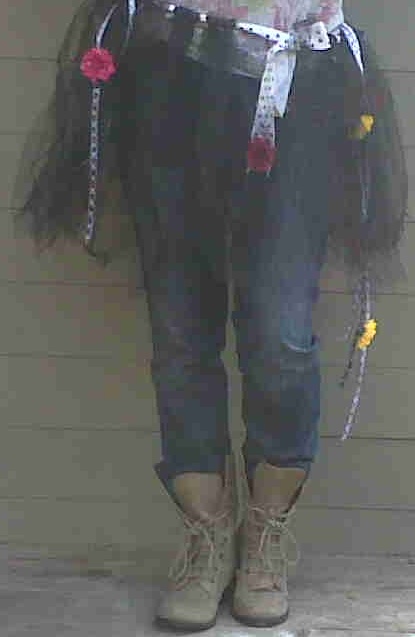 Who says a tutu is just for a fashion evening out? Once in a while I wear mine at my desk, writing, or I make dinner for the kids in tutu, or on the phone with an editor. Why not wear a tutu as you pay your electric bill or when you wait for hours at the mercy of the phone company's customer service?

Though I'm no longer tough, yes, tough girls do wear tutus. I thank my mother for this wisdom and freedom, a woman who allowed the tension of opposites to live in me. For the spirit of this tug of opposites and how it stirs in me, I thank my prison mom. Each mother, in a different way, taught me to embrace life with curiosity and all its play and adventure.
They're both gone now, and sometimes I ache for their presence -- although I'm not sure how they'd like my tutu mania. But that's okay because my two young daughters get to reap the benefits of their mama in a tutu.
Gratitude all around on this Mother's Day.
I hope you seek play and purpose in your life. Where do you find whimsy? How do you adventure in life? I'd love to hear. Please post your comments below.
Not just a day for the mothers we know or knew, today's one of remembrance for those who seek their mother, the women who've lost a child, the women who mother though not a mum, and mothers in every form around the world.
If you're interested in learning more about The Tutu Project, and a custom Prison Baby Tutu, please email deborah@deborahstein.com.
* * * * *
Make sure to click "Fan" at the top of this page so you won't miss future posts.
Related