I have a soft spot for vintage photographs of people I don't know. In fact, I refer to them as my 'instant ancestors.' While I may not have their names or any biographical information about them, I buy or 'adopt' ones that strike an emotional chord.
Sometimes it's a facial expression, or a feeling of whimsy, or even sadness--and sometimes it's just a matter of their cool clothing or good looks. Whatever it is that draws me to them, these vintage photographs are an ever-growing collection of mine that's both endlessly enjoyable and pretty inexpensive.
Today we take pictures by the second with our smart phones, but flash back even a few decades ago, and photos were really about commemorating a special moment in time. And that's one of the many things about old photos that appeal to me.
Part History, Part Mystery
As an antiques dealer and interior designer, I've long been fascinated by the journey of objects and often wonder about the lives they've led prior to winding up in my hands. The same goes for vintage photographs. They are part history and part mystery. What's more, they are often sweet, sentimental and a reminder of simpler times.
When I was an undergraduate at NYU, I recall dumpster-diving behind one of those great brownstones along Washington Square North (before the university bought them all up). In this particular dumpster were all of someone's personal effects, including photo albums and wonderful framed pictures.
Along with the Christmas ornaments, mixing bowls and other treasures I rescued, I came to love these photos. They showed me what life was like living at Washington Square Park from the 1920s through the 1990s. One particular photo of a striking young woman was beautifully framed, and I hung it on the wall of my dorm room.
Now mind you, my dorm room already had Persian carpets, vintage floor lamps, a large gilt mirror and many other flea market finds that provided a nice backdrop for my newly adopted ancestor. And so my vintage photo collection began. The next was a picture of a chubby toddler wearing WWII-inspired aviator's goggles and a bomber jacket. I found that one on Saint Mark's Place in the East Village.
Then as I'd go to flea markets I'd start to look for other vintage photos to add to my collection. Since they were usually only a few dollars, they were within my budget. Back in those days I wouldn't allow myself to spend more than $20 at a flea market.
Flash to my first 'grown up' apartment out of college, and I had an entire wall of instant ancestors hung gallery-style in my dining room. I found they made quiet and thought-provoking dinner companions. Now I don't relegate them to one area. In fact, they're in just about every room of my house.
Old Sweethearts and Special Occasions
People often wonder why photographs that are so special wind up at a flea market, or in some cases, just thrown away. The sad reality is that bloodlines end. Often when the last relative in a family dies, so does that family's history. Also, some photos were given to friends or sweethearts who had them in their homes until they died. Then they wind up at estate sales and auctions, where dealers then buy them and sell them at shops and flea markets.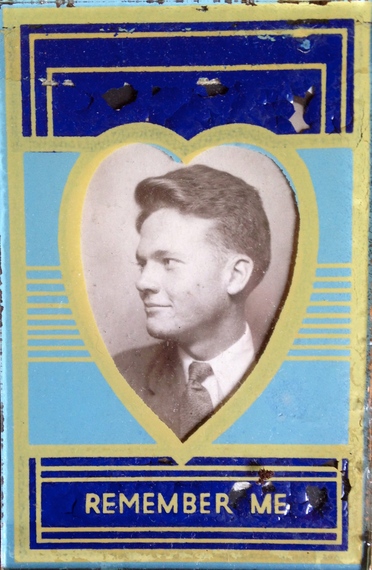 A "Sweetheart" Photo with a Mirror on the Opposite Side

Since I'm often a few degrees removed from the source of the photos I buy, I'm in the dark when it comes to their names (although sometimes they're written on the back) and other relevant pieces of information. So I'm left with photos without identification. What I can say for certain is that they all meant something to someone at some time in history. And that means something to me.
I'm not ashamed to be sentimental, especially when it comes to times before I was born. It's a quality common among those who love antiques, so I'm not alone. I especially love WWII-era photos that often depict a loved one who was serving overseas or at home on leave. I also enjoy photos from the 1920s and 1930s because of how they depict lifestyle, leisure and fun. You'll not find one photo of someone staring at his or her iPhone!
Some of my photo finds are framed, some are a part of albums, and others are just one lone snapshot that had significance. My favorite discovery in the past few years is something called a "Humanette" or "Statuette" --- these were photos that were die-cut and affixed to a wooden stand. From what I can gather, they were most popular during the 1930s and 1940s. I have several in my collection, and I love how special and offbeat they feel.
Inexpensive Artwork and Other Benefits
As I learned back in college, vintage photos make very inexpensive décor. They add personality (literally) and a touch of nostalgia to a room. Framed athletic teams look great in guest bedrooms and offices. Or perhaps consider a framed photo of a gal wearing a wrist corsage in the powder room? However you do it, adding an instant ancestor or two can be both unexpected and charming.
Why not just adopt one and see how it goes? I can tell you this much: Unlike some actual relatives you may have, they don't ask to borrow money, lay guilt trips or know how to push your buttons. They just sit quietly by looking cool.
All of this is certainly not to say I don't have photos of my actual family. In fact, I have many of them. The instant ancestors are just fun imaginary limbs on my family tree.
An old friend once said to me, "When you die, someone's going to have a tough time figuring out which photos are your relatives, and which are just ones you found at a flea market."
That's just fine with me. If a picture's worth a thousand words, then why leave at least a few of those words to the imagination?
WATCH THE VIDEO: Tag along as I hunt for "Instant Ancestors":