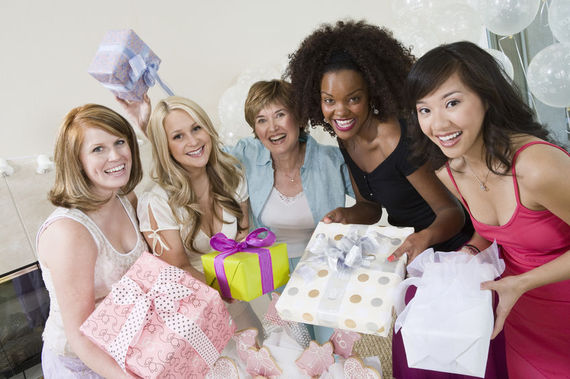 Recently I received an invitation to a bridal shower that left me a bit perplexed. I don't know the bride well and the shower was being held four states away. Although I'm sure the shower planner had the best of intentions, it occurred to me that she was actually not being considerate. Let me explain why.
The custom and purpose of a bridal shower is to "shower" the bride with gifts to help her start her new married life. Since the entire event is centered on gifts, when you attend a wedding/bridal shower, you always bring a gift and the gifts are opened as part of the festivities. As such, bridal showers are designed to be more intimate affairs where the bride can spend quality time with her closest friends and family. Those that should be invited to a bridal shower are:
the bride's attendants,
other close personal friends of the bride, and
local family members of the bride and groom (mothers, grandmothers, sisters, aunts and cousins).
Also, you should never invite someone to a bridal shower that will not be invited to the wedding. In almost all cases, this is quite rude.
Those who live far away do not expect to be invited to a bridal shower. It leaves them questioning, "do I need to send a gift?" The answer is simply no; you are not expected to send a gift if you cannot attend a shower. Someone who is very close to the bride, and wants to be there but can't, may choose to send a gift so her presence is felt, but there is no obligation to do so.
The purpose of etiquette is to be considerate and make those around you feel comfortable. Of-course I gave the hostess of this bridal shower the benefit of the doubt; that she was only trying to be inclusive. I simply RSVP'd that I would not be able to attend. If you are hosting a bridal shower, please know that you should not invite every female or couple on the wedding guest list. Make it a fun event where the bride-to-be can really enjoy those closest to her. You may only confuse or put pressure on out-of-town wedding guests with a shower invitation.
I also received this email from a reader with a similar issue.
Subject line: Bridal Shower - Do we send a gift if we do not wish to attend?

My husband and I will be attending a wedding this July for the daughter of one of his friends/former co-workers. We were pleased, if not a bit surprised, to learn that we made the cut for that wedding. Now we have just received an invitation to a "Couples' Bridal Shower" for this same bride- and groom-to-be. We barely know the daughter/bride... and do not wish to attend the shower, as we do not feel that we belong in, what we have traditionally thought to be, the intimate group of a bridal shower.

If we do not attend the bridal shower, are we obligated to send a gift? We will definitely be attending the wedding and will be giving a gift at that time.

...from Cleveland, Ohio
Just as I was, this reader is a bit perplexed. Here was my answer:
No, you do not need to send a gift if you do not attend a bridal or "Couples" shower. And you are correct, traditionally a bridal shower is reserved for those closest to the bride. With the advent of "Couple's showers" some of the traditions are being modified. Personally, I am not a fan of the "couple's shower" because it can take the intimacy out of the gathering. The hosts may feel they need to include everyone on the guest list because it's not a traditional shower. They most likely have good intentions and don't want to leave anyone out.

My recommendation is that you simply RSVP that you are not able to attend the shower. Attend the wedding with no regrets and send a nice gift two to three weeks before the wedding but after the shower so there is no confusion as to the purpose of the gift.
Do you have questions about gift-giving or wedding etiquette? Please email AskCheryl@RegistryFinder.com.
RegistryFinder.com is an online search engine for gift givers, helping them quickly and easily find someone's gift registry for a wedding, baby shower and more.
Related