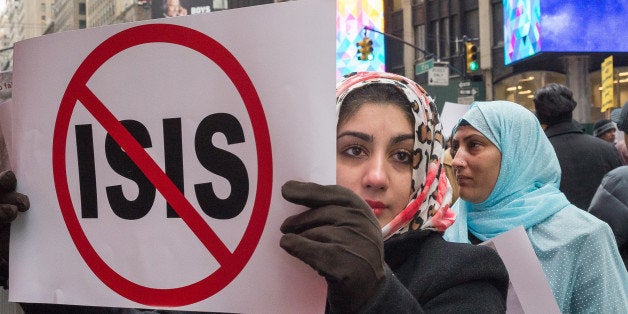 The message from the recent terrorist attacks in Paris and Belgium is clear: Muslims must urgently promote a global grassroots movement to take Islam back from extremists who use a twisted interpretation of jihad to justify their violent ideology. And American Muslims should also demand an honest discussion about what causes terrorism in the first place.
The nature of our challenge was laid bare in a recent New York Times profile of Khalid Zerkani, a mentor to those behind the attacks, who spread "extremist ideas among naïve, fragile and agitated youth." The Times described Zerkani as "the Santa Claus of jihad" who taught "Gangster Islam," dispensing gifts and cash to disaffected Muslim youth. Now, people who care about Islam must fight back.
Everyone from governments to NGOs, interfaith groups and concerned Muslims must work together to build and fund a movement with two purposes -- describe and promote the true nature of Islam, and discredit the ideology of hate and violence preached by those who pervert the words of Islam to promote violence, killing and hatred.
Professor M. Steven Fish of University of California Berkley, author of the book Are Muslims Distinctive?, says Muslims should start by taking to the streets after terrorist attacks perpetrated by Muslim extremists and say, "Not in our name!" Fish says that by not taking a public stand against terrorism, Muslims have been their own worst enemy.
"The perception among the general public is that when Muslim terrorists do bad things that ordinary Muslims are not vocal enough condemning it," Fish says. "Muslims don't make enough noise against their own bad guys."
Fish says perhaps Muslims don't protest because they fear Islamophobia but, he believes their inaction ironically stokes such distrust and suspicion.
Some grassroots organizations are fighting the totalitarian message of extremists like Zerkani. One such group, FATE -- Families Against Terrorism and Extremism -- wants to stop the radicalization of youth and to fight against the ideology of ISIS, which it calls Daesh (an Arabic acronym for ISIS). The group is urging people to take to Twitter to declare #ENOUGH.
FATE's inaugural meeting in Paris in April had a strong message for ISIS - "It's time to stand up to Daesh and say we have had enough exploiting our children, murdering our brothers and sisters, and tearing apart our families. If you want to take action to make a world free of violent extremism, join the campaign!"
Professor of Political Science at the University of Chicago Robert Pape studied the causes of suicide terrorism in his book, Dying to Win, and compiled a database of suicide attacks globally from the early 1980s to 2003. He found most attacks were secular and motivated by feelings of a lack of self-determination within the local community.
Pape believes that Muslims -- from the Council on American-Islamic Relations to community leaders -- do speak out after terrorist attacks and he applauds efforts by groups such as FATE. However, he says their voices are drowned out after a terrorist attack by more pressing aspects of the news narrative -- the stories of the victims, statements and reactions from the terrorists themselves and time devoted to provocative big-name commentators. In order for things to change, he says, Muslims should push for an honest discussion about the causes of terrorism.
Fraud, Mismanagement and ISIS
"Many terror attacks are in response to Western military intervention, which has done more to provoke attacks than prevent them," says Pape. "The war in Iraq is a case in point. It created the conditions for the rise of Al Qaeda in Iraq and ISIS, which is a direct descendant."
Pape says even the U.S. inspector general for Iraqi reconstruction admitted that America's $60 billion rebuilding effort there achieved very little amid rampant fraud and mismanagement. The end result was a country where great portions of the economy are badly broken and its people unemployed and hopeless, making it a prime stomping ground for terrorist recruiters. "People blame America, and this is what we need to talk about," says Pape.
Pape agrees that regular Muslims can help improve Islam's image by engaging in interfaith efforts, politics, schools, the media, and in the workplace, but he says all that will be for nothing unless there is also a genuine debate about American foreign policy and its consequences.
"What we need are grassroots movements combined with an honest dialogue of the causes of terrorism, and this should be spearheaded by the American Muslim community," says Pape.
It's time to defend Islam by starting a multi-faceted grassroots movement to educate, build respect, strengthen interfaith connections and repudiate the rhetoric of ideologues who warp the Muslim faith and culture. Only then can we act as a community to push for a discussion about the causes of terrorism and how we can all act differently to prevent it.
Ehab Al Shihabi is an advisor to the Director General at Al Jazeera Media Network and an Edward R. Murrow Center Senior Fellow at The Fletcher School of Law and Diplomacy. He writes about the media, the news industry and being Muslim in America. His opinions here are his and only his.
Calling all HuffPost superfans!
Sign up for membership to become a founding member and help shape HuffPost's next chapter