 National Journalists
@Maria_Hinojosa New York-based Maria Hinojosa founded Latino USA back in 1992 -- well before media companies realized the Hispanic market could be profitable. She's the force behind "Lost In Detention," a PBS investigative documentary about the lack of legal protections afforded to immigrants caught in the civil detention system.
@Liz_Llorente Award-winning journalist Elizabeth Llorente covered immigration for years as an investigative reporter with the Bergen Record and continues to cover the topic in real time at Fox News Latino.
@JuliaPrestonNYT The New York Times' immigration correspodent doesn't tweet often, but when she does, she often posts tidbits of reporting you won't easily find elsewhere.
@BethReinhard Beth Reinhard serves as political correspondent for the National Journal, where she often covers immigration from a Washington perspective.
@RubenNavarrette Syndicated columnist Ruben Navarrette is the kind of writer who likes to enflame passions.
@TedHesson The immigration editor for Univision News.
@EliseFoley The Huffington Post's own D.C.-based immigration correspondent.
Border Journalists
@FernandaNYT Fernanda Santos is the New York Times' trilingual Phoenix bureau chief, reporting from the state that pioneered using local resources to crackdown on illegal immigration.
@BorderReporter Michel Marizco often tweets what he is reporting for Fronteras Desk.
@DanNowicki The Arizona Republic's national political reporter will help you keep up to date on the state's politics.
@PilarMarrero Based in California, Pilar Marrero is the author of Killing the American Dream and a correspondent for the Spanish-language daily La Opinión.
@ErinSiegal Reporting along the Tijuana/San Diego border area, Erin Siegal is the author of Finding Fernanda, a contributor to Fronteras Desk and one-time blogger for the Huffington Post.
News Outlets
@FronterasDesk Radio and web reporting from the U.S.-Mexico border.
@LatinoUSA Weekly radio show airing on NPR and hosted by Maria Hinojosa.
@UnivisionNews The English-language Twitter from the giant of Latin media.
@VOXXInews Headquartered in Miami, VOXXI provides original reporting on immigration and Latino politics.
@FoxNewsLatino The Latino news website from the conservative television network offers a fair and balanced take on immigration.
@NBCLatino Based in New York and drawing from affiliates around the country, Sandra Lilley (@SandraLilley) leads immigration coverage for NBC Latino.
@LatinoVoices The Huffington Post section dedicated to news affecting the Latino community, with a special concern for the contentious immigration debate.
NGOs and Think Tanks
@ANoorani Executive Director of the National Immigration Forum (@ImmPolitic), Noorani offers frequent news updates with a pro-immigrant perspective.
@ImmPolicyCenter A think thank with a neutral tone that strives to provide a "solid, fact-based foundation for the immigration debate."
@PewHispanic One the most reliable provides of demographic information about the Latino population that makes up some 81 percent of the 11.2 million undocumented immigrants in the United States.
@AmericasVoice A high-profile, pro-immigrant advocacy group based in Washington.
Activists
@DRMAction A group of young activists pressuring the passage of the federal DREAM Act, state-level DREAM Acts, and other campaigns.
@ErikaAndiola Long an immigrant rights advocate, Erika Andiola was catapulted to the national spotlight when her mother was detained by Immigration and Customs Enforcement, leading to allegations that her family had been targeted because of her activism. She is the political direct of the DRM Action Coalition.
@CharlesPGarcia A contributor to CNN, The Huffington Post and other publications, Charles Garcia writes thoughtful opinion pieces aimed at evoking sympathy for the problems faced by undocumented immigrants.
@JoseIsWriting Pultizer Prize-winning journalist turned spokesman for the immigrant rights movement, Jose Antonio Vargas is devoted to telling the stories that humanize rather than demonize immigrants. You can find out more about his work at @DefineAmerican.
@DreamAct Run by youth activists and protesters, DREAM Activist is the id of the immigrant rights movement. They've infiltrated detention centers and staged protests and sit-ins across the country. If you're interested in what they do, you may also want to follow Juan Escalante at @JuanSaaa.
@LatinoRebels An opinionated news blog, Latino Rebels closely follows developments in the activist community.
@GabyPacheco1 Gaby Pacheco began organizing as a high school student, and walked 1,500 miles from Miami to Washington to press President Obama to stop deporting young people who would qualify for the DREAM Act.
Hardliners
@MarkSKrikorian The Executive Director of the conservative Center for Immigration Studies (@wwwCISorg), Krikorian is the author of The New Case Against Immigration, Both Legal and Illegal.
@RoyBeck_NUSA Roy Beck directs Numbers USA (@NumbersUSA), a group pushing stricter border enforcement and less legal immigration.
Politicians
@LuisGutierrez Boricua Congressman Luis Gutierrez of Illinois has pushed hard for immigration reform since well before last year's electoral campaign. He was arrested for protesting deportations in 2011.
@MarcoRubio Sen. Marco Rubio of Southern Florida has become the leading Latino conservative advocating immigration reform.
Who else should we be following? Let us know in the comments.
UPDATED: This post was updated at 4:45 p.m. on Thursday, Jan. 31, 2013 to add new entries.
Before You Go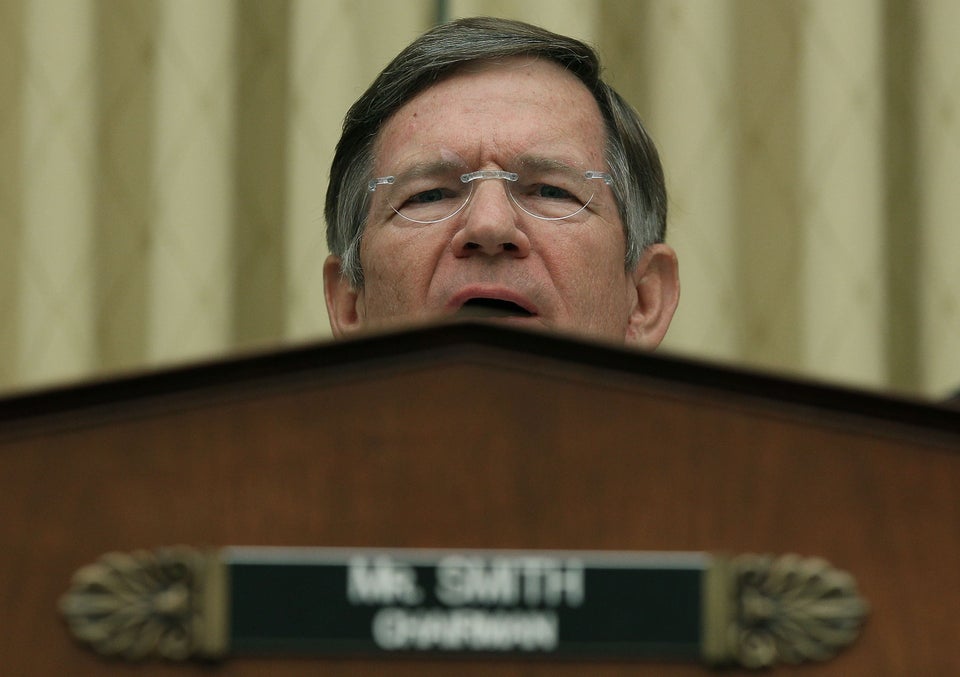 6 Pols Against A Pathway To Citizenship
Popular in the Community