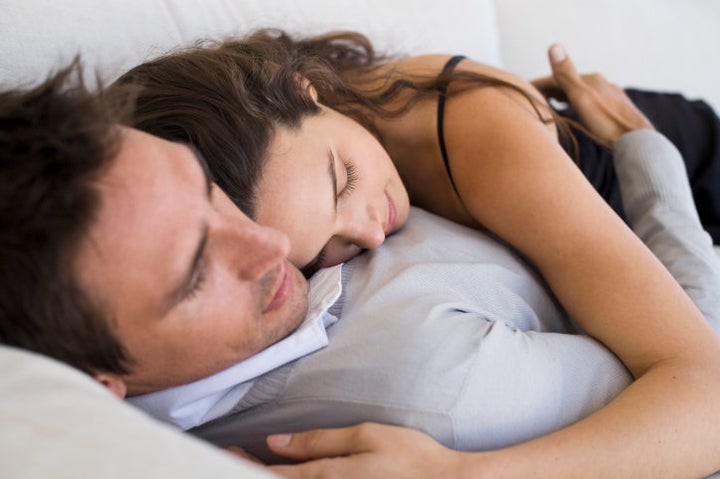 Recently my husband and I returned from a "Sacred Loving" workshop. Yeah, I know, it sounds very new age. And perhaps it is, but my husband is not a very new age kind of guy. He has been trying to catch up with me on my journey through the world of sacred sexuality. It is a noble effort that has started and stopped throughout the last few years. It is like a ritual with us, I ask him to go on some kind of Tantra or couples sexuality workshop with me, and he changes the subject. This time, he said "yes". And so off we went from Riverdale in the Bronx to Southern California to celebrate our 29th wedding anniversary, and to try to get re-connected -- again!
We did what ones does at these types of events. We bonded with six other very ordinary looking couples from various parts of the United States, we sat supported by pillows and back jacks in a circle, danced and emoted for hours on end. Tissues are passed around to dry the tears more often then they are not, and we listened to our teachers talk to us about love, marriage and sexuality. No one would believe how much crying goes on at a sex workshop! And we kept our clothes on! Not what you thought, huh? It almost never is.
For me, a graduate of countless workshops, it was all feeling very "been there, done that" until we broke up into a man's circle and a woman's circle. The men went outside to talk among themselves, and the women did the same. You see, the hands-on sexuality stuff was done back at our hotel rooms, and we were getting prepped to do our "intimacy" homework, according to gender and our role in the evenings course work.
I have been in lots of women circles, but in this one I got to hear all about how my husband was going to show up that very night as my sexual healer. Really? Did they know who they were talking about? This was Gavin... the power tools man. I had visions of him coming to bed with a hammer ready to fix me up! But the female leader of the group told us ladies not to worry - that our men were receiving coaching on "how to hold space" for us, the Goddesses. Tonight was just for us. In fact, it was all about us! Okay, I could do this, and the rest of the Goddesses -- all between the ages of 40-something and 70-something -- were ready to be served and honored! Actually, we were past ready.
The men came back after about an hour. They had little shopping bags that my husband discreetly put in his nap sack. We left the group, and were off to our hotel -- dinner and homework time! I have to admit to feeling a bit nervous, which was kind of fun since my husband has not made me sexually nervous in a little over a decade. It's a small apartment, there are few surprises left.
After dinner, I sat in the hotel room and turned on the television as my husband disappeared into the bedroom portion of our Marriott Suite. I heard water running -- the man was running me a bath! In 29 years of marriage, I don't think he had ever run me a bath. He came in to get me. He had changed into dark blue silk pajamas. I had never seen them before. Do you think they were put in the goody bag too?
I climbed into the tub and happily soaked while my husband was getting ready the "temple" for the Goddess. Okay, I could dig this. I got out of the tub, and our bedroom was a glow with candles.The bed covers pulled back, he was waiting for me, not only ready to serve, but to take charge. I was loving this. Who was this man?
He took me in his arms, kissed me, and laid me down onto the bed. Where he proceeded to ask me "just to receive" his touch. I was not to touch back. This was not "lover space," this was his place of becoming my sexual healer. It was amazing. My darling husband touched me and loved me with no agenda other than to please me. And he touched me in all kinds of new ways. There was even a moment when he said, "Open your eyes. Let me see you." I think I climaxed right there.
Oh my God, do I love the men's circle. And so did my husband. Resting in the after glow of my husbands attentions, he spoke about how he had never had the coaching of other men around loving women. This was not locker room talk. These were grown, thoughtful men coaching each other on how to hold a loving sexual container for their partner. This is something that these men had never had offered to them before. Men training men, men coaching men about love and women is simply not a part of our culture. And yet, it was the biggest gift of our retreat. My husband got a chance to be with other men in a sacred way, to learn about the art of loving. I wish that there were more opportunities like that in our culture.
Women don't want to train men. They want men to show up, ready to take charge and love them. That's sexy. And after 29 years, in a little hotel room in Southern California, I got to receive my husband in a brand new way.
Pamela Madsen's new book, Shameless: How I Ditched The Diet, Got Naked, Found True Pleasure...And Somehow Got Hme In Time To Cook Dinner can be ordered here.