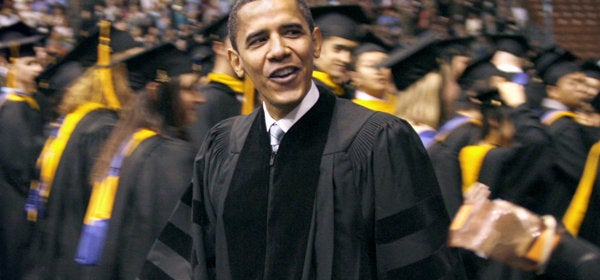 William P. Carey founded and chaired the real estate investment-banking firm, W.O. Carey & Co. LLC, in New York City. His company owns more than 650 commercial and industrial facilities throughout the world. But perhaps his greatest accomplishment is being a member of a club so exclusive that even the president of the United States remains on the outside looking in.
Carey holds an honorary degree from Arizona State University. He is not an alumnus of the institution. But he has his ties to it. His grandfather played a role in the school's founding and Carey himself has donated prodigiously, including a gift of $50 million for the ASU business college, named in his honor: "The W.P Carey School of Business."
Money may not have played a role in getting Carey his degree. The degree came in 1998 while the donation came in 2003. Regardless, Arizona State University found the New York investment banker's accomplishments of enough merit to bestow upon him the academic title.
The same, it seems, is not true of Barack Obama. Despite giving the commencement address at the university's Tempe campus on May 13, the president will not receive an honorary degree. The reason: "His body of work is yet to come," said Sharon Keeler, a spokeswoman for the university. "That's why we're not recognizing him with a degree at the beginning of his presidency."
ASU's decision, announced on Thursday, has already floored members of the academic, political and media communities. At once bizarre and insulting, critics are curious as to what, exactly, a sufficient body of work resembles under the university's standards. After all, in addition to being the first African-American elected to the office of the president in our nation's history, Obama has served in the United States Senate and authored two best selling books.
Are you an ASU student or alumnus? HuffPost wants to hear from you. What are people saying on campus? As an alumnus, will this effect your decision to donate to your alma mater? Write us at submissions+ASU@huffingtonpost.com.
In light of it all, it's worth looking back at who Arizona State University has offered honorary degrees. Here is a list. And here are a notable few:
* Wu Qidi: the vice minister of education of the People's Republic of China was given an honorary degree at ASU in May 2006

* Cesar Chavez: The Mexican-American labor and civil rights activist was bestowed an honorary degree in 1992.

* Lawrence Douglas Wilder: The nation's first African-American governor in Virginia received an honorary degree and delivered the commencement address at ASU in 2004.

* Rita Colwell: A microbiologist who was the 11th director of the National Science Foundation, received an honorary degree in 2004.

* John Christian: A long-serving lawyer and community activist, received an honorary degree of Doctor of Humane Letters in 2002.

* Jane Dee Hull: Arizona's first elected female governor received an honorary degree.

* Alfredo Gutierrez: A long time Arizona legislator, was given an honorary doctorate in 2000.

* Kim Campbell: Canada's 19th prime minister, received an honorary degree in 2005.

* Lord John Browne of Madingley: The President of the Royal Academy of Engineering and Chief Executive of BP, received an honorary degree in 2005.

* Peterson Zah: The one time president of the Navajo Nation was honored in 2005.

* Rex G. Maughan: The founder, president, and CEO of Forever Living Products and Terry Labs, was honored in 2002.

Popular in the Community