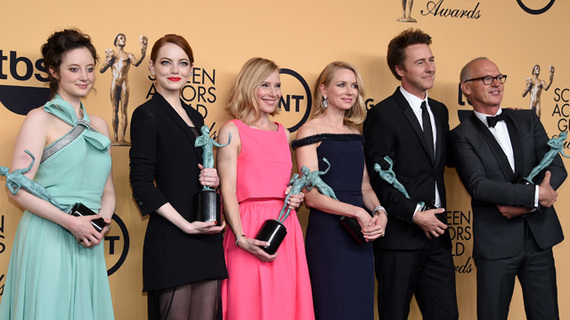 The Screen Actors Guild Awards, or SAG Awards, are being held this weekend. Many nominees at the SAG Awards haven't been nominated for the previous or upcoming awards shows, which raises the question: Who votes for SAG nominees?
SAG nominations are voted on by two committees, one for tv and another for film. SAG members are actors in a union - this union helps actors get acting jobs. These actors must pay to join, pay dues each year and then once you pay to join you don't get guaranteed a voting spot for the SAG Awards. To vote, there is a random drawing to select 2200 members for each committee who will vote on the performances. Then those chosen few only get the chance to vote ever eight years. Sounds like a sorority that might not be worth joining.
Now that we know how voting works and how rare it is for a person to vote, much less vote twice; see our predictions for who will take home SAG Awards this Saturday night.
Calling all HuffPost superfans!
Sign up for membership to become a founding member and help shape HuffPost's next chapter