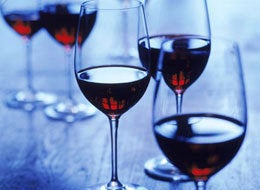 Some nice blends ... and a great Pinot
Ok, so I know I said when I introduced this column that I wouldn't take up space talking about climate and terroir and other elements that go into how the grapes grow, but sometimes it's unavoidable. I stumbled upon a great bottle from California that really can't be discussed without taking those things into account. And from this, I started thinking about climate in other parts of the world and came across another great bottle, this time from Portugal, whose wines are still largely undiscovered in America. You can get great deals from the Iberian Peninsula -- and even if you don't speak Portuguese, don't worry -- the wine still tastes great. That said, I'll be exploring more wine from this region in the future. And for you purists, I also have a delicious bottle of Pinot Noir, just in case the blends are too much for you to handle. They shouldn't be -- just trust.
Pietra Santa's Sacred Stone Masters Red Blend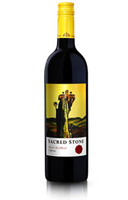 I have to tell you that I fell in love with this wine straight away. I was initially intrigued by the blend of what seemed like dozens of grapes, but was really just eight -- which in itself is pretty insane. I mean, how can you taste anything when you have all those different flavors competing against each other? The beauty in that: they don't; they mesh expertly. It really is an impressive batch of grapes: Merlot (42%), Zinfandel (17%), Sangiovese (14%), Dolcetto (13%), Pinot Noir (5%), Syrah (2.5%), Cabernet Sauvignon (3%) and Colorino (3.5%), a slightly obscure blending grape from Tuscany. With all the grapes in this wine, it's no surprise at how much is going on. And the winery's placement about 25 miles inland from Monterey Bay and atop the San Andreas fault line gives its vines a unique perspective. The land has shifted so much over time that it has yielded soil robust with granite, limestone and other minerals. The cool air from the Pacific that hits the hot air from the Central Valley offers great growing conditions with interesting results. The nose has cherry, cocoa, vanilla, raspberry and even a hint of hay (that fresh outdoorsy, barnyard smell). On the tongue, it was robust, layered and lively with spice, chocolate and berries. The tannins were soft and the finish was smooth. It was juicy with a slightly dry finish, making this a great wine to pair with a variety of food -- or even a crisp summer night sitting outside on the back deck. Available at Wine Discount Center, $8.59.
Dow Vale do Bomfim 2006


Sailing across the pond, we land at Portugal -- still a gem when it comes to great wines at affordable prices. Go to any wine shop and ask them to recommend a Portuguese red and you'll be hard-pressed to be disappointed. But this bottle, which is great with lamb or other red meats -- or even rich chocolate for dessert -- has a deep ruby color, reflective of what was going on in the glass. It's a blend of four Portuguese varietals -- Touriga Franca (40%), Tinta Roriz (25%), Tinta Barroca (20%) and Touriga Nacional (15%) -- so it's really well balanced but lush. Its slightly dry and earthy taste yields some really nice dark fruit like plum and raisin but balanced with pepper and cherries. And despite sporadic weather during the 2006 growing season, including heavy rains, hail storms in June and a particularly hot summer, the crop of grapes that arrived at the winery for sourcing were ripe and juicy, yielding this really nice vintage. The 2005 vintage is available at Fine Wine Brokers, $13.95. Look for the 2006 soon.
Buena Vista Carneros Pinot Noir 2006


Delish! That's what I wrote at the top of my notes when I tasted this wine. It got me so excited I even put a star with a circle around it at the top. Buena Vista, which has been around since 1857, is a standout in Sonoma and Napa -- because parts of its vineyards straddle both wine regions in Carneros. It consistently produces great wine -- but is particularly known for Pinot Noir and Chardonnay. This is due to its placement just north of San Pablo Bay but in close proximity to the wind and fog. These vineyards lie on a rolling hillside looking straight at the bay with nothing to block the elements, helping to cool the sometimes-oppressive heat north of the bay. It's this combination of land and climate that allows the grapes to grow longer on the vines, giving them more robust and full flavor. And boy does this wine have some great flavor. You can smell it upfront: the dry earth, mushrooms and dried cherries all transfer to a bright, fruit-filled glass of blackberry and cherry with a hint of chocolate on the tongue. This wine is super versatile and pairs well with a lot of food. We went out on a limb and had it with Cantonese from Wing Hoe and it surprisingly worked with the moo shu chicken, beef and broccoli and some of the best fat egg rolls on the North Side. Normally, you might have it with chicken, salmon or pork, but, hey, if it works, it works. Available at Sam's Wines in Highland Park (847-433-9463), $18.99, as well as being on the wine lists at Hugo's Frog Bar and La Scarola restaurants.
REAL LIFE. REAL NEWS. REAL VOICES.
Help us tell more of the stories that matter from voices that too often remain unheard.