On a typical weekend in SoHo, tourists march through the streets, cameras swinging from their shoulders, shopping bags in each hand -- Chanel, Prada, Anthropologie and Uniqlo. Weaving up and down West Broadway from Houston to Canal, and back and forth across Prince, Spring, Broome, and Grand, they fan out for the great shop, flitting in and out of stores that mostly open at noon, only occasionally looking upwards at the cast iron facades of the landmark buildings.
This is the new reality of SoHo, that grand shopping mall that was until recently the arts center of New York City, a neighborhood created by George Maciunas, an artist visionary. A new book, Illegal Living: 80 Wooster Street and the Evolution of SoHo, which I co-authored with the architect Shael Shapiro, tells the story of the neighborhood.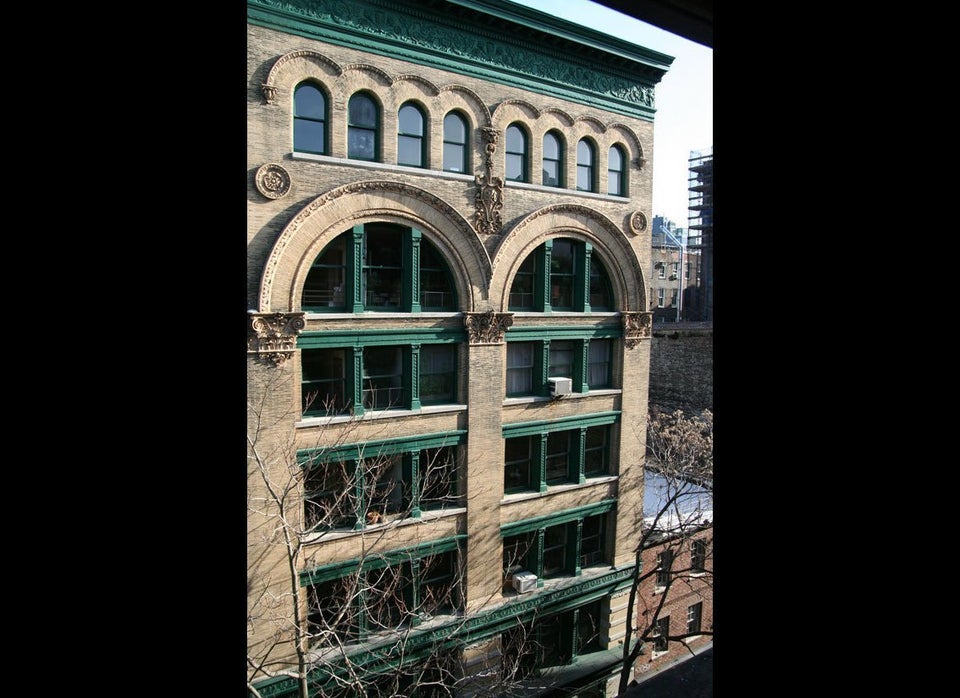 Gallery
Built in 1895 by the real estate firm Boehm & Coon, 80 Wooster is a brick building with cast iron components on the east side of Wooster Street south of Spring that originally cost $105,000. Typical of its generation, it is a seven story warehouse building that was home to small manufacturers -- doll factories, paper box and fabric recycling companies, often family businesses. It was home to the Miller Cardboard Company from 1931 to 1967 when it had become, like so many of its neighbors, functionally obsolete.
The founder of the Fluxus art movement, Maciunas, who was born in Lithuania in 1931, looked at the underutilized buildings and the moribund industrial neighborhood in 1967 and saw Fluxhouses -- buildings where artists could live and work, sharing resources and creating art in studios of several thousand square feet that would cost a few dollars per square foot. It hardly mattered to Maciunas that living in these spaces, contrary to zoning regulations, was not legal.
Trained as an architect and graphic artist, Maciunas was an eccentric genius whose Fluxus manifesto spoke of purging the world of "bourgeois sickness," and promoting a "revolutionary flood and tide in art." Equally radical in life, he was driven by his vision to breathe life into the dead factories and he began to spread the word downtown, in smoky coffee houses and dark bars in Greenwich Village, at the Judson Dance Theatre, where the avant-garde hung out and performed, and in ads in the Village Voice. Artists flocked to see the buildings, many of them hitting up relatives and friends to borrow the $3,000 to $5,000 they needed to purchase the illegal living space.
Fluxhouse II, the first successful Maciunas Fluxhouse at 80 Wooster Street, became a magnet for the avant-garde who were drawn to Jonas Mekas's Film-Makers' Cinematheque, a ground-floor space that hosted happenings, film screenings, dance and theater performances, concerts and arts shows. Hundreds of artists including Trisha Brown, Richard Foreman, Allen Ginsberg, Philip Glass, John Lennon, Yoko Ono, Nam June Paik, and Andy Warhol showed their work in and around the building
The events were memorable: A Fluxus medical clinic where artists including Bob Watts dressed in doctor's coats and measured the tongues of passersby, a daredevil performance of Trisha Brown's Man Walking Down the Side of a Building by her ex-husband Joseph Schlichter in a harness (recently reprised at the Whitney Museum), New Year's Eve Flux Dinners with themes like purple food or erotic food. A 1968 "action" where Hermann Nitsch butchered animals stands in stark contrast to the luxury cashmere store now occupying the space.
Maciunas registered the buildings as agricultural coops, a brilliant idea that he pulled out of his magician's hat. When the NY state attorney general investigated him for evading the real estate syndication laws, Maciunas turned life into art. He put a trap door in his ceiling for escape and put huge cutting blades on his door to prevent entry. He wore disguises when he went out and had friends mails prepared postcards from foreign countries to the AG so that they would think Maciunas was out of the country.
Living in the cellar, Maciunas made art, both of his own and for other artists. In 1971, the John Lennon and Yoko Ono show at the Everson Museum in Syracuse was produced in the cellar. John and Yoko were at the building daily working with George and drinking his homemade Pina Coladas. The show was the culmination of a long relationship between Maciunas and Ono which began in 1961 when Ono had a show in his AG Gallery. Unfortunately, there was a big fight over artistic differences and Maciunas, Ono and Lennon did not reconcile until shortly before George's death in 1978.
As the father of SoHo, Maciunas developed 16 buildings and invented a new model for real estate development, one that was not then legal but one that gave a whole generation of artists homes and studios. His innovative concept became the standard for loft conversions by artist/developers and by groups of artists around the world, spreading across the river to Williamsburg, across the nation to cities including Atlanta, Austin, and Los Angeles, and across the Atlantic to Berlin and London.
The SoHo pioneers, like the artists of Buckwick today, rolled up their shirt sleeves, sheet-rocked walls, gerry-rigged plumbing, and transformed grim manufacturing spaces. Only after they established SoHo as a viable neighborhood, did the professional developers move in, having discovered the huge profit potential in loft development. That, alas, is another story.
Roslyn Bernstein is a professor of journalism and creative writing at Baruch College of the City University of New York (CUNY). She also teaches feature writing at the CUNY Graduate School of Journalism. She is the director of the Sidney Harman Writer-in-Residence Program at Baruch College. She is the co-author with the architect Shael Shapiro of Illegal Living: 80 Wooster Street and the Evolution of SoHo.
Related
Popular in the Community