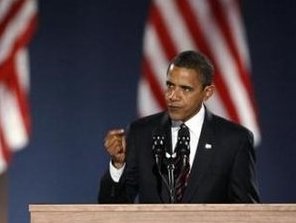 I'm not satisfied with the roster of economic personalities and thinkers we see Barack Obama mixing with.
I realize that there are a lot of players behind the scenes and those who walked out on stage (list below) are symbolic of clusters of other people and thinkers -- though every time I see Robert Rubin and Lawrence Summers in the same group, it reminds me of the UK and France on the P-5 at the UN Security Council. Do we really need two European members in the same permanent body? Do we really need both Rubin and Summers at every meeting with press availability?
Below I have provided the roster of names who stood on stage with President-elect Obama yesterday at his first post election press conference.
But some who were missing who Obama should build in -- some are not now advisers and some are.
First of all, Jason Fuhrman and Austan Goolsbee are clearly going to be important parts of Obama's economic team. Goolsbee is rumored to be the likely shoe-in for Chairman of the Council of Economic Advisors. He really should be on stage too given that possibility and his influence in Obama's economic thinking. Fuhrman as well.
But beyond the obvious, I would like to see George Soros, Warren Buffet and Bill Gates on stage.
We know that Buffet is talking with Obama. But I'd include Bill Gates who understands the importance of investing in high multiplier economic infrastructure as opposed to investments that yield few long term positive recurring results.
I'd like to see Paul Krugman, Joseph Stiglitz, Jeffrey Sachs, James Galbraith, Leo Hindery, Clyde Prestowitz, Charlene Barshefsky, C. Fred Bergsten, Adam Posen, Robert Kuttner, Robert Samuelson, Alan Murray, William Bonvillian, Doug & Heidi Rediker, Bernard Schwartz, Tom Gallagher, Sheila Bair, Sherle Schwenninger, and Kevin Phillips added to a discussion group on the economy. It would be far more diverse, less predictable, genuinely interesting and produce greater policy option possibilities than the quite "regal" group on stage.
Here is who made Obama's cut yesterday. . .
William Daley - Chairman of the Midwest, JP Morgan Chase; Former Secretary, U.S. Dept of Commerce, 1997-2000

Robert Reich - University of California, Berkeley; Former Secretary, U.S. Dept of Labor, 1993-1997

Penny Pritzker - CEO, Classic Residence by Hyatt

Roger Ferguson - President and CEO, TIAA-CREF and former Vice Chairman of the Board of Governors of the Federal Reserve

Lawrence Summers - Harvard University; Managing Director, D.E. Shaw; Former Secretary, U.S. Dept of Treasury, 1999-2001

Anne Mulcahy - Chairman and CEO, Xerox

Richard Parsons - Chairman of the Board, Time Warner

Paul Volcker - Former Chairman, U.S. Federal Reserve 1979-1987

Rahm Emanuel - United States Representative (IL-05)

President Elect Obama

Vice President Elect Biden

Jennifer Granholm - Governor, State of Michigan

Robert Rubin - Director and Senior Counselor, Citigroup; Former Secretary, U.S. Dept of Treasury, 1995-1999

David Bonior - Member House of Representatives (Michigan) 1977-2003

Laura Tyson - (Haas School of Business, University of California, Berkeley; Former Chairman, National Economic Council, 1995-1996; Former Chairman, President's Council of Economic Advisors, 1993-1995)

Antonio Villaraigosa - Mayor, City of Los Angeles

William Donaldson - Former Chairman of the SEC, 2003-2005

Eric Schmidt - Chairman and CEO, Google

Roel Campos - Former Commissioner of the SEC
We should be able to spice up this distinguished crowd with some more original thinkers.
Update: Warren Buffett was involved in the meeting but on conference call.
Popular in the Community