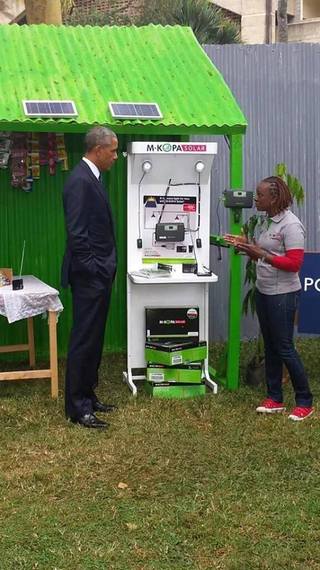 When it comes to the bleeding edge of global energy innovation East Africa is ground zero.
In just the past few days two leading beyond the grid solar providers have stepped forward and demonstrated the tremendous, unexploited, opportunities these markets present. These companies serve as an important reminder that energy access is the beginning, not the end, of unlocking economic potential in emerging markets. That's why it's worth asking the question are these merely solar companies or are they something more?
The first peek we got into this novel future came from Kenyan startup M-Kopa Solar. They were one of the very first movers when the mobile money explosion hit East Africa and are now reaping the benefit with over 750,000 pay as you go rooftop solar systems installed in three short years. That explosive growth has put them on the map. They've since had their products in the hands of world leaders like President Obama, and they landed the industry's first private equity growth round of $19 million courtesy of Al Gore's investment vehicle Generation Investment Management.
But while M-Kopa started as a leading clean energy provider they are now evolving to a new frontier - the provision of communications services. Piggybacking on the customer relationships they have developed providing reliable solar services, the company has added on a number of products including both mobile phones and digital TVs. Those products have proven so successful that they now sell 1,000 smart phones every single month.
If their digital TV ends up anywhere near as popular they could quickly become an exciting emerging-market version of Netflix. A disruptive start up stealing market share from the traditional players. But is that really even an apt comparison? Can anyone in the developed world imagine a future where Netflix is also Solar City? Or where they are both those companies AND Verizon AND PG&E? The answer is no. Which is why this company is shaping up to be something the likes of which we've never seen.
The other glimpse into the future came courtesy of Mobisol. Building off their network of 200,000 Tanzanian customers this German company is piloting a drone delivery network that would make Amazon founder Jeff Bezos drool. Their drones (see video below) are capable of recharging on the roofs of customer houses in between dropping off packages. While a novelty in the infrastructure rich developed world this is a necessity in rural parts of East Africa where roads and other forms of vital infrastructure are few and far between.
Again, a comparison to Amazon falls short. It's almost as if they're an Amazon in reverse. Amazon started selling products, and now is moving into services. Mobisol, and M-Kopa started with service and are moving into products and expanded services. Truly disruptive and worthy of an entire new category we don't yet have a term for.
Remember, this is only the beginning. Energy provides a vital first intervention upon which all services flow. That's why another likely space they'll pivot to is internet provision. That's why Silicon Valley companies like Facebook and Google are ramping up their energy access programs to ensure they can connect the rest of the world to Wi-Fi. Because without juice a smartphone is worthless.
Which leads us to our real revelation. Energy access for the more than one billion people still without it is not some development world, feel-good endeavor about "bringing light to the poor". It's about fundamentally transforming systems, beginning with energy, that will provide a modern living to a billion new customers currently living with the failure that is business as usual. Make no mistake this disruption will be drastic. Because one day those who have dumped tens of billions of dollars and decades of time into the status quo will wake up to find their customers happily served by visionary service providers who started with decentralized solar. More importantly, these billion new consumers won't just buy energy from this new ecosystem, they will buy everything.
Related
Popular in the Community