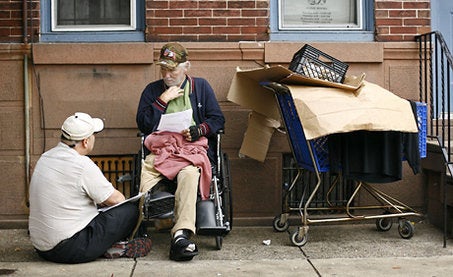 Henrietta Hughes is the homeless woman in Fort Myers, Florida, who asked President Obama for help at his Town Hall. What did Obama do? He stepped off the stage, hugged her, and said his staff would talk to her after the Town Hall. And as a result of her appearance and plea, housing was offered to her by the wife of a local Republican official.
It was a touching moment. It would have been interesting had Obama turned to the crowd and asked anyone who had a solution for Henrietta to step forward afterwards. But he didn't have to. People came forward anyway. The dilemma Ms. Hughes described is not limited to her. It is absolutely accurate for families all over the country. . All she asked was a little kitchen where they could cook for themselves and a bathroom of their own.
Her request was a compelling one and it only highlights issues of homelessness that will surely get worse as the economic downturn deepens. In fact, some predict that 1.5 million additional Americans will become homeless because of the hard economic timesto come.
Florida ranks third in the nation in the number of homeless people - some 60,000 -- and that was two years ago. Unfortunately, California leads the nation in this statistic. Ms. Hughes said that the Housing Authority had a two year wait for housing assistance in her area, and that is also sadly typical of almost any community in America.
Who are the homeless? They can be a diverse group. Some have been homeless for awhile and may suffer from mental illness or disability. Others are single mothers with children who just can't come up with the "first and last" payments required for moving into an apartment, so they live in their cars. Still others may be veterans. On any given night, 200,000 veterans who have fought for our country are sleeping on the street somewhere in America. Almost all the homeless are low income. Permanent housing is one of the most important priorities for the homeless.
The problem of homelessness will not go away because we turn our heads. The Henrietta Hugheses of this country hopefully will keep asking us to pay attention. What will we as communities do about this? Because it really has to be a community solution. And, thankfully, there are a number of organizations addressing the problem with some very innovative solutions. The Jericho Project is one. And there are many others such as Beyond Shelter and Pathways to Housing.

The National Alliance to End Homelessness outlines ten essential steps on their website if a community wants to address this issue. The website is chock full of information about homelessness and what can be done about it in your community. It starts with a plan, data on who is homeless and where they can be found, then moves on to describe ways to prevent homelessness, limit its tenure, provide emergency services, get people back to work and into more stable housing arrangements for the long term. You can also donate directly to their work on this website.
I am glad that Henrietta Hughes did find a solution. She got some attention and someone did step forward to help her because she was smart enough and courageous enough to attend the Town Hall and keep her hand up long enough to be recognized. And if her action calls attention to this problem and energizes even a few more people to take action, then she will be a real hero.
UPDATE: There is $1.5 Billion in the Stimulus Bill for the prevention of homelessness and support for those who need help. The money will go to cities and states and will cover things like first and last month rent, housing searches, assistance with mortgage payments and other areas of assistance. If this story has moved you to help, hold your local and state representatives accountable for their vote on the Stimulus. And do check out the resources in your community or go online to one of the websites I mention above.
Calling all HuffPost superfans!
Sign up for membership to become a founding member and help shape HuffPost's next chapter