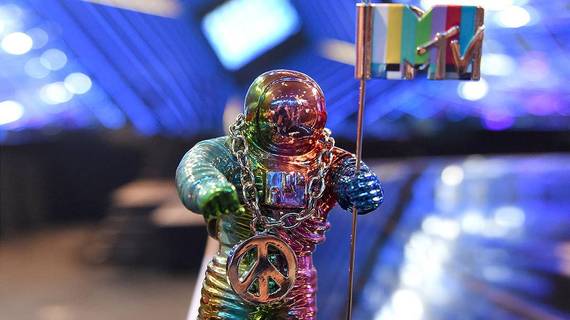 So to countdown to the ceremony, they predicted who they believe will take home the award for the following categories during the telecast: Video of the Year, Best Female Video, Best Male Video, Best Collaboration, Best Hip Hop Video, Best Pop Video, Best Rock Video, Best Electronic Video, Best Breakthrough Longform Video, and Best New Artist Presented by Taco Bell.
The 2016 MTV Video Music Awards will honor the year's iconic musicians with coveted MTV moon man awards.
MTV will bestow Rihanna with its highest honor, the "Michael Jackson Video Vanguard Award," for her decade-long impact on music, pop culture, fashion, film and philanthropy. Rihanna will also perform during the ceremony.
The 2016 MTV Video Music Awards airs LIVE from Madison Square Garden on Sunday, August 28th @ 9PM ET/PT on MTV.
View the full list of nominees here.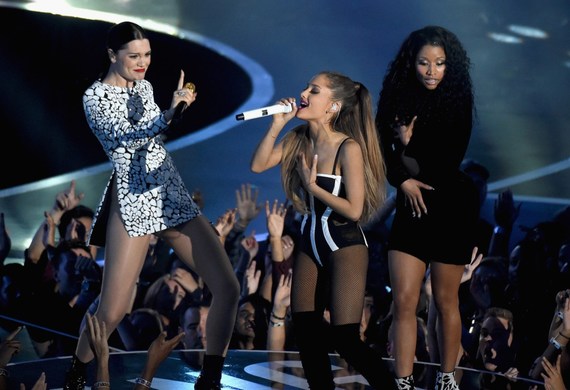 VIDEO OF THE YEAR: Adele - "Hello"; Beyoncé - "Formation"; Drake - "Hotline Bling"; Justin Bieber - "Sorry"; Kanye West - "Famous"
WHO WE THINK WILL WIN: Where do I even begin?? Each video on the list was memorable in its own way and it is way too hard to pick just one winner. Justin's "Sorry" video was the start to his amazing comeback, while Adele's "Hello" broke record after record when it was first released. But who can forget the time when Queen Bey' sent the whole world into a fury when she surprised us with "Formation" or when Kanye gave the world yet another reason why he's a showstopper. Despite the difficult choice, I honestly feel that Kanye West's "Famous" music video will swipe this Moonman right up. His unorthodox ways puts everyone squirming on edge, yet he always makes it work in his favor.
BEST FEMALE VIDEO: Adele - "Hello"; Beyoncé - "Hold Up"; Sia - "Cheap Thrills"; Ariana Grande - "Into You"; Rihanna ft. Drake - "Work" (short version)
WHO WE THINK WILL WIN: None of the ladies in this category are a stranger to winning awards, but only one can claim Best Female Video. My top two candidates would have to be Adele and Beyoncé. While Ariana, Sia, and Rihanna are insanely talented, their videos just don't match up to the others. Adele and Beyoncé have earned constant praise for every video they've released and with that, my prediction has to go to them. Only the best deserve this superb accolade and these two ladies are serving just that.
BEST MALE VIDEO: Drake - "Hotline Bling"; Bryson Tiller - "Don't"; Calvin Harris ft. Rihanna - "This Is What You Came For"; Kanye West - "Famous"; The Weeknd - "Can't Feel My Face"
WHO WE THINK WILL WIN: Drake's "Hotline Bling" and Kanye's "Famous" both became instant phenomenons, but not because they were artistic or amazing, but because they had people talking. Drake's iconic dance was the meme of the century while Kanye's was as unapologetic as it gets(I mean it's Kanye we're talking about). But who did it better? I predict Kanye will scoop this one up. His 10 minute video was able to keep his audience engaged from start to end which is a rare thing to come across now-a-days.
BEST COLLABORATION: Beyoncé ft. Kendrick Lamar - "Freedom"; Fifth Harmony ft. Ty Dolla $ign - "Work From Home"; Ariana Grande ft. Lil Wayne - "Let Me Love You"; Calvin Harris ft. Rihanna - "This Is What You Came For"; Rihanna ft. Drake - "Work" (short version)
WHO WE THINK WILL WIN: Everyone who saw Beyoncé and Kendrick Lamar perform their song "Freedom" at The 2016 BET Awards were either on their feet or too stunned to move a muscle. But either way, their collaboration was definitely the talk of the night. As much as I want them to win, I can't forget about Calvin Harris and Rihanna's "This Is What You Came For". Unfortunately, that concept has been done many times before so I have to go with Yoncé and Lamar on this one.
BEST HIP HOP VIDEO: Drake - "Hotline Bling"; Desiigner - "Panda"; Bryson Tiller - "Don't"; Chance The Rapper ft. Saba - "Angels"; 2 Chainz - "Watch Out"
WHO WE THINK WILL WIN: The candidates in this category have all perfected the formula for the ultimate hip hop video, how can I choose only one? But it must be done and my gut is telling me that Drake's iconic "Hotline Bling" will take this home. Not exactly because it was the "best", but it was the most memorable out of the bunch. It made the biggest impact within the millennials so I'm sure they're going to choose him.
BEST POP VIDEO: Adele - "Hello"; Beyoncé - "Formation"; Justin Bieber - "Sorry"; Alessia Cara - "Wild Things"; Ariana Grande - "Into You"
WHO WE THINK WILL WIN: It wouldn't be the VMAs without some pop music, am I right? Each nominee listed here received a fair amount of air time, but only two earned the most views for their visual art. Adele's "Hello" and Justin Bieber's "Sorry" blew the other videos out of the water with nearly 1.8 billion views EACH. I predict that one of these two talented artists will be triumphant.
BEST ROCK VIDEO: All Time Low - "Missing You"; Coldplay - "Adventure Of A Lifetime"; Fall Out Boy ft. Demi Lovato - "Irresistible"; twenty one pilots - "Heathens"; Panic! At The Disco - "Victorious"
WHO WE THINK WILL WIN: While I must admit that I'm a huge Fall Out Boy and P!ATD fan, my vote has got to go to twenty one pilots "Heathens". This super villain-esque video is most likely to take the crown. The video revolves around the most anticipated film of the year Suicide Squad - which was insanely epic! Not to mention that the music is so hauntingly good.
BEST ELECTRONIC VIDEO: Calvin Harris & Disciples - "How Deep Is Your Love"; 99 Souls ft. Destiny's Child & Brandy - "The Girl Is Mine"; Mike Posner - "I Took A Pill In Ibiza"; Afrojack - "SummerThing!"; The Chainsmokers ft. Daya - "Don't Let Me Down"
WHO WE THINK WILL WIN: The 90's aesthetic is the new must-have style so naturally, it has expanded into all other aspects of art such as music. I'm almost certain that 99 Souls will win this Moonman for his reboot on the classic jam. From start to finish, the video kept you wondering what was coming up next even though it was in reverse the entire time. The simplicity and intriguing concept kept viewers, including myself, begging for more.
BREAKTHROUGH LONG FORM VIDEO: Florence + The Machine - The Odyssey; Beyoncé - Lemonade; Justin Bieber - PURPOSE: The Movement; Chris Brown - Royalty; Troye Sivan - Blue Neighbourhood Trilogy
WHO WE THINK WILL WIN: To be able to have one great music video is quite an accomplishment, but to create a thread of them is the real testament of a true artist. My picks for this award is either Justin Bieber or Beyoncé. "Purpose: The Movement" brought a new meaning to choreography while Beyoncé's "Lemonade" pretty much made the world stop, stare, and hate that girl Becky with the good hair. These two will definitely be the ones fighting it out in the end.
BEST NEW ARTIST Presented by Taco Bell®: Bryson Tiller; Desiigner; Zara Larsson; Lukas Graham; DNCE
WHO WE THINK WILL WIN: Being a newcomer can be quite intimidating, but everyone on this list has nothing to fear, but ton to boast. They each broke-through with such tremendous force, it's hard to narrow it down to just one winner. But this isn't a perfect world and only person can come out on top. My vote will have to go to DNCE. There's no escaping their super catchy track "Cake By The Ocean" or their colorful attitude. I can assure you that they'll beat the rest by a landslide.
REAL LIFE. REAL NEWS. REAL VOICES.
Help us tell more of the stories that matter from voices that too often remain unheard.