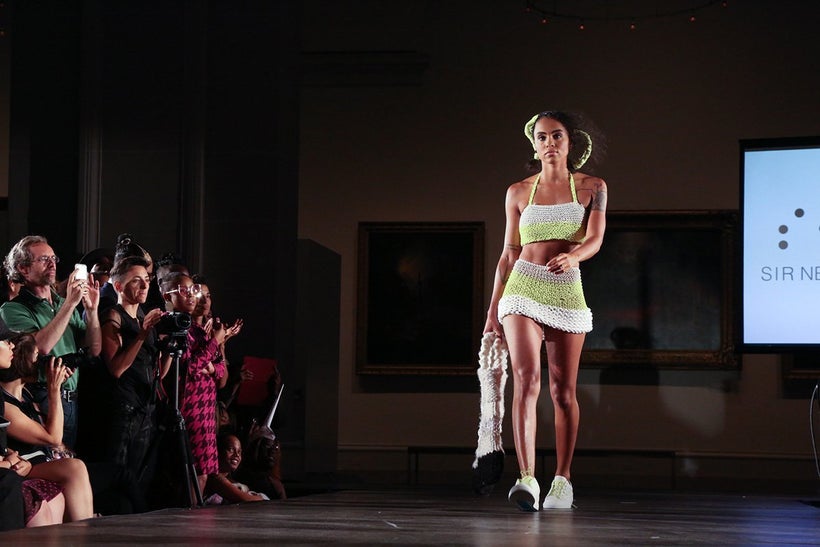 New York Fashion Week is just around the corner, and I am bracing myself once more for the fashion influencer vs. fashion editor wars. Over the last year, the mainstream fashion media elite, who had managed for years to keep mere mortals and undesirables away from their ever-so-exclusive New York Fashion Week (NYFW) events, authored a number of articles declaring that social media influencers and bloggers were ruining NYFW by degrading the quality of fashion coverage; littering the sidewalks trying to capture selfies of street style; snagging coveted seats at shows that were once reserved for editors and celebrities; and literally "heralding the death of style."
This all may or may not be true, but for some of us, it doesn't matter because people of color, people of size, people who dress outside the menswear/womenswear binaries, poor people, and all others the fashion industry deemed unworthy were never offered a seat at the fashion table. That is, unless, the industry was appropriating our cultures or leveraging our identities as trend. Even still, we misfits never received invitations to shows and after parties; were never given compensation or credit for our ideas; and never saw our bodies represented on the runways. I find it hard to pick a side between the Kardashians and Anna Wintour in the battle between purist editors and pay-for-play influencers.
I can say, however, that I am on the side of using social media for the democratization of beauty. For many, it is empowering to see that two queer, Black women — Danielle Cooper and Sara Geffrard — are now being considered social media "menswear" influencers. The duo now consistently receive invitations to Men's New York Fashion Week shows and, according to the late, legendary New York Times fashion photographer Bill Cunningham, they were spotted wearing "menswear" to these shows as good as, if not better than, the boys. Others are inspired by social media influencers such as body activist and plus-size model Ashley Graham, who has amassed a significant following and is now securing major beauty campaigns and the covers of mainstream fashion glossies. In February 2017, Ashley walked for Michael Kors during NYFW.
So, while some see influencers and bloggers as closing doors, others see them as opening windows. If Danielle, Sara, and Ashley are taking up space at shows, on runways, and in media — space that would have otherwise been reserved for people who do not look like them or who would have usually said, "You can't sit with us" — I see this as a partial win for the masses. Of course, I understand that the industry's current attempts to diversify are driven by dollars and cents. Social media influencers who are considered to have a "niche" market by mainstream standards have created communities of common values, and corporations want access to these communities' wallets. Some post-fashion week analytics show that the reach of influencers can overshadow the brands' own social media efforts and impact. Thus, the new inclusivity is not all altruistic. But, it is at least a start to us even being present at the table to drive conversations about the future of fashion.
Calling all HuffPost superfans!
Sign up for membership to become a founding member and help shape HuffPost's next chapter
This post was published on the now-closed HuffPost Contributor platform. Contributors control their own work and posted freely to our site. If you need to flag this entry as abusive,
send us an email
.