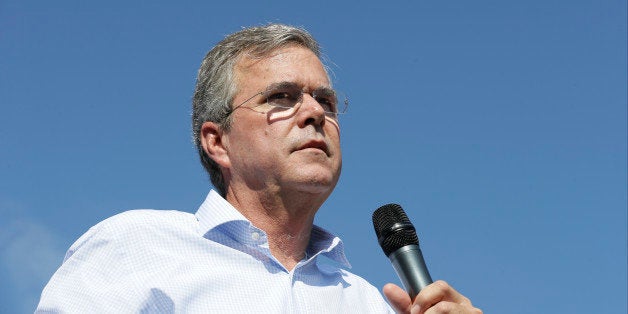 Jeb Bush has claimed that President Barack Obama and Hillary Clinton were responsible for withdrawal from Iraq. But is that true? A look at the evidence, including George W. Bush's own words and White House website, shows who was really responsible for America's departure, contributing to the rise of ISIS.
"So eager to be the history-makers, they failed to be the peacemakers," Mr Bush said of Mr Obama and Mrs Clinton. "It was a case of blind haste to get out and to call the tragic consequences somebody else's problem. Rushing away from danger can be every bit as unwise as rushing into danger, and the costs have been grievous."
But were Obama and Clinton responsible for the withdrawal?
"The Security Agreement also sets a date of December 31, 2011, for all U.S. forces to withdraw from Iraq. This date reflects the increasing capacity of the Iraqi Security Forces as demonstrated in operations this year throughout Iraq, as well as an improved regional atmosphere towards Iraq, an expanding Iraqi economy, and an increasingly confident Iraqi government."
Perhaps it was Jeb Bush's brother who was so eager to be the history-maker, and sign the deal in December of 2008, so he could get credit for the withdrawal.
Mission...Accomplished. Those were ironically the same words that President George W. Bush used to insist that the war was over in 2003, when in reality, we were unprepared for a brutal war, and the deaths of thousands of American military personnel at the hands of domestic insurgents and international terrorists.
Jeb Bush was attempting to deflect attention from George W. Bush and his Iraq policies. Instead, he reminded us not only who was in charge of the Iraq War and withdrawal, but how eerily similar the two brothers are about so many things. One may never think of one without thinking of the other.
John A. Tures is a professor of political science at LaGrange College in LaGrange, Ga. He can be reached at jtures@lagrange.edu.
Calling all HuffPost superfans!
Sign up for membership to become a founding member and help shape HuffPost's next chapter