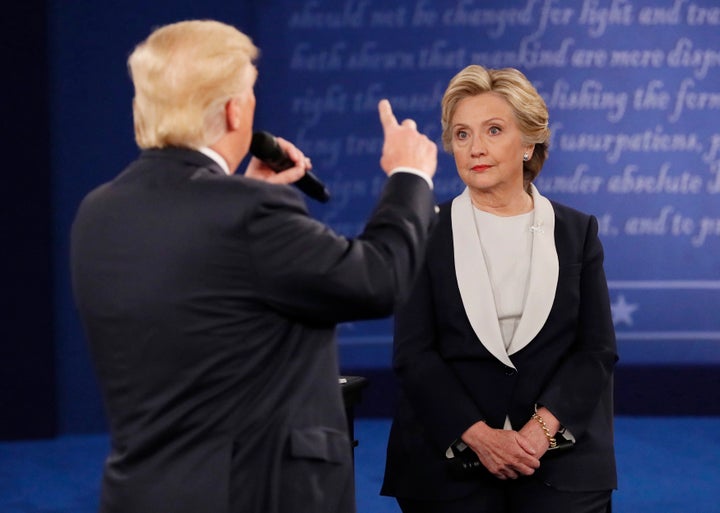 By a 14-point margin (52 percent to 38 percent), Americans who tuned in to the debate say that it was inappropriate for Trump to threaten to jail Clinton if he's elected president. ("Tuned in to the debate" covers people who watched any part of it, saw clips of it afterward or followed subsequent news coverage.)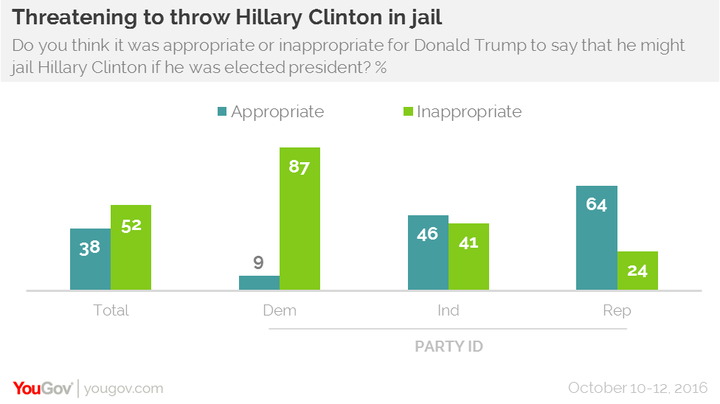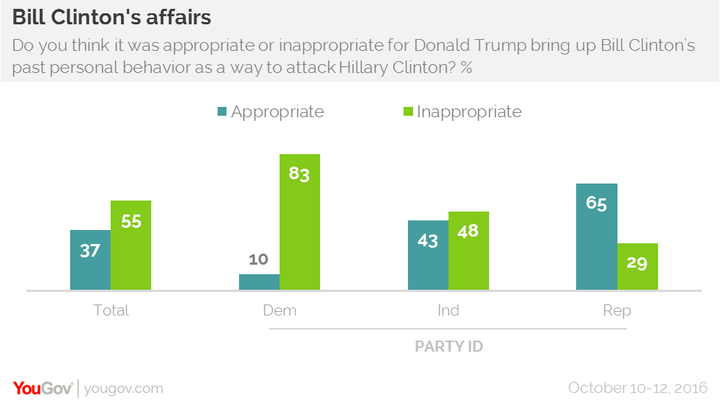 And 51 percent say that Trump's response to the now-infamous 2005 video ― "I apologize to the American people. Certainly I'm not proud of it. But this is locker room talk" ― wasn't good enough. Thirty-one percent say the apology was good enough, while 11 percent say he had nothing to apologize for.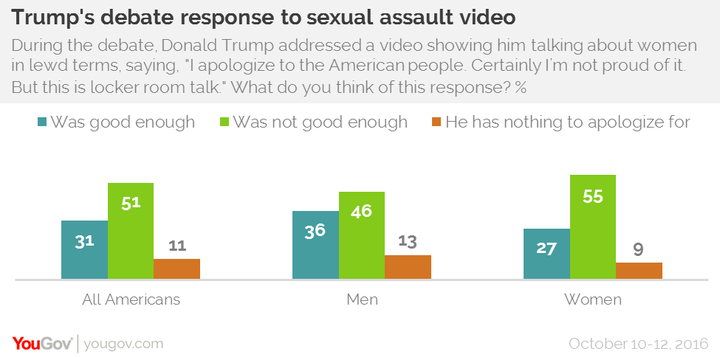 While the poll's responses are generally divided along party lines, many independents and a sizable minority of Republicans are also critical of Trump's performance. Forty-eight percent of independents and 29 percent of Republicans think bringing up Bill Clinton was inappropriate. Forty-one percent of independents and 24 percent of Republicans say the same of Trump's threat to jail Hillary Clinton.
A 44 percent plurality of independents and 22 percent of Republicans say that Trump's apology wasn't good enough.
Want all the latest news in politics that matters to you? Sign up here to get it delivered straight to your inbox.
Confirming the results of previous snap polls, the HuffPost/YouGov survey finds that the debate was overall seen as a win for Clinton. Forty-four percent of Americans who paid attention to the event say that Clinton won, while 32 percent say that Trump did, and 23 percent don't think either did or aren't sure. Eighty percent of Democrats think that Clinton did the better job, while just two-thirds of Republicans say the same about Trump.
Seventy-one percent of those polled say that Clinton prepared enough, and 55 percent say she displayed a presidential temperament. In contrast, there's a nearly even split among Americans on whether Trump prepared adequately, and just 32 feel he displayed a presidential temperament.
By a 20-point margin (49 percent to 29 percent), people say that Clinton did a better job of explaining her policies than Trump did of explaining his. By a much smaller 4-point margin (44 percent to 40 percent), they also say they agree more with Clinton.
Thirty-seven percent of Americans say they watched the entire debate, while 21 percent watched part of it, 15 percent watched clips or highlights, and 16 percent only read or watched news stories about it. As in HuffPost/YouGov polling after the first presidential debate, the latter groups are still surveyed because the coverage of a debate can have as much impact as the debate itself, and because even those who didn't tune in may still turn out to vote.
Those who watched part or all of the debate are considerably likelier to support Clinton. Fifty percent of them say she won, compared to 32 percent of those who saw only highlights or news stories. That's partially because the former groups were considerably more Democratic than the ones who just caught up later.
The HuffPost/YouGov poll consisted of 1,000 completed interviews conducted Oct. 10-12 among U.S. adults, using a sample selected from YouGov's opt-in online panel to match the demographics and other characteristics of the adult U.S. population.
The Huffington Post has teamed up with YouGov to conduct daily opinion polls. You can learn more about this project and take part in YouGov's nationally representative opinion polling. Data from all HuffPost/YouGov polls can be found here. More details on the polls' methodology are available here.
Most surveys report a margin of error that represents some, but not all, potential survey errors. YouGov's reports include a model-based margin of error, which rests on a specific set of statistical assumptions about the selected sample, rather than the standard methodology for random probability sampling. If these assumptions are wrong, the model-based margin of error may also be inaccurate. Click here for a more detailed explanation of the model-based margin of error.
REAL LIFE. REAL NEWS. REAL VOICES.
Help us tell more of the stories that matter from voices that too often remain unheard.