The north-central Colombian city of Bucaramanga is not-so-creatively referred to as the "City of Parks" because of its more-than-160 shady parks and plazas.
One of the largest, Parque La Flora, is a 26-acre park on the eastern side of the city with something for everyone...forests, hiking trails, playgrounds, jogging paths, picnic areas, and more.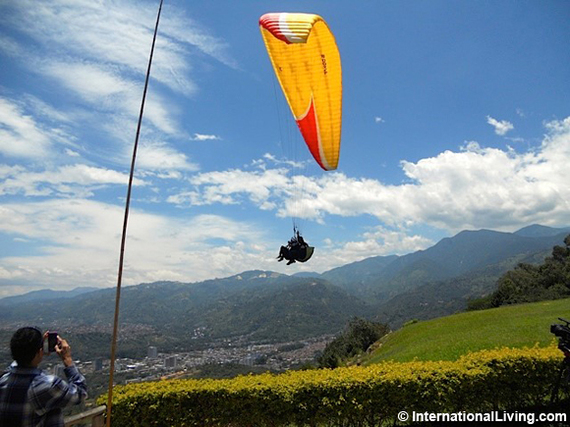 Paragliding is a sport you can enjoy nearly 365 days a year in Bucaramanga, thanks to the perfect climate.
And this, of course, is not the only reason Bucaramanga might make for an enticing overseas retirement destination.
From our perspective, we just like saying "Bucaramanga." Try it: boo-cah-rah-mahn-ga. Fun, huh?
It's a tidy city of about 530,000 people in the city proper, and 1.2 million total in the metropolitan area. Founded by the Spanish in 1622, today, Bucaramanga is the capital of Colombia's Santander department. To get here from the States or Canada you'll typically connect through Bogotá, although there's at least one direct connection through Panama City, Panama.
More than half the population of Bucaramanga currently works in the trade industry. But things are changing, and over the past few decades, new industries have emerged. Like many large Colombian cities, Bucaramanga manufactures shoes and clothing, but it's also becoming an important center for gas, oil, coal mining, energy research, and medical tourism.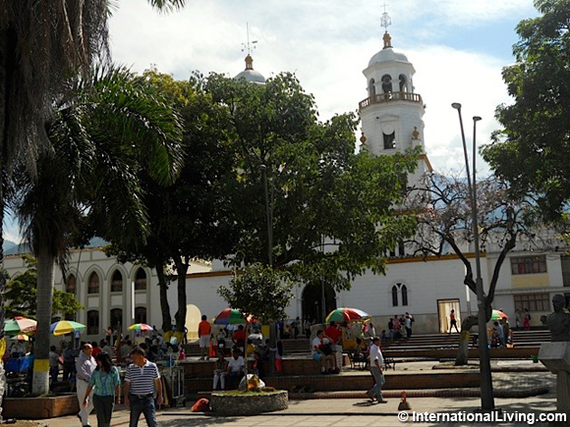 With more than 160 parks and plazas, you'll always find a shady spot to people watch in Bucaramanga.
The city's rapid economic growth led to a strong middle class and you'll find everything you might expect in the city's many shopping malls, including the impressive Cacique El Centro Comercial that opened in December of 2013--a massive five levels, with numerous department stores and a huge supermarket.
While you'll find no shortage of modern supermarkets in Bucaramanga, to shop like a local, you'll head to any of the many farmers' markets and produce shops in the city. Thanks to Colombia's proximity to the equator, there's a year-round growing season, and you'll find lovely fresh fruits and vegetables of more variety than you can name.
Daytime highs in Bucaramanga typically reach the low 80s F year round, making this a perfect place to live if you like outdoor activities. Santander department, in fact, is the adventure capital of Colombia. One of the most popular activities is paragliding. Since the weather doesn't vary much throughout the year, paragliders can fly almost every day.
If you're a golfer, check out the Jack Nicklaus-designed golf course at the Ruitoque Country Club, which also has tennis courts, an Olympic-sized swimming pool, squash courts, and much more.
If tennis is your sport, check out Club Union in the upscale Sotomayor neighborhood. You'll find at least four professional clay tennis courts, an Olympic-sized swimming pool, squash courts, a gymnasium, and a soccer field.
You can go horse riding and rock climbing in Chica Mocha Canyon, just an hour from Bucaramanga. There are also two indoor rock-climbing centers in the city.
Nearby are lakes and rivers for fishing and whitewater rafting... You can go spelunking in a nearby cave or bike riding, off road or in the city. Hundreds of cyclists meet the last Thursday of every month for a starlit ride through the city.
And if something a little more relaxing suits your fancy, you might spend a weekend at a spa resort in Barichara, 30 minutes from San Gil, an early 18th-century village overlooking a gorgeous canyon. It's one of Colombia's most beautiful and best-preserved colonial towns.
As you can see, you'll never run out of things to do if you decide to make Bucaramanga your home. There are cultural events and festivals for book lovers, music lovers, theater goers, and more...
And when you get hungry, no problem. Bucaramanga has all kinds of great restaurants. From Latin cuisine and seafood to barbecue, Italian, and more...
And what about the cost of living? It's far less expensive than in the US or Canada. As elsewhere in Colombia, you can comfortably live in Bucaramanga on $1,500 to $2,000 a month, including rent. And you can certainly spend more, depending on your lifestyle.
As for real estate, your dollar will go far in Bucaramanga--even in the city's most elite neighborhoods. You'll find properties here to be less expensive than in the larger Colombian cities of Bogotá or Medellín...
In Sotomayor, for instance, homes tend to be elegant and very large. A 5,000-square-foot home with five bedrooms can sell for close to $350,000. A new two-bedroom, two-bathroom, 1,000-square-foot apartment will sell for $100,000 and up, depending on amenities. To rent that same apartment, you'll spend between $500 and $600 a month.
Living in these pricier neighborhoods such as Sotomayor and nearby Cebecera has some advantages. They're safe and secure, and you can walk to many of Bucaramanga's best restaurants and shopping outlets and enjoy some of the city's most beautiful parks.
Another neighborhood to consider is Cañaveral where you'll find very nice family homes and apartments. In one building we visited, a brand-new modern-design three-bedroom, two-and-a-half bath apartment can be rented for less than $700 a month. The $120 monthly administration fee allows you to use the pool and sauna, the fitness center, basketball and squash courts, and more. There's underground parking and a 24-hour security guard/doorman.
And of course, there are many neighborhoods where you'll find property prices to be much less.
As for healthcare, Bucaramanga offers seven major hospitals and dozens of public and private clinics. Most offer excellent services, but one stands out. Clinica Foscal has been serving the needs of international medical tourists for more than 15 years, and plans to attract even more with a project called Special Permanent Free Zone. This joint venture with UNAB University encompasses a 1.7-million-square-foot research center and medical facility with 50 specialties including an eye clinic, oncology center, cardiovascular center, transplant center, and much more.
If there's a drawback to living in Bucaramanga, it's that you won't find a large expat community here. Part of the fun (and yes, the challenge) of retiring in a Latin American city like this one--with few other English-speaking foreigners--is that you'll certainly need to speak some Spanish here.
Still, this is a thoroughly modern city, with much to offer, including all those parks and outdoor activities that you can take advantage of 365 days a year--the climate is that accommodating.
If that's what you're looking for in a retirement destination, Bucaramanga definitely fits the bill.
Calling all HuffPost superfans!
Sign up for membership to become a founding member and help shape HuffPost's next chapter