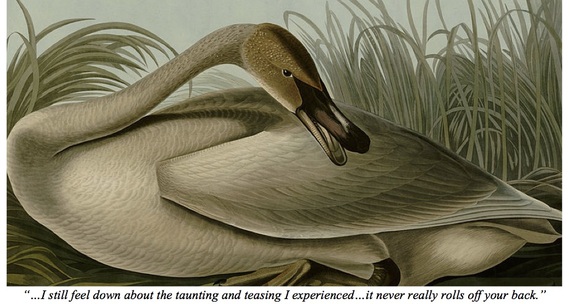 The swan once christened "The Ugly Duckling" has launched an anti-bulling campaign titled, "Who You Callin' Ugly?"
"The time has come for all ducklings, regardless of external appearance, to be cherished and celebrated," The Swan said. "Not all ducklings grow up to be swans--actually no ducklings grow up to be swans--baby swans are cygnets, not ducklings. Another prime example of the feather-brained ignorance we're battling."
When asked if he did not see the oft-told tale of his childhood as inspiring, The Swan responded, "Oh, that old canard? Sure, it's a story of transformation, but even as a full-grown swan I feel down about the taunting and teasing I experienced...it never really rolls off your back."
The fledgling campaign has taken flight. Some supporters have even proposed a bill classifying bird-bullying as a hate crime. "Activism is new to me. I'm winging it here. Thus, I'm bowled over by all those who are flocking to share their own stories and have helped the 'Who you Callin' Ugly' campaign soar."
"It's daffy to treat your fellow fowl this way," He added. "Let's do away with this pecking order once and for all and make this bird-bullying's swan song."
Calling all HuffPost superfans!
Sign up for membership to become a founding member and help shape HuffPost's next chapter