On May 23 Uganda will join the world in celebrating the third International Day to End Obstetric Fistula, which arose from the Campaign to End Fistula initiated in 2003 by the United Nations Population Fund (UNFPA). Though relatively unheard of in the United States, Obstetric Fistula is a pressing concern for many mothers-to-be in the developing world and is one of the most physically and socially damaging morbidities that women can suffer from during childbirth. The pervasiveness of obstetric fistula can be seen in the 50 countries that the Campaign to End Obstetric Fistula is currently active in across Africa, Asia, and the Middle East.
It is estimated that there are around 2 million women living with fistula worlwide, with another 50,000 to 100,000 joining that number yearly. In Uganda, government estimates place the number of women living with obstetric fistula around 200,000. Following the worldwide incidence of fistula, it is projected that there are an additional 3000 to 5000 new cases of obstetric fistula per year in Uganda. A huge number, when, according to UNFPA, there were only 1,582 registered repair surgeries in 2013 at the 20 active fistula repair facilities across the country. The difference means that at least half of all new fistulas go untreated, often imposing harsh social repercussions on the woman and her family. The fact that fistula is nearly 100% preventable makes these numbers even harder to absorb. The last American fistula treatment hospital, located in New York, was closed in 1895 because it ran out of patients. Obviously we are not doing enough.
Obstetric fistula usually develops from prolonged obstructed labor, often in women who are unable to access a skilled delivery attendant for birth. Fistula is a result of the pressure from the soon-to-be neonate resting on the walls of the vagina and preventing the flow of blood to that area. After a prolonged period of time, the tissue begins to "starve" for oxygen and eventually dies, creating a hole between the vagina and the bladder or colon. Adding the pain of a fistula, many women who experience prolonged labor give birth to a stillborn baby, worsening an already tragic situation. Depending on the area affected (and sometimes it is both) obstetric fistula is known as a VVF, or vesico-vaginal fistula for a hole into the bladder, or RVF, a rectovaginal fistula. A fistula is notable for the constant leaking of urine or feces, which is used in identification to distinguish the case from incontinence. The leaking can lead to sores along the inner thighs, and the smell most always leads to some level of social stigma and disgrace. The good news is that both forms of fistula are easily treatable, and have about a 90% success rate for less complex cases. The average cost of treating someone with an obstetric fistula is $300 to $400, which includes all aspects of surgery and care. This amount, small to many of us, is an insurmountable obstacle for many of the women who suffer from fistula.
I work for a public health NGO in Eastern Uganda called the Uganda Village Project (UVP). We work in the rural Iganga District to help develop a partnership between rural villages and the government structures and services. Our flagship program, the Healthy Villages initiative, partners the organization with a village for three years to provide health services, health education, and to galvanize the community to health enhancing behaviors. In addition to the Healthy Villages program, we have a fistula program that extends beyond Iganga district to the surrounding 8 districts in the Eastern Region of Uganda is to identify women who are living with obstetric fistula.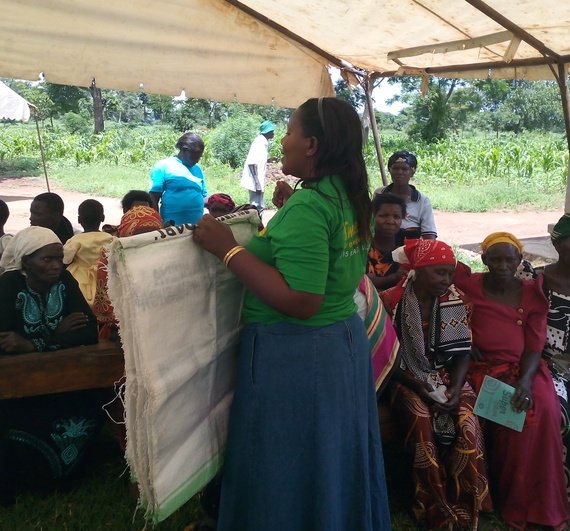 Loy, the UVP Fistula Program Coordinator, educating rural women on fistula prevention.
UVP was generously supported by the Fistula Foundation to train a team of fistula survivors, called Fistula Ambassadors, to travel in the rural villages in the region to educate communities on the identification and prevention of fistula, as well as to link any women living with fistula to our organization. Once our Fistula Program Coordinator (pictured above, and a fistula survivor herself)confirmed with the women, they are taken for a fistula repair camp in the neighboring district of Kamuli where the Uganda Childbirth Injuries Fund, a charity based out of the UK, provides pro bono repair surgery. Because of this partnership, it costs UVP approximately $250 per woman to sponsor their stay throughout the repair camp and provide follow-up after the camp. The follow-ups are designed to ensure the success of the repair and gauge the social integration of the former patients. The women who attend pay only the cost of transport to the final screening, allowing them to receive a service that would have been prohibitively expensive through any other means. The range of women at the camp is astounding, with some having lived with fistula for 30 to 40 years, and in their 60s, while others having lived with fistula for less than a year and are terrified for their future. What is common in all the women is the newly kindled hope shining through their eyes. What they once considered a lifelong condition they have now learned can often be fixed by surgery.
In December of 2014 the UN General Assembly adopted a resolution on obstetric fistula. Supported by UNFPA, the resolution pushes for an increased focus on obstetric fistula and maternal health for 2015, including making fistula a "notable condition" that would improve tracking and estimations of fistula prevalence and incidence. The resolution also recognizes that obstetric fistula is not only an issue to be confronted by females, and calls on males to be involved in the prevention of fistula. The resolution emphasizes maternal health in 2015 for a final push before the end-of-year deadline to achieve the Millennium Development Goals, including Goal 5 which addresses maternal health. May 23 is fast approaching, and 2015 is passing quickly, but I take solace knowing that Uganda Village Project is doing their part to support this resolution. "End fistula, restore women's dignity" is a fitting theme for this years commemoration, and I have seen how such a small act has a tremendous impact on a woman's life and welfare. For a woman to be a whole again after such a traumatic experience is not a privilege, it is a right, and I am proud to be working for an organization that is helping woman realize that.
REAL LIFE. REAL NEWS. REAL VOICES.
Help us tell more of the stories that matter from voices that too often remain unheard.