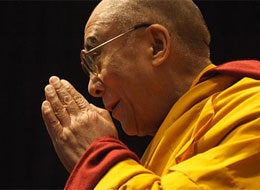 After Karen Gordon's divorce in 2003, she used the $1 million settlement to start her own nonprofit organization, Whole Child International. While raising her two daughters, she realized that many orphanages, while consistent in providing food and shelter for children, lacked the ability to provide emotional attention and education, the kind that young kids need in abundance.
Whole Child has grown into a leading children's advocacy organization, improving quality of care the world over for abandoned children. This Sunday, they get a special visit from the Dalai Lama during his two-day visit to Los Angeles, on stage at Gibson Amphitheatre, his first large scale speaking engagement in the city since September 2006.
The Dalai Lama's speech, "Cultivating Compassion and the Needs of Vulnerable Children," will be preceded by a performance from Grammy award-winner Sheryl Crow.
Gordon, and the entire organization, feel privileged to host this kind of event.
"We are thrilled to have Sheryl alongside us as a strong voice," she said. "We look forward to her support as we elevate the care of vulnerable children globally."
The Dalai Lama will visit with President Obama tomorrow on the first day of his American visit. China has criticized the meeting, though according to University of California, Irvine professor and China-U.S. relations expert Jeffrey Wasserstrom, reactions from both the far east nation and Obama are expected, and largely symbolic.
For more information on Whole Child International, watch this 2007 segment from "Good Morning America" on Karen Gordon:
REAL LIFE. REAL NEWS. REAL VOICES.
Help us tell more of the stories that matter from voices that too often remain unheard.