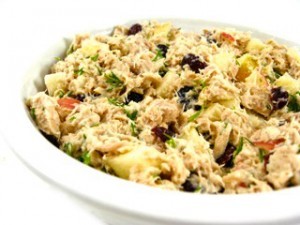 The first time I tasted this colorful tuna salad was at Whole Foods on Columbus Circle in NYC. I fell in love with the flavor and knew I had to make my skinny version at home! Light mayonnaise, dried cranberries, fresh dill and chopped apples are some of the yummy ingredients used to make my version so fabulous! Each serving: 205 calories, 8 grams fat and 5 Weight Watchers POINTS PLUS.
1 (5.25 oz) can of white albacore tuna, (water packed) drained well
½ cup chopped apples, such as Gala, Fuji or Honeycrisp, unpeeled
¼ cup diced scallions or red onions
3 tablespoons dried sweetened cranberries
3 tablespoons Best Foods Light mayonnaise (Hellman's Light)
1 tablespoon minced fresh dill
2 romaine lettuce leaves, optional
1. Add all the ingredients to a bowl, except lettuce. Mix well to combine.
2. Scoop about 1 cup of tuna into a small dish or bowl. Or, line 2 plates with a romaine lettuce leaf. Scoop about 1 cup tuna onto each lettuce leaf.
Makes 2 servings (each serving, about 1 cup)
Serving Tips
I like to eat it scooped into a small dish. But, you can make it as a sandwich, serve on top of some field greens, over chopped romaine lettuce or spread on reduced-fat crackers. It makes a very generous portion per serving and is very filling!
Weight Watchers (old points) 4
Weight Watchers POINTS PLUS 5
SKINNY FACTS: for 1 serving (about 1 cup)
205 calories, 8g fat, 17g protein, 18g carbs, 2g fiber, 350mg sodium, 11g sugar