 Whole Foods CEO John Mackey is not worried about his latest controversial claim, despite the onslaught of negative feedback from his customers.
On Friday, Mackey said on MSNBC's "Morning Joe" that he didn't think his recent comparison of Obamacare to fascism would hurt sales at Whole Foods, according to a tweet from the television program's account:
"I regret using that word now because it's got so much baggage attached to it," Mackey said. "Of course, I was just using the standard dictionary definition."
Libba Letton, a Whole Foods spokesperson, told HuffPost that the CEO's statements on "Morning Joe" stand on their own, and did not provide further thoughts on the matter.
So far, Mackey's claim about sales seems to be right. Whole Foods stock has seen little change since the CEO first spoke about the issue, trading at $90.05 as of late morning on Friday.
Yet despite the CEO's confidence, his comments produced a robust vocal outcry from Whole Food shoppers across the country.
In one of hundreds of emails that The Huffington Post received from customers in response to Mackey's stance on Obamacare, Marcus Poisson, a 52-year-old from Providence, R.I., wrote that he and his wife will never shop at Whole Foods again. Poisson wrote that he used to shop at Whole Foods almost exclusively, sometimes spending $200 a week.
Julie Best, an educator and pastor from Valencia, Calif., wrote in that she felt the same way.
"I cannot conceive how a CEO of a health food grocery chain that promotes wellness would suggest that any person should be denied access to health care," she said.
Mackey's controversial comment aside, a look at the grocery store chain's health care benefits revealed that Whole Foods offers its workers some of the best benefits in the country. Mackey does not believe in denying access to health care, but instead wrote that the "country would be far better served by combining free enterprise capitalism with a strong governmental safety net for our poorest citizens and those with preexisting conditions, helping everyone to be able to buy insurance," according to a recent letter posted on Whole Foods' company blog.
Once the letter was posted, Whole Foods shoppers responded in full force. The company's Facebook page received over 1,400 comments about the matter, including one from Beata Kittas saying, "You just lost another customer. Go back to school because you need more education. Using words that you don't understand."
Here is a screenshot from Whole Food's Facebook page: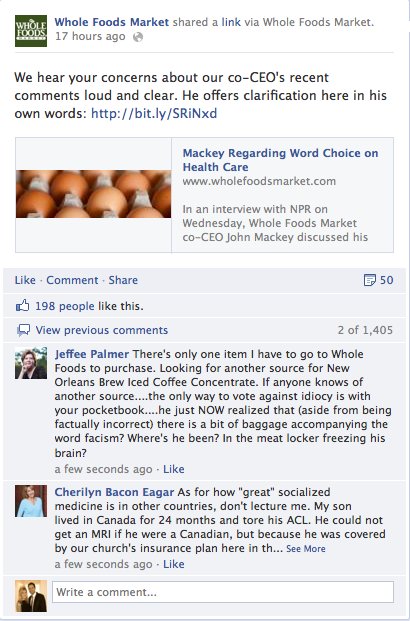 Whole Foods spokeswoman Letton said the company had no further comment on their Facebook followers' reaction to Mackey's letter.
Also, in the wake of Mackey's comments, Twitter users have started using the hashtag, #BoycottWholeFoods to express their disagreement with the CEO's stance.
Calling all HuffPost superfans!
Sign up for membership to become a founding member and help shape HuffPost's next chapter
BEFORE YOU GO
PHOTO GALLERY
7 Hippie Companies That Aren't As Liberal As You Think