The Whole Foods Market salad bar is the land of milk and honey (but more like the refrigerated aisle of tabouli and chicken salad) for lunchers with enthusiastic taste buds. Yes, there's much beyond traditional salad ingredients to devour at this dining utopia. But with so many options and a steep price tag, it seems to be a salad bar for the elite.
New York City's Union Square location charges $8.99 for a pound at the self-serve bar, which means financially-conscious consumers have to be smart about exactly which ingredients go into their salad box. It is possible to buy an average-priced salad that is filling and tastes good -- it just takes a little thought. (From experience, I know that a free-spirited diner can accidentally compose a salad costing more than a sushi dinner.)
We took a jaunt to this very salad bar to prove affordability is feasible. Below you will see an example of an expensive, brashly-made salad (dumb salad) and a reasonably priced, calculated salad (smart salad).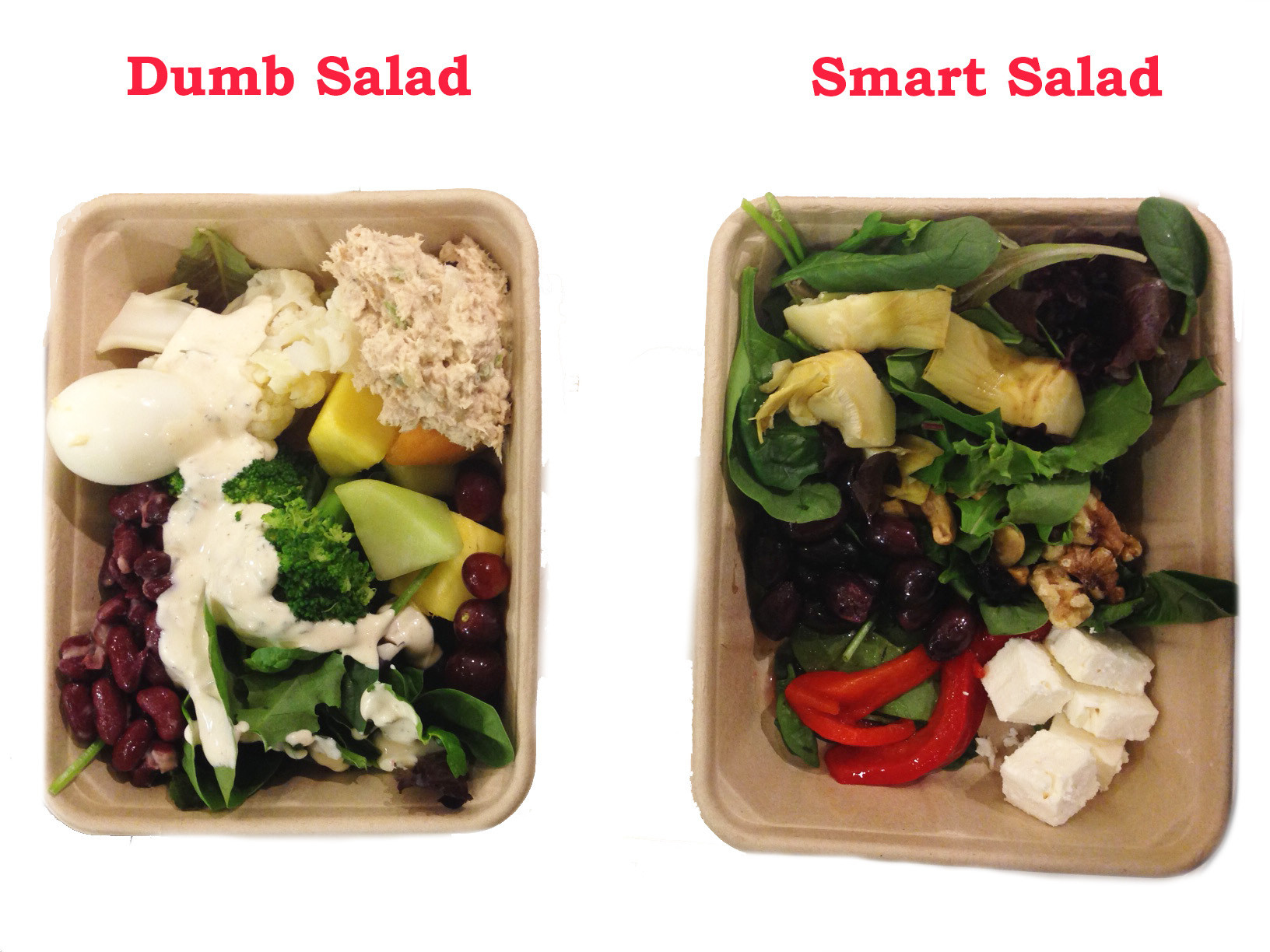 Dumb salad ingredients: Mixed lettuce, broccoli, cauliflower, fruit salad, red kidney beans, hard boiled egg, scoop of tuna, ranch dressing.
Smart salad ingredients: Mixed lettuce, roasted red peppers, artichokes, feta cheese, olives, walnuts, cashews.
The difference in price is extreme (about seven bucks!), yet both salads offer enough satiating nutrients and taste variety. Smart salad just took a few seconds longer to plan.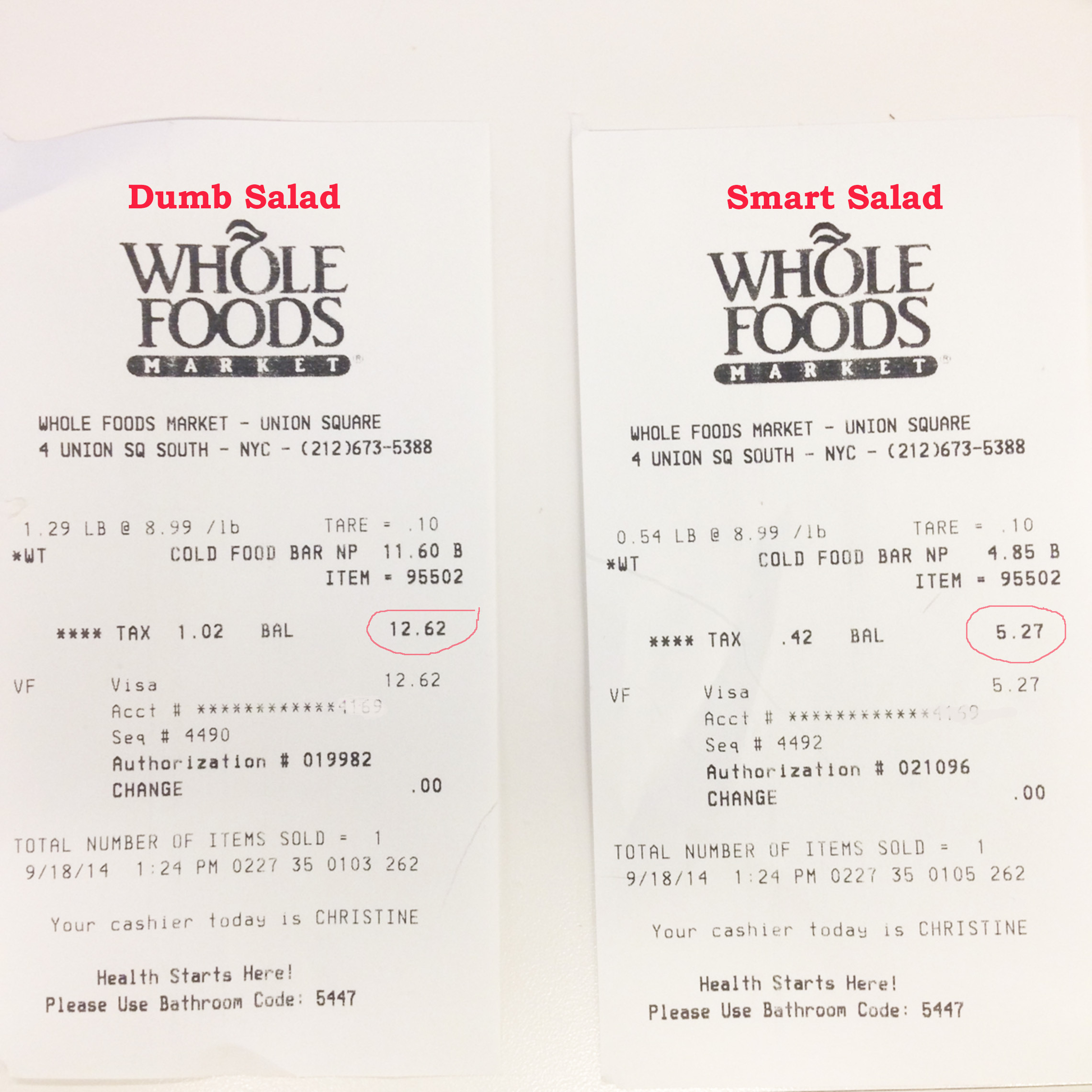 Enjoy those free bathroom codes.
"Winning" the Whole Food salad bar, as you see, doesn't mean eating weightless lettuce for lunch. But considering food density is key: The heavier your salad, the more you will pay. It's just as important to examine how cost-effective the items are. Would it be cheaper to buy the ingredient elsewhere, outside of the salad bar? If the answer is yes, that item probably doesn't belong in your little brown box. Here are a few things to remember for your future smart salad journeys:
Do not get hard-boiled eggs.
Do not. Eggs are a wonderful lunch choice -- they're filling and packed with protein. But selecting hard-boiled eggs from the salad bar is foolish. They are heavy in weight and take up a lot of space. Instead, you could buy a dozen eggs for less than three dollars at a local bodega (but probably not at Whole Foods), boil them all and distribute them in your salads throughout the week. That would be smart.
Resist the heavy veggies.
Similar to the egg predicament, many tasty vegetables can be purchased outside of the salad bar for much less. (If you're really pinching, a frozen bag is often less expensive.) That vibrant, green piece of broccoli may entice you, but its high water content will weigh down your container. Keep other individually served vegetables and fruits that take up a lot of surface area -- like cauliflower, cucumbers, tomatoes -- out of the box, too.
Choose the "fancier" veggies instead.
Olives, artichokes and roasted red peppers can cost a pretty penny when sold on their own. The salad bar is an equal opportunity vendor, so plop a few of these more gourmet-seeming vegetables to get a better bang for your buck.
Don't get carried away by novelty.
When, besides at the salad bar, do you get to combine your cross-cultured love for stuffed grape leaves and seaweed salad in a single dish? It can be tough to resist packing every intriguing mix-in into your salad, but if you're not careful, the ounces will rack up. If you are easily excited by variety, inspect the entire bar and walk a full lap before making any selections. You'll be less likely to indulge the kid-in-a-candy store-turned-adult-at-the-salad-bar that you are.
Fruit salad is the forbidden fruit.
You may choose whatever salad bar fixings you crave, of course, but that colorful bin of fruit salad is just another substantial mass to your box. You'd save more by purchasing an additional prepackaged side of fruit salad or, better yet, a single apple.
But skimp on beans.
Beans -- the mushy types like kidney and cannellini, in particular -- are dense and will sink to the bottom of your box. If you need a bean fix, buy them canned.
Do add cheese.
This is good news. When you add cheese, you're definitely milking the salad bar system. The bar presents a bounty of cheeses; when possible, choose the shredded or grated cheeses over the cubes (it's all in the weight, people). Even still, if a square of feta is singing your song, welcome it to your salad box. Avoid scooping up the salt water solution along with it.
Get the small container.
When it comes to portion control at the salad bar, Whole Foods hands you the reins. No matter your hunger level, you're more likely to fill a bigger box with more food (and underestimate how much you're taking). In all likelihood, you will be satisfied by what you fill in the small box, and you'll spend less, too. Win.
Go for shredded.
Again, density is the fundamental principle for navigating the salad bar. When presented with shredded carrots or baby carrots, choose the former. You'll be able to enjoy the taste of carrots without sacrificing as much cash.
Take your dressing on the side.
Kindly ask one of the Whole Foods employees for a small dressing container. Dousing your greens in creamy ranch before check out will add unnecessary ounces to your salad's weight.
Be mindful of the marinade.
If you're craving something from specialty salad section -- like the golden sesame tofu that comes in a thick soy glaze -- use precision to pick out the pieces from their marinade. Your items will retain the flavor of whatever they're dressed in, but you won't have to pay for the excess saucy stuff.
You can beat the salad bar.
Related
Before You Go
Easy Summer Herb Chickpea Chopped Salad With Goat Cheese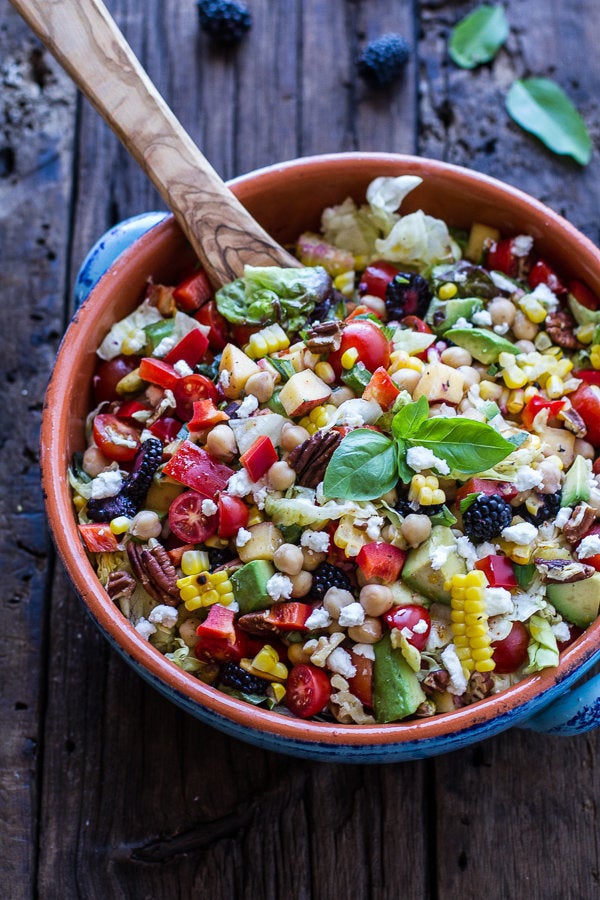 Sugar Snap Pea And Fennel Salad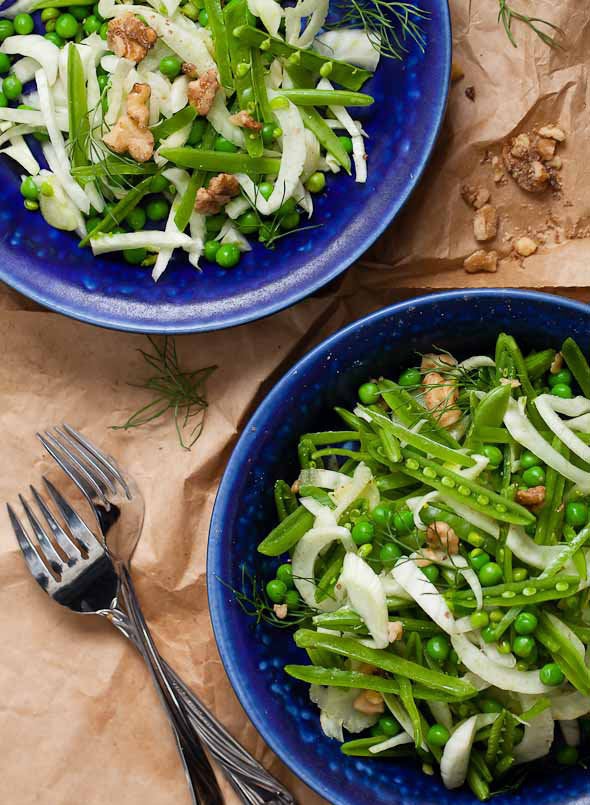 Chopped Cashew Chicken Salad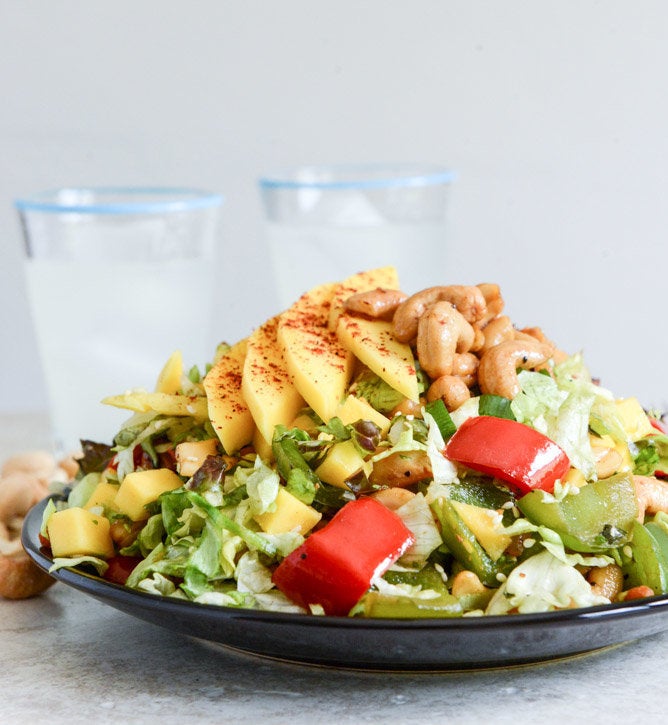 Lychee, Vermicelli Rice Noodles And Edamame Salad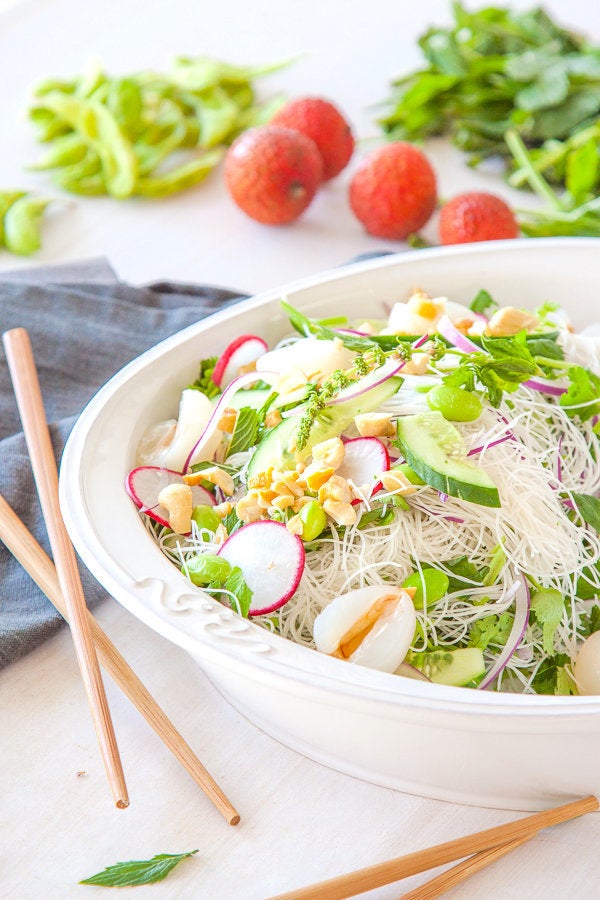 Honey Grilled Watermelon Caprese Salads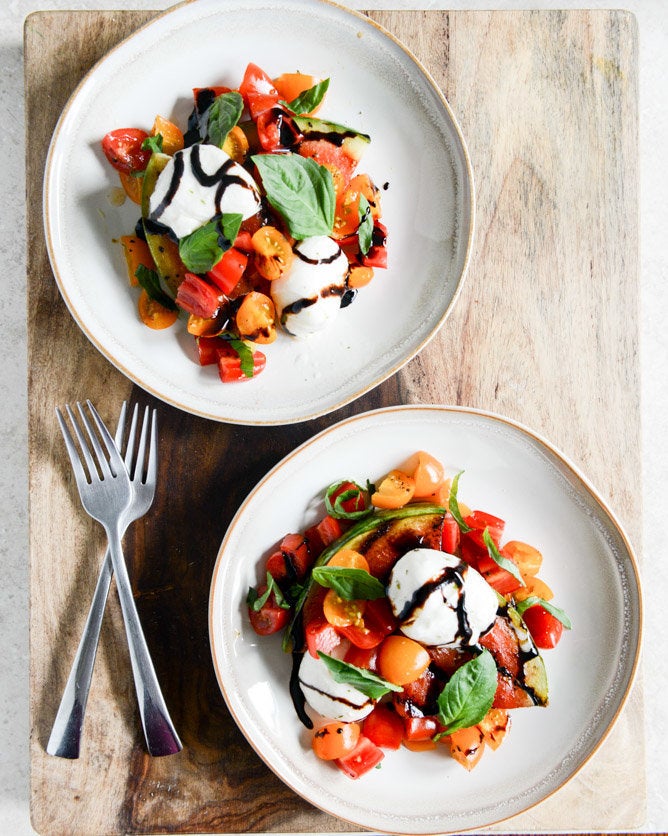 Heirloom Tomato And Chorizo Salad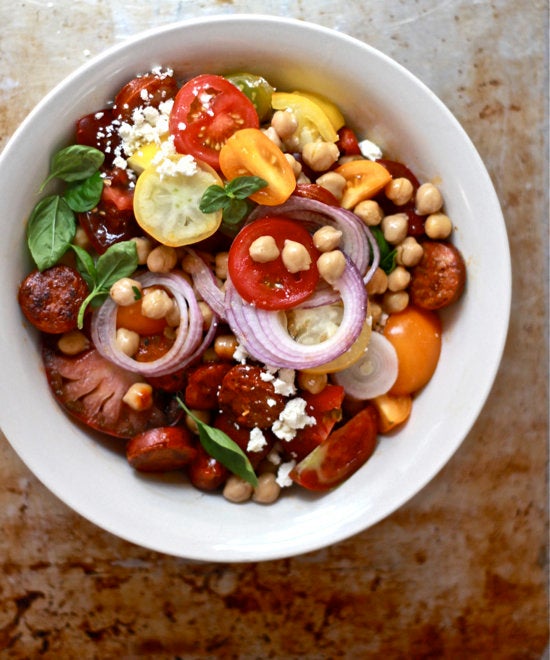 Salmon Salad With Honey Mustard Vinaigrette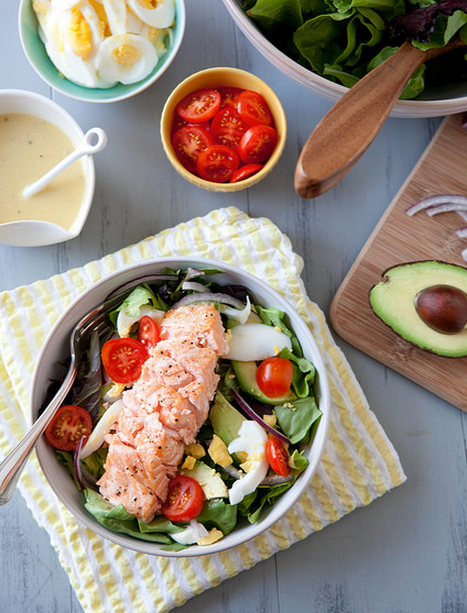 Roasted Moroccan Carrot Salad With Chickpeas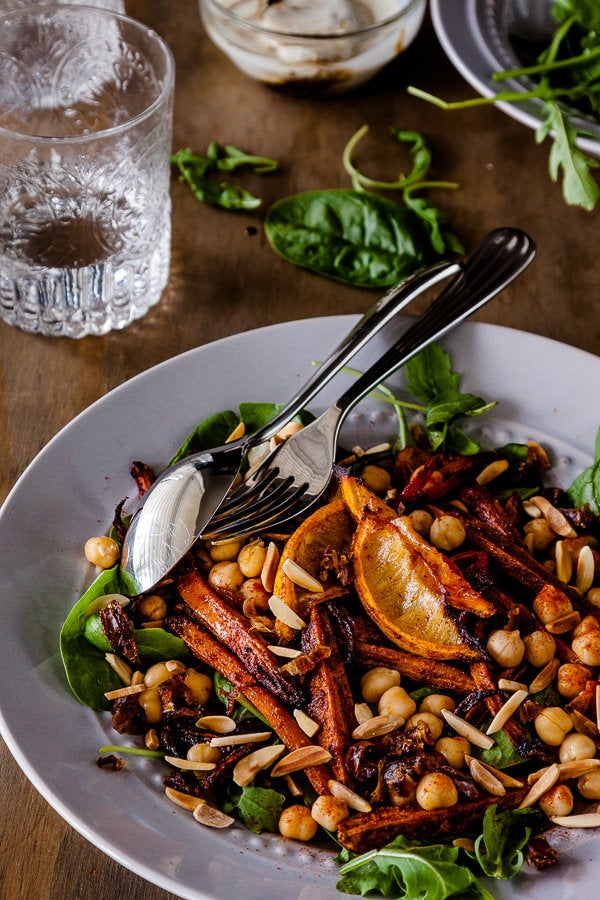 BLT Chopped Salad With Corn, Feta And Avocado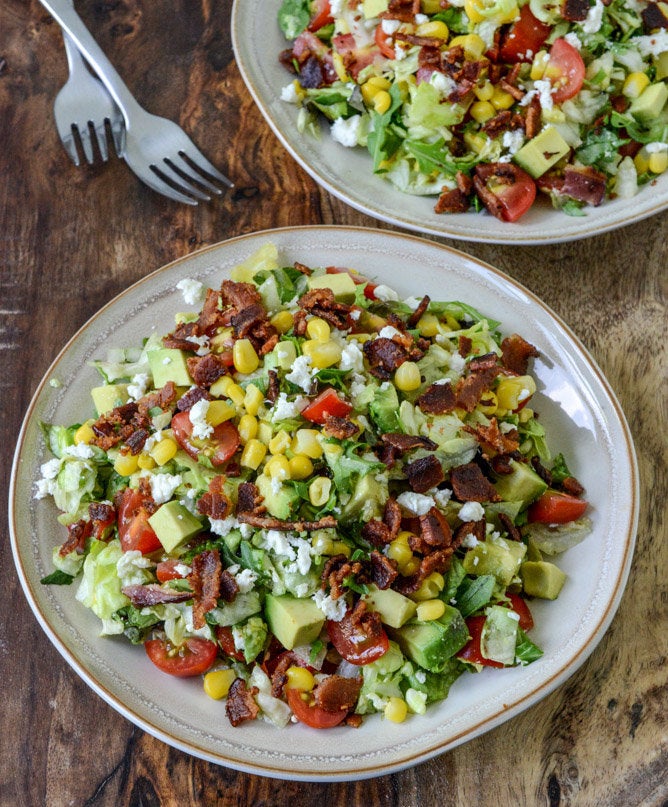 BBQ Chicken Chopped Salad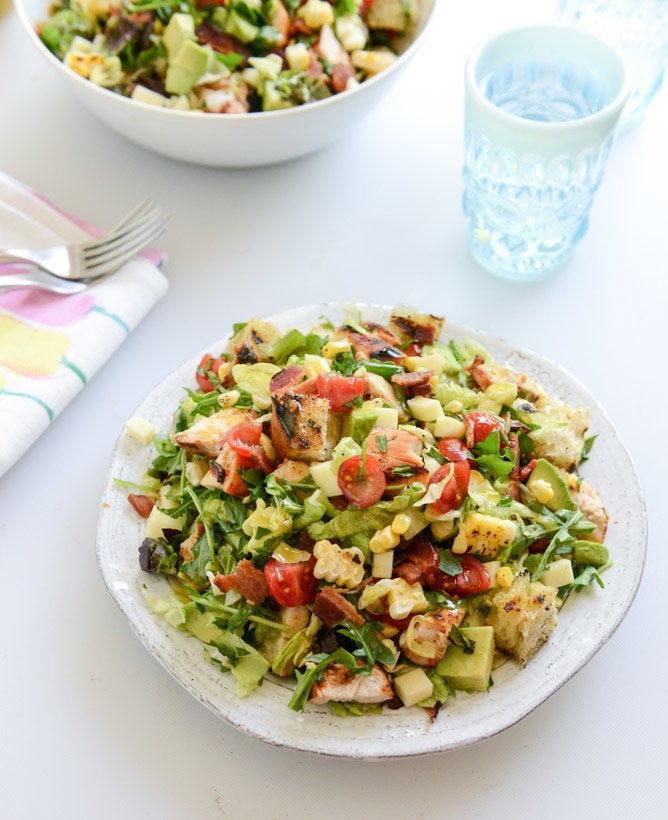 Summer Berry Spinach Salad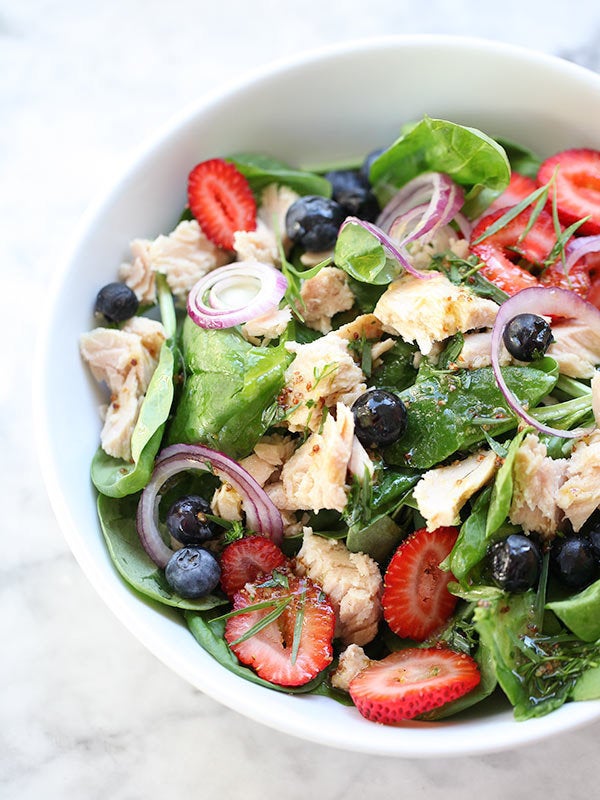 Grilled Eggplant And Zucchini Salad With Feta, Chickpeas And Mint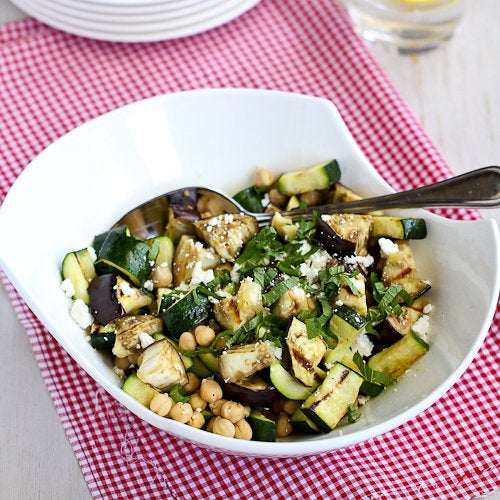 Grilled Corn And Pasilla Pepper Salad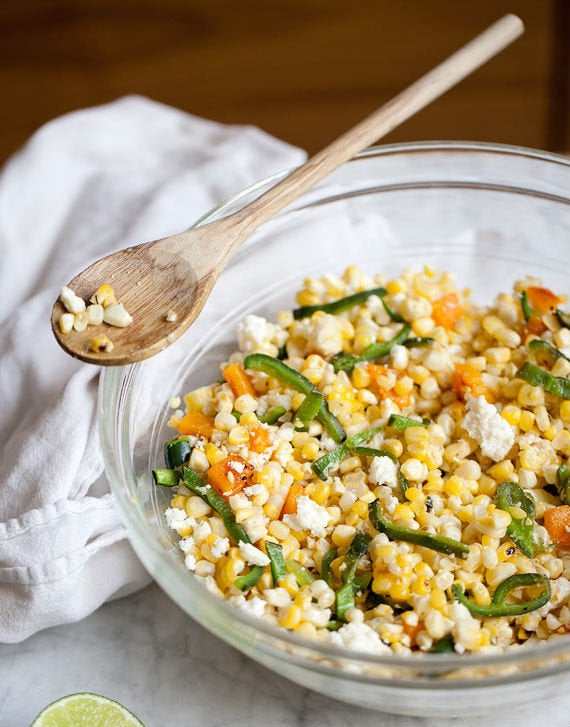 No-Cook Mediterranean Chicken Salad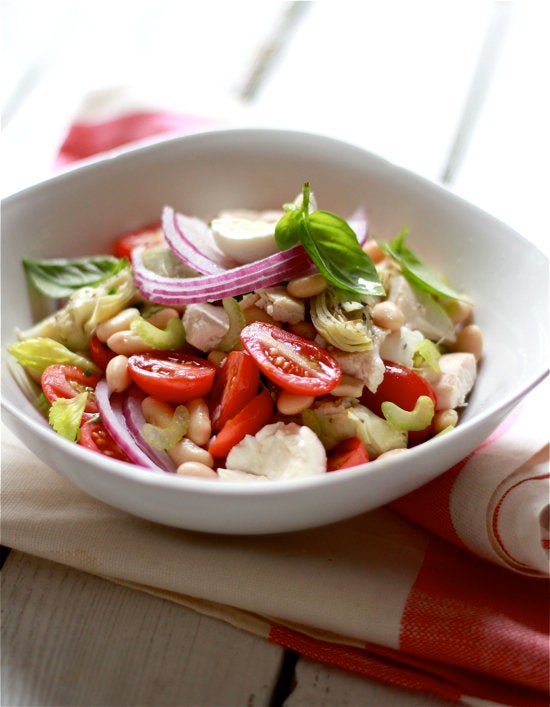 Crunchy Celery, Radish And Turnip Salad-Slaw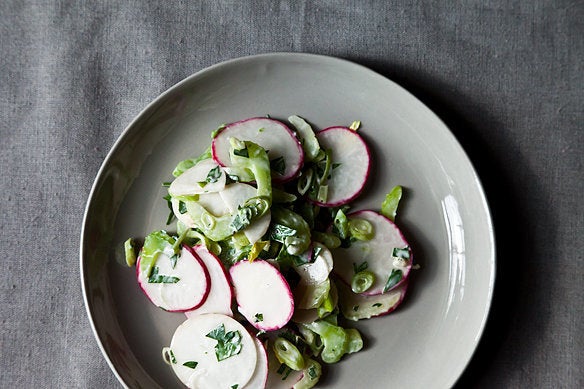 Chickpea Panzanella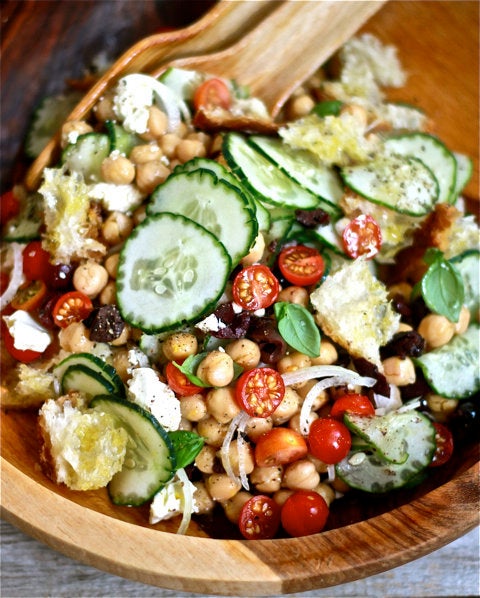 Quinoa And Mango Salad With Lemony-Ginger Dressing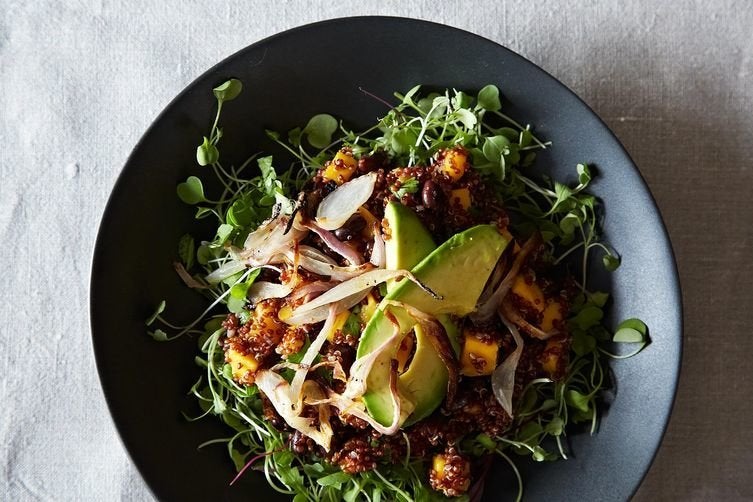 Grilled Salmon And Vegetable Orzo Salad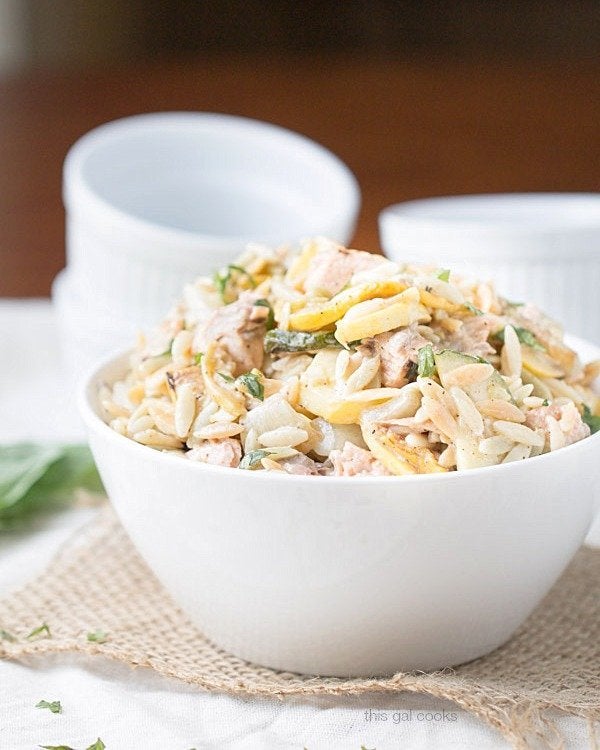 Everything But The Kitchen Sink Pasta Salad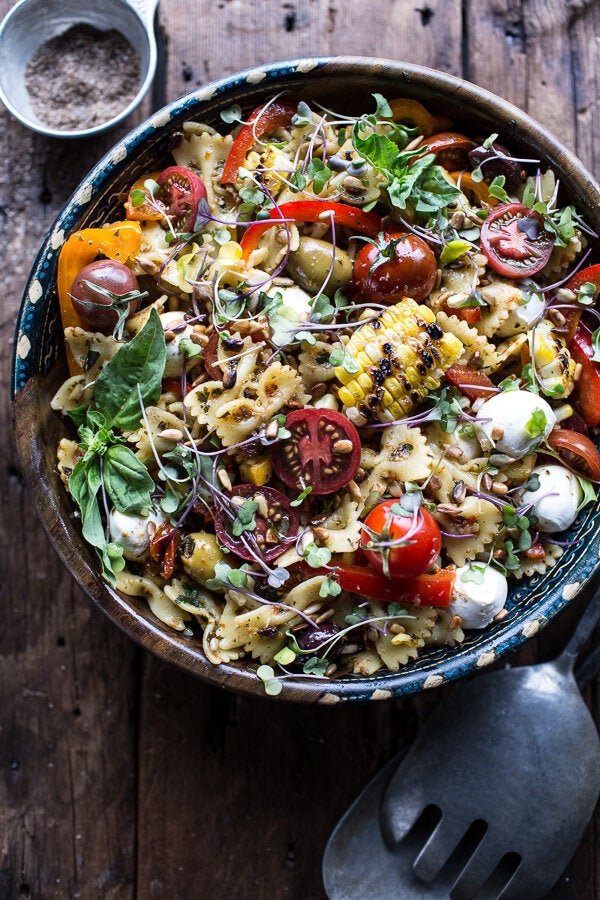 Pickled Strawberry And Roasted Beet Salad On Ricotta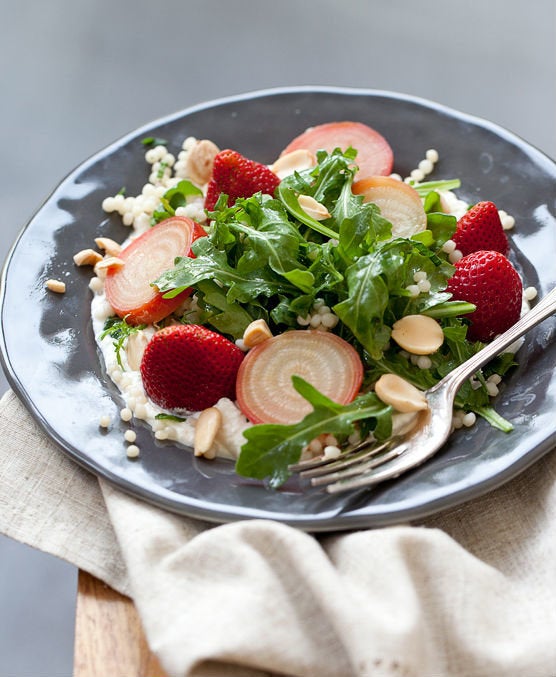 Roasted Corn And Cilantro Salad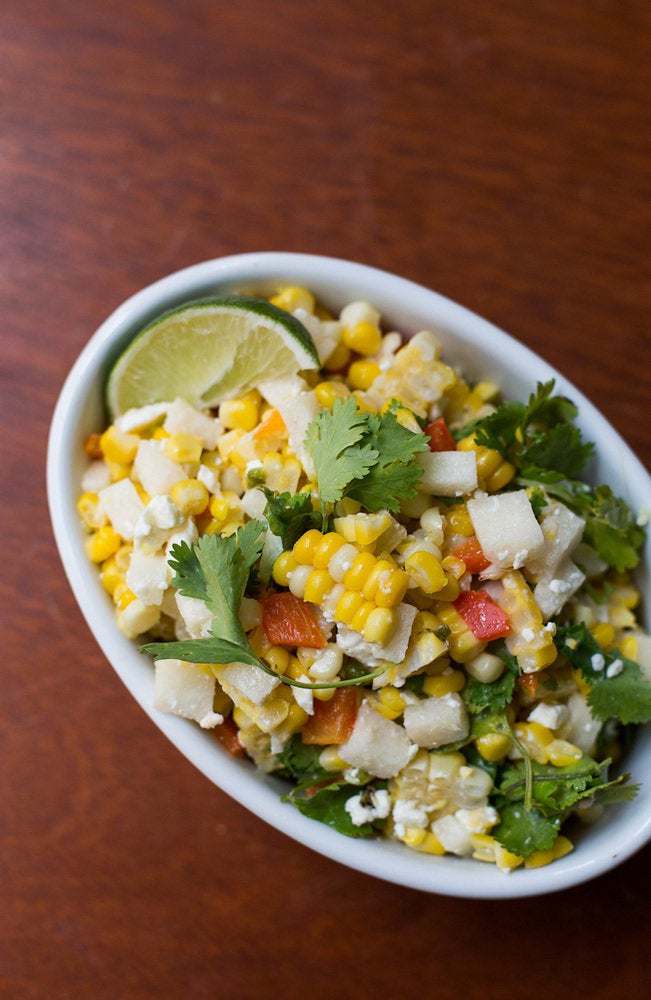 Simple Tomato Salad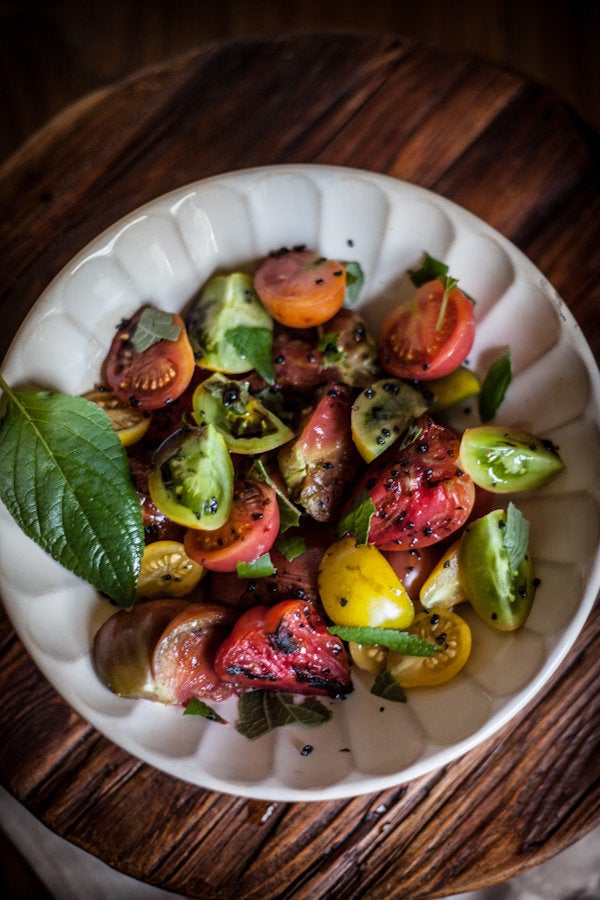 Chickpea, Avocado, And Feta Salad