If you're trying to make small changes to your diet to skew a little healthier, buying whole wheat pasta is a good place to start. Sure, traditional pasta is one of those age-old comfort foods that many believe shouldn't be messed with -- "If you're going to eat pasta, just eat pasta." There's a stigma that whole grain pasta tastes -- well, grainy … which most of us equate with "bad." But is it true? Do all whole grain pastas compromise flavor? We weren't so sure, so Kitchen Daily set out on a mission to discover the truth.
When you're shopping for whole grain pastas, one easy way to identify them is by looking for the Whole Grains Stamp on the package. It's a little yellow postage-stamp-style icon that makes life easier for shoppers, indicating that the product contains either 100% whole grains or a portion of whole grains (read this to find out more). Otherwise, you just have to read the box to determine just how "whole grain" your pasta is. While some brands contain one lone ingredient (for example, "Organic whole wheat semolina") and are thusly categorized as 100% whole grain, others are a little vague. If you really want the most whole grain bang for your buck, avoid whole grain pastas labeled as "enriched" (ahem, De Cecco) -- those brands contain several added ingredients such as riboflavin, niacin, etc., meaning your pasta basically contains whole grains "and a bunch of other fillers."
As for flavor, our panel of blind taste testers looked for pastas with a neutral flavor that's similar to traditional pasta. We wanted something that would blend into the background and let your sauce really shine, while also maintaining the firm, chewy, al dente texture of a traditional pasta.
We're happy to report that we did find a few strong contenders (and yes, some were so bad that we spit them out). Though none of the brands we tested tasted exactly like the real thing, there are a few brands that could probably be swapped for traditional pasta without your dinner guests ever noticing. Check out the results in the slideshow below to see our ranking and full product information for each of the brands tested.
Which brand of whole wheat pasta do you buy? Leave us a comment below.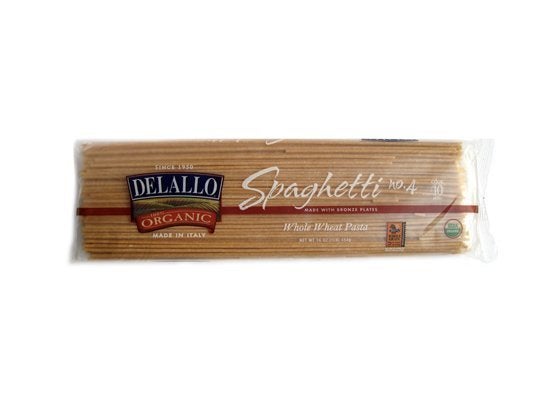 Whole Wheat Pasta Taste Test