Social Media Bringing Home the Gold for a New Generation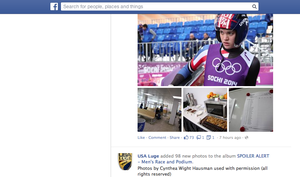 When Olympic coverage seeps from your television and NBC apps to your Facebook Newsfeed, the nine-hour delay from Sochi, Russia dissipates, and the action is brought into your home in real time.
After the 2012 summer Olympics in London, social media has only been further integrated into the Games. Every article and athlete roster now features their Twitter handle, and personal Facebook accounts have been newly verified and subscriptions to follow athletes' profiles are skyrocketing.
Athletes' fans expect them to contribute to the digital noise, providing photos, updates and responses to their well wishes. Even Olympic U.S. Luge athlete Tucker West's father promised a personal response from his son for every message or comment including the hashtag #teamtucker. Now that's a big promise to make.
The National team visited Burlington in late September of 2013 and mingled with fans from New England and Quebec, Canada for an evening. Local entrepreneur and volunteer U.S. Luge social media manager Cynthea Wight Hausman brought the team to Burlington from the Olympic Training Center in Lake Placid for a fundraiser event.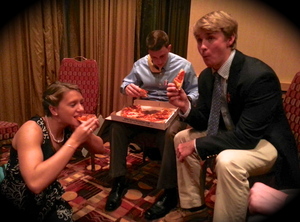 Hausman spoke to my marketing senior capstone class at Champlain College about dealing with the pressing problem of how to address Russian President Vladimir Putin's anti-gay laws when promoting and hosting the U.S. Luge event. How would athletes respond to reporters' questions? Should she avert attention from the disreputable laws, should they come up? Hausman also enlisted the help of social media interns and assistants for the event. I offered my services and was thrilled to assist the women's team glam up, and then share some pizza with the team before they met their fans. (Yes, they're real people, too.)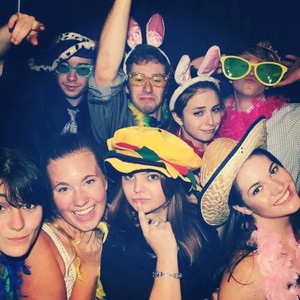 That evening, my friends and I were just about the only attendees who matched the athletes' demographic. This was advantageous for us. We recruited team members to populate the dance floor, took full advantage of the red carpet and photo booth, and exchanged contact information should their training schedule allow for us to pay a visit to Lake Placid in New York prior to the Olympic trials.
As weeks passed and training schedules became more demanding, we lost touch with the athletes, but still felt connected as we were tagged in more photos uploaded from the event and shared on the U.S. Luge team page.
Not only are NBC and U.S. teams, like Luge, increasing Olympic social content, but the athletes themselves are embracing this shared connection to fans. I believe that social media fuels these Games, mostly due to the evolution of the Olympic event offerings to appeal to a younger crowd and the surge of new young athletes.
In 2014, the U.S. Olympic team is equally represented by new talent and experienced Olympians. The average age of the U.S. Olympic team is 26, with 23 teenagers among our nation's 230 athletes, and 44 of them can't legally have a glass of champagne to celebrate their Olympic debuts.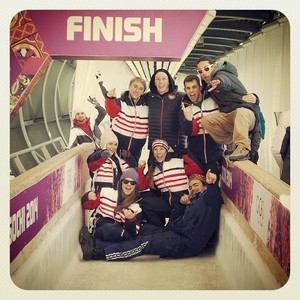 It astounds me when professional athletes are younger than me, like 18-year-old Tucker West and 19-year-olds Summer Britcher and Aidan Kelly; I envy all that they've accomplished as I am planted on my sofa, shoveling guacamole into my mouth. At least I felt the slightest bit more involved when Britcher liked and retweeted my photo on Instagram, and West responded, "Thanks Kayla!" on Twitter just before they walked into Fisht Olympic Stadium for the opening ceremony.
Although I can't say I grew up with or am related to any of the athletes, still having shared an evening with them off the track, out of their element and having fun, was an experience I am so glad to have had prior to the 2014 Games. I find myself wildly more engaged in these games than I have been in Olympics' past, and I take so much more pride in our Nation's team.
Popular in the Community