Not afraid of grand narratives, Danish trio WhoMadeWho offer an eclectic and polyphonic encounter with sound and emotion, uplifting live performances, and compelling short films. Their latest singles, "I Don't Know" and "Dynasty", look into personal inspirations and the transformation of intimacy and sexuality in modern society, as part of their forthcoming album, Through the Walls. Guitarist/singer Jeppe Kjellberg, drummer Tomas Barfod, and singer/bassist Tomas Høffding have been collaborating for over 14 years, and their work has helped shape the contemporary music scene. The trio's divergent influences and personal approach have generated an emblematic, indelible style, and the metaphors they use evoke a universal sensibility. Their work expresses both the depths and the heights of human experience.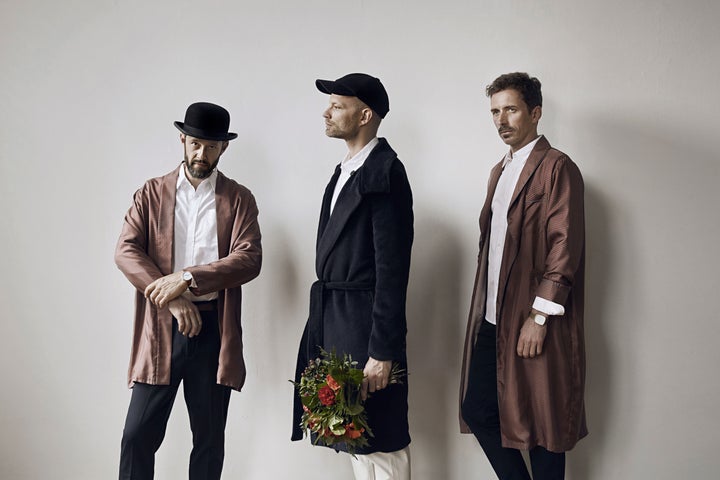 In a conversation about their new album, they explained how its making was a very long process and an exciting journey. "We have this Musketeer thing going on, we are a band in which each member is equally important, and we all contribute to every aspect," said Tomas Høffding. "Because we come from different backgrounds, a lot of the ideas around this album were about making it more focused music-wise and finding the right balance. Each song stands on its own, but for me, it was important to make the album like a space that you need to enter."
Jeppe Kjellberg described the album as a kaleidoscope of different emotions and stories: "I believe we've created this art piece that takes the listener on a journey, musically and also in terms of the different moods. This album is colourful, and just like in a painting, we use different colours and tools to make it more differentiated, more dynamic, versatile, and fluid." WhoMadeWho recorded a video trilogy in India for the singles "I Don't Know," "Dynasty," and "Surfing on a Stone"– each featuring one of the musicians. Their storytelling is emotionally savvy and the visual aesthetics are impressive.
"I Don't Know" is inspired by a situation where Whomadewho was on the way to do a concert in Guadalajara, in Mexico. Unfortunately I couldn't get into the country, and got stuck at the border in a unpleasant situation I couldn't get out of – it was like this existential feeling of being unable to do anything, just waiting for my destiny to unfold. That emotion is captured in this song. It's inspired by a short moment in time, but at the same time, it's about a more general emotion that you can have at any time. A feeling of being stuck in a crazy world where you sometimes are unable to do anything about it", shared Jeppe Kjellberg.
It is not the first time they have "spoken" with such sensitivity, with the interior world of the modern man as a recurrent theme. Here too, their new songs swiftly capture the texture and culture of lives rich with emotions and desires. The lyrics of "Dynasty" are openhearted, provocative, and vulnerable. "This song is about first world problems," Tomas Høffding said. "A lot of people in well-functioning societies all around the world have just stopped having sex with each other. Nowadays, people don't have time for intimacy, or maybe forget about it, and this song is about that. The video is infused with emotion – there are many things going on and the listener is brought into this beautiful, crazy scenery."
"Through the Walls" is uplifting, I think it has to do with how we picture our band. We are like a bumblebee: it's basically not supposed to fly, but it flies anyways. We are celebrating the power of life, and in your life, if you really believe in it, and if you have the confidence, you can do amazing things. When we do shows, and everything works perfectly, we feel like everything is possible, and the album carries a message: If you believe in yourself, you can do some amazing things."- Jeppe Kjellberg
"Through the Walls" will be released on January 19, 2018. More about WhoMadeWho's work and upcoming concerts can be found at www.whomadewhoband.com
Popular in the Community