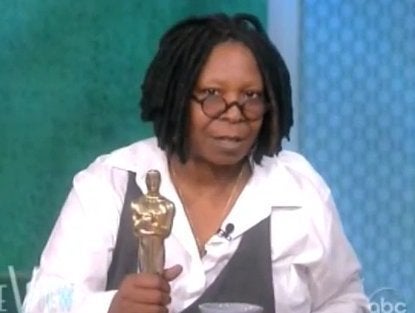 Whoopi Goldberg lashed out at the New York Times for omitting her 1990 Oscar win in an article about the lack of black nominees for this year's awards.
The article, by Times film critics Manohla Dargis and A.O. Scott, talks about the dearth of black nominees for the 2011 Oscars, saying that "the whiteness of the 2011 Academy Awards is a little blinding." It mentions Halle Berry and Denzel Washington's Oscar wins in 2002, as well as more recent black winners such as Jamie Foxx and Mo'nique. But it does not mention Goldberg, who became the first black woman to win an Oscar in over 50 years when she won for "Ghost" in 1990.
"I am embarrassed to tell you it hurt me terribly...to be dismissed and erased by the New York Times film critics," she said on Monday's edition of "The View." Goldberg said that the Times was guilty of practicing "sloppy journalism," since her Oscar win is "not a hidden thing." For emphasis, she brought her Oscar out and placed it on the table in front of her.
"You're supposed to be better than this," she said, addressing the Times.
Her co-hosts rose to her defense. Elisabeth Hasselbeck said she has canceled her subscription to the Times until the paper issues a correction. Barbara Walters told Goldberg that "we are honored every day that you are part of this program."
The error lies with those who are reading the story incorrectly. The point of the piece was not to name every black actor or actress who has been awarded an Oscar, it was to draw a comparison between the number who won prior to 2002 (the year Halle Berry and Denzel Washington won) and those who have won since. And the story states very clearly that in 73 years, prior to 2002, only seven black actors/actresses won Oscars.
WATCH:
Support HuffPost
The Stakes Have Never Been Higher
Related
Popular in the Community