Whoopi Goldberg has responded to a news story that she says not only made false claims about her, but also put her life in danger.
On the Monday broadcast of "The View," she set the record straight.
"[The article] endangered my family's life and it endangered my life," the 61-year-old actress said. "It turns out the entire website was created by a guy who just wanted to see how quickly stories he made up would spread."
Goldberg said the story made her and members of her family the target of harassment as other outlets picked up the bogus comments.
"I know you're in Costa Rica, sir, but if I hadn't been made aware of this, I could have found out about this at the end of a barrel of a gun," Goldberg said.
"So I'm going to try and get some legislation going that says, 'If you're going to involve someone in fake news, you should have their permission.' You shouldn't be able to just put stuff out there," she continued. "Because clearly you don't care what could have happened to me, or to my family — or the fact that there's a lot of people who said, 'Well, I know you said it.'"
The "View" host threatened to sue the American man she says posted the false story.
"So again, it is a lie, all you have to do is check the website and see what actually went on on the show that day," she said. "Sir, the fact that you don't give a crap that it endangered me is unconscionable and I'm going to get my lawyer and I'm coming for you."
UPDATE: 1:08 p.m. ― James McDaniel, the creator of the site "The Underground Report," which Goldberg was referring to in her statement, issued a response. In a blog post published Tuesday, McDaniel clarified that his site was intended as a satirical parody site. He stated that the site included a disclaimer "that made it clear that my writings were entirely based in fiction and that everything I wrote was satire or fake news." That disclaimer is linked to a separate page of the site. The footer at the bottom of each article page, however, appears to have been changed to include that disclaimer language, where it previously said the site was "dedicated to bringing the truth to the public." Read McDaniel's full statement here.
CORRECTION: This article previously misstated that Goldberg made her remarks on Tuesday's program; it was Monday's. Language has also been amended to clarify which parts of the website have been changed.
Before You Go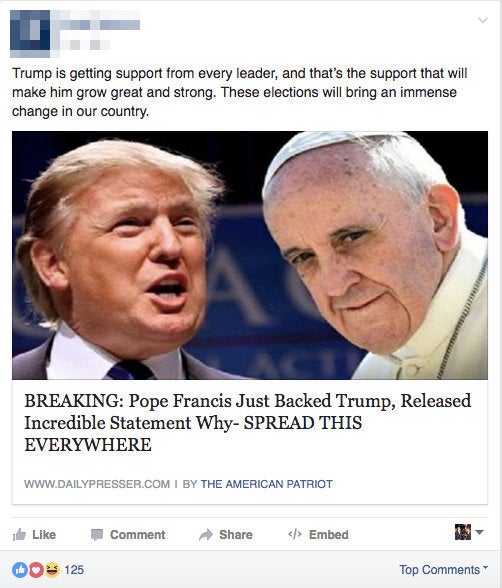 Fake News Spread By Social Media During The 2016 Election
Popular in the Community