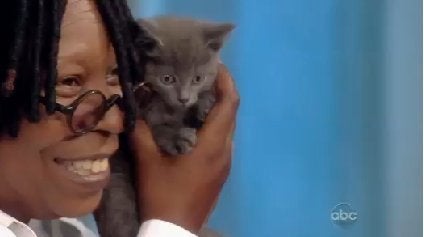 People are lining up to adopt the 5-week old kitten thrown from a car window on the Verrazano Bridge Saturday afternoon and rescued by a passing Animal Care and Control officer.
Among the hundreds who want to adopt the cute feline, dubbed Verrazano, are former Staten Island Borough President Guy Molinari and actress, comedian and "The View" co-host Whoopi Goldberg, The Staten Island Advance reports.
Whoopi mentioned Verranzano on "The View" yesterday and according to the Advance, filed an official request for the Russian-blue kitty.
Molinari said, "I want that cat!" and described seeing Verrazano's picture on the front page of the Advance and thinking, "Wow! This is it. It's the right cat at the right time." Molinari is a longtime cat-lover.
The AC&C says they'll make a decision at the end of next week .
Verrazano was saved Saturday after an AC&C employee saw the kitten thrown from a car.
"At first he thought they were throwing garbage," said AC&C spokesman Richard Gentles. "Then he realized it was a kitten," The New York Daily News reports.
The officer then worked with some concerned truck drivers to stop traffic on the bridge and rescue the kitten, dangerously wedged by a barrier on the bridge roadway.
Once in safe hands, the AC&C checked the cat for injuries and found none.
Gentles said he has little doubt someone was intentionally trying to toss the kitten from the bridge into the water.
"It is unthinkable that someone could do something so heartless and cruel to an animal," explained Julie Bank, Executive Director of AC&C in a press release. "If AC&C wasn't crossing the bridge at that time who knows what may have happened to Verrazano."
Officials are still looking for the person responsible for the cruel act. If you have information or
you are interested in adopting Verrazano, please email AC&C at info@nycacc.org. Also, please consider adopting one of the other animals who need homes.