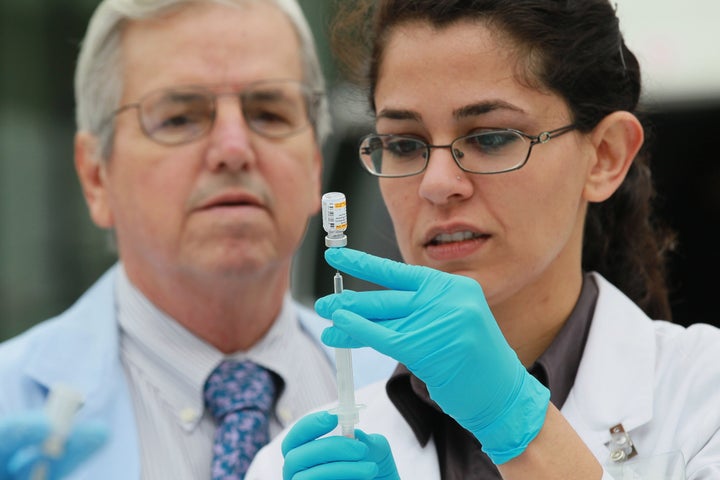 A California law that takes effect on Friday requires all students in grades 7 through 12 to get booster vaccinations to combat what state health officials say is an outbreak of the illness.
More than 9,000 cases of the bacterial infection were reported in California last year, marking the state's biggest outbreak of whooping cough, which is also known as pertussis, in over 60 years.
Ten cases led to the death of infants under two months old, California heath officials said.
Students arriving for their first day of school in the fall will need documentation to prove they received a booster shot of the vaccine for pertussis, tetanus, diphtheria.
"While everyone is taking summer vacation pertussis is not taking that vacation," said Dr. John Talarico, immunization branch chief with the California Department of Public Health.
Whooping cough, which causes violent and uncontrollable coughing, infects 30 to 50 million people a year globally and kills about 300,000, mostly children in developing countries.
There are regular outbreaks in developed countries, and the recent one in California stands out as one of the biggest in the United States in recent years, according to the Centers for Disease Control and Prevention.
So far this year, California has seen over 1,400 cases of whooping cough, which is above the historical average, health officials said.
All states require a whooping cough vaccination for children entering kindergarten, with exceptions provided for religious and other reasons, said CDC spokesman Jeff Dimond. But immunity tends to wane after three to five years, Talarico said.
The CDC this year recommended booster vaccinations for older children, but not all states require them and only 56 percent of teenagers in the country receive them, according to the CDC.
He said the disease can be severe for middle and high school students, even if infants are the most likely to die.
Health officials say children can get the booster shot at their family doctor as well as clinics, and those covered by the state's Medicaid program can receive it for free.
"We've all been very anxious we want people to be able to meet the requirement," said Dr. Glennah Trochet, the Sacramento County public health officer. "We believe it's necessary given the huge epidemic California has incurred."
Starting next year, only students entering the 7th grade will need proof of the booster shot before beginning school.
Related