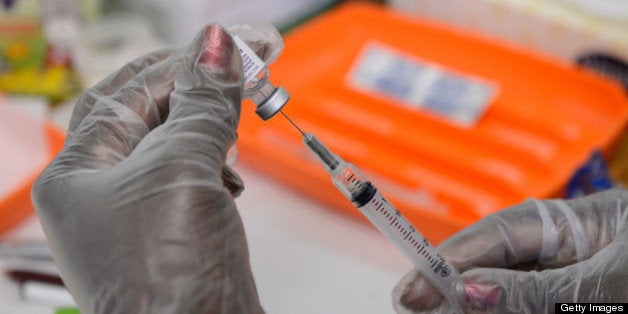 Weld County is experiencing its worst outbreak of whooping cough in 20 years, according to county health officials.
They report that since December 2012, 15 schools across Weld County reported cases of whoping cough, also known as pertussis, which is a stubborn and persistent cough, spread primarily from person-to-person by coughing.
Officials warn that schools are not the only place where infection can spread from person to person. The age of pertussis cases from the past five months ranges from a 9-week-old infant to a 71-year-old adult.
To limit the spread of the disease, the Weld County Department of Public Health and Environment recommends that children and adults get immunized.
Dr. Mark Wallace, executive director of the health department, said people need to do three things.
"First, get vaccinated. It's important to follow the recommended series of boosters for both adults and children because the pertussis vaccine doesn't provide life-long protection."
Second, get tested by a health care provider if you have a cough that lasts longer than two weeks in order to receive the appropriate treatment and stay home to not make others sick.
Third, said Wallace: "Always cover your cough."
Pertussis is a bacterial infection of the respiratory tract that can easily spread though the air in droplets when an infected person coughs or sneezes.
The illness often starts with cold-like symptoms, including sneezing, a runny nose or low-grade fever, along with a mild cough. The cough usually becomes more severe during the first week or two, and is sometimes characterized by episodes of rapid coughs (coughing fit), followed by a high-pitched whoop, vomiting, or breathlessness. The cough may last for a couple of months and is more frequent at night.
Some people may have mild symptoms and not know they have whooping cough. They may spread the disease to others, including newborns and children who are not fully immunized.
People contracting pertussis, especially young children, may develop bacterial pneumonia or other complications, such as middle ear infection, temporary loss of consciousness, and seizures. The disease may be fatal in some cases.
For more information about pertussis, visit www.weldhealth.org. ___
(c)2013 the Greeley Tribune (Greeley, Colo.)
Distributed by MCT Information Services
Calling all HuffPost superfans!
Sign up for membership to become a founding member and help shape HuffPost's next chapter
BEFORE YOU GO