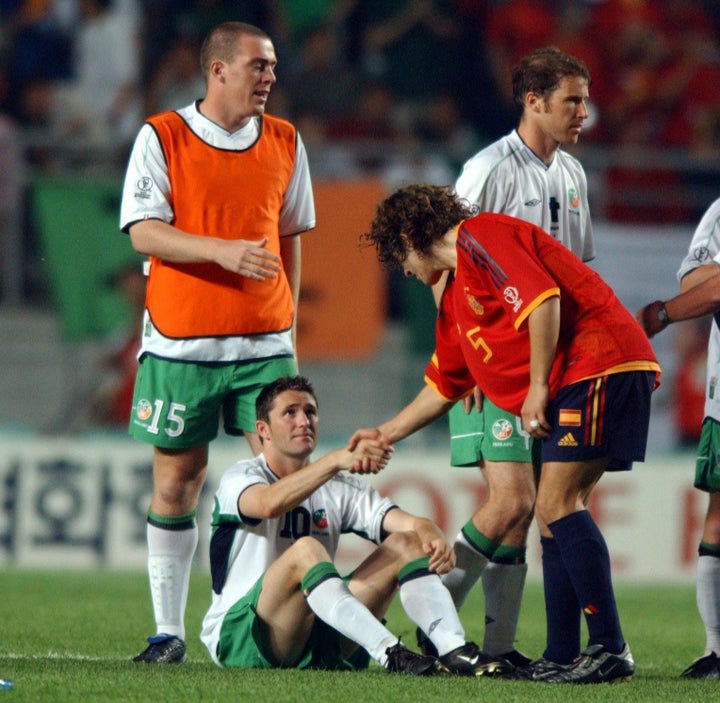 One morning last week, the longtime New York sportscaster Warner Wolf commented on the Imus in Morning program about the battling and other social misconduct of soccer fans that, predictably, had been disgracing the European Championship tournament. "There's a word for it," Wolf informed the host. "Hooliganism. It's a good word."
I am inclined to disagree. Indeed, I am amazed that this ethnically loaded term has been accepted, as far as I can determine, without a whimper of objection from the forces of linguistic propriety, as suitable for describing thuggish or belligerent public behavior, particularly by football partisans around Europe and much of the world. And in recent weeks, as such fans have cavorted violently and abusively about the Polish and Ukrainian venues of Euro 2012, the word has been splashed around American newspapers day after day.
"Hooligan" (like other terms, such as "paddy wagon" and "shenanigans") is a word that was coined by English colonizers to demean the Irish immigrants among them, who had been driven reluctantly across the Irish Sea by brutal poverty and, in particular, the horrifying potato famine of the 1840s. It bears, therefore, a glaringly offensive historical coloring. But let us, as my native-Irish father used to say, "jump to the dictionary." In my Merriam-Webster Collegiate, ninth edition, I am amazed to find that the editors believe that it was derived from "Patrick Hooligan," an "Irish hoodlum in Southwark, London." It is not, of course. Hooligan is not an actual Irish name - there is not a single one listed, for example, in my Brooklyn phone-book. The term is factitious, a cross-formation of "Houlihan" and "Harrigan" or "Halligan," and therefore representative of all the Irish. Don't look for Seamus Shenanigan in your directory, either.
Several months ago, having noticed the word used at least twice in one week's editions in The New York Times, I communicated some of the above observations to the paper's public editor, Arthur S. Brisbane. I received a quick response from Mr. Brisbane's assistant, who informed me that, "The public editor wrote about this topic in February," and offered me a link to same. This directed me to a piece explaining that reporters and editors need to be careful about identifying people's ethnicities unless doing so is relevant to the story. "Are you kidding me?" I wrote back to this operative, "... or have you missed my point entirely?"
A month or so later, I mailed Brisbane a letter, repeating of the points that I have offered here. I did not receive a response.
It is remarkably ironic, moreover, that this old anti-Hibernian slur is applied primarily to soccer fans, for accounts that I have read describe the advocates of Ireland's team to be the most cordial and well-behaved in Europe. Here is what the English football-writer Rob Hughes commented about them in Monday's New York Times:
"Here in Poznan [Poland], as in other games, there have been no more committed supporters, no greater example of what true fans bring to a game, than the green-clad Irish. They occupied the stadium, vastly outnumbering the Italians [their rival fans]. They sang, they roared, they applauded good play."
The Irish supporters attending their team's victory over Romania last Monday in Genoa deserve a major salute... despite their obvious advantage in size, sound and fury, the Irish fans stood in stone silence during the playing of the Romanian anthem, in respect to the players and the Romanians among the crowd. Amid the rampant, often excessive nationalism and disrespect shown elsewhere, it was welcome and touching.
Perhaps these fans should be labeled "anti-hooligans."
Calling all HuffPost superfans!
Sign up for membership to become a founding member and help shape HuffPost's next chapter