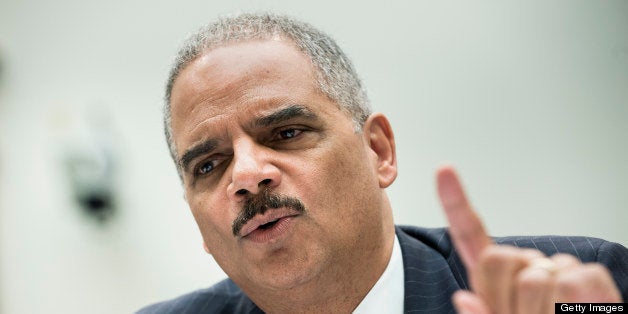 Here's how it looks so far if any meeting with Holder remains off-the-record:
Not going: New York Times, AP, Huffington Post, McClatchy, CNN, CBS News, Fox News, Reuters, and NBC News.
Going: The Washington Post, Politico, Wall Street Journal, Los Angeles Times/ Chicago Tribune, ABC News, Bloomberg, USA Today.
Some editors are attending a Thursday evening meeting, while it appears other news chiefs are slated for Friday. A DOJ spokesperson has not responded to questions about the number of meetings and when each will take place.
For the record, here's how media outlets explained the decision to attend or not attend:
"We will not be attending the session at DOJ. It isn't appropriate for us to attend an off the record meeting with the attorney general. Our Washington bureau is aggressively covering the department's handling of leak investigations at this time."
"We believe the meeting should be on the record and we have said that to the Attorney General's office. If it is on the record, AP Executive Editor Kathleen Carroll will attend. If it is not on the record, AP will not attend and instead will offer our views on how the regulations should be updated in an open letter. We would expect AP attorneys to be included in any planned meetings between the Attorney General's office and media lawyers on the legal specifics."
"A conversation specifically about the freedom of the press should be an open one. We have a responsibility not to betray that."
Like the New York Times and the Associated Press, CNN will decline the invitation for an off-the-record meeting. A CNN spokesperson says if the meeting with the attorney general is on the record, CNN would plan to participate.
"They don't help us inform the public," Asher said of off-the-record meetings in a phone interview with Poynter. "This one seems designed mostly to make a public relations point and not a substantive one. If the government wants to justify its pursuit of journalists, they ought to do it in public."
"CBS News does not plan to participate in the off-the-record meeting with Attorney General Eric Holder. We would be willing to consider an on-the-record discussion."
Decision: Fox News' Executive Vice President Michael Clemente has said that Fox News will NOT attend the DOJ meeting if it is OFF the record
"NBC News declines to participate in an off the record meeting on this issue."
Reuters Global Head of Communications Barb Burg:
"We would welcome the opportunity to hear the Attorney General's explanation for the Department of Justice's handling of subpoenas to journalists, and his thoughts about improving the protections afforded to media organizations in responding to government investigations, but believe firmly that his comments should be for publication."
"I prefer that any meeting be on the record. That said, journalists routinely participate in off-the-record sessions, whether they prefer those conditions or not, and then continue to report on events. I am going to this meeting in order to represent our interests as journalists and to raise our concerns. I'll also listen to what the Attorney General has to say. I trust that our journalists will report on this as vigorously as they would any other subject."
"As editor in chief, I routinely have off-the-record conversations with people who have questions or grievances about our coverage or our newsgathering practices. I feel anyone--whether an official or ordinary reader--should be able to have an unguarded conversation with someone in a position of accountability for a news organization when there is good reason"

"By the same token, I sometimes initiate such conversations when I have concerns about access or other matters that affect newsgathering," he wrote. "This meeting was at DoJ's initiative. Although the circumstances of this meeting have drawn wide notice, I do not see them as falling outside the usual practices I follow as editor."
"We think it is important to hear what they have to say on an issue that is so vital for the freedom of the press. This is an introductory meeting. If I thought there was going to be a real resolution to come out of this we would be more inclined to be resistant about doing it off the record."
"ABC News will attend the meeting and press for that conversation to be put on the record."
A Wall Street Journal spokesperson confirmed that Washington bureau chief Jerry Seib will be attending.
A Los Angles Times spokesperson confirmed that David Lauter, Washington bureau chief for the Times and Chicago Tribune, will be attending.
A Bloomberg spokesperson confirmed that the news organization will be attending.
This list will be updated as network decisions come in.
Popular in the Community