By Evelyn Iritani

What if you could buy a Granny Smith apple that tasted just like the real deal but wouldn't discolor if left on your plate? Would you care if the apple's genes were manipulated to reduce production of the enzyme responsible for browning?
Neal Carter, president of Okanagan Specialty Fruits, an investor-owned biotech company, bets you won't. Which is why he has spent more than a decade developing the Arctic Apple, which, if approved by U.S. regulators in the coming months, will be one of the first genetically engineered fruits on store shelves in America.
"No matter what anybody says, people buy with their eyes," says Carter, who grows cherries and apples at his orchard in Summerland, British Columbia, Canada. "Arctic Apples are going to be a lot more perfect looking than conventional apples."
Carter hopes to have Arctic Granny and Arctic Gold apples -- versions of the Granny Smith and Golden Delicious varietals -- on the market by 2014. He has also applied for permission to produce and sell the Arctic Apple in Canada.
Related: 'Bitter Seeds' film tells of GMO effects on India's Farmers
Carter, a bioresource engineer by training, believes in the win-win-win proposition of bio-engineered crops. In his world, growers, packers and retailers will throw away fewer apples because of bruising. Sliced apples could be sold in bags, making them more convenient for school lunches and snacks. Restaurateurs would no longer need to use preservatives to keep their fruit salads fresh.
But Carter is getting strong pushback, and it's not just coming from the consumer groups who have traditionally led the charge against genetically modified organisms, known as GMOS. The leading opponents to the Arctic Apple are the U.S. Apple Assn. and the Northwest Horticultural Council, the nation's top apple industry trade groups.
Related: Remembering why GMO labeling mattered

Christian Schlect, president of the Horticultural Council, fears the introduction of the Arctic Apple will harm the apple's image as positive, healthy and even patriotic. (Think of "An apple a day keeps the doctor away" and "As American as apple pie.") In addition, the organic farming programs that represent a small but increasingly important market won't accept GMO products.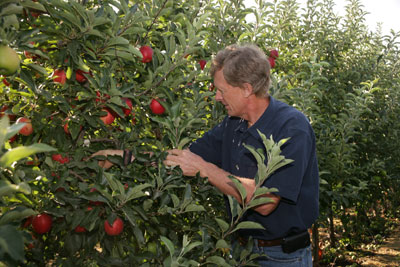 "This is a difficult issue and we're still sorting our way through it," says Schlect, whose members produce about 60% of the nation's apple crop. He is quick to add that his organization does not think bio-engineered crops are unsafe, simply that they carry a negative image for many consumers. "There may be places where the technology will produce some great advance that will benefit consumers and growers, but in this particular case we didn't find it that way."
Americans have been eating products containing genetically modified organisms for decades; the majority of the U.S. soybean and corn crops are grown from varieties bio-engineered to resist disease and increase yields. The Rainbow papaya, which was genetically engineered to resist a virus that nearly destroyed the Hawaiian papaya industry in the 1990s, is sold in the U.S. and was approved for sale in Japan in 2011.
However, the Non GMO Project and many other consumer groups do not believe the long-term health effects of genetically modified crops have been adequately studied. They are pushing for moratoriums on new GMO products and the labeling of GMO foods. In California, a GMO-labeling ballot measure was defeated in November after food and biotech companies poured millions of dollars into negative advertising. But GMO-labeling advocates are pushing forward in other states and on the national level.
Related: For those who are skeptical of Chinese organic farmers

Given the high passions surrounding GMOs, U.S. apple growers say the introduction of a GMO fruit would force them to implement costly measures to protect against cross-contamination of their crops and ensure GMO varieties remain separated throughout the supply chain. They also fear it will make it harder to sell their fruit in foreign markets that have tough GMO labeling laws or restrictions on the import and sale of GMO products. Those include the European Union, Japan, China and Turkey.
American farmers understand the sensitivities of the global marketplace. In 2006, the discovery that the southern U.S. long-grain rice market had been contaminated with GMO rice triggered the collapse of U.S. exports to the EU, Japan and other key markets. Bayer AG of Germany, producer of the GMO Liberty Link rice, eventually paid out $750 million in legal claims to U.S. farmers. Anxious to protect sales to GMO-sensitive Asian markets, a group of California rice farmers successfully lobbied for a state moratorium on open-air planting of GMO rice in field trials.
Officials at the U.S. Department of Agriculture and the U.S. Food and Drug Administration have been reviewing the Arctic Apple since 2010, and Carter hopes to get the green light soon. If that happens, he says, it will be the American consumer who will determine the fate of his creation."Every Arctic Apple entering the fresh market will have a label on it," he says. "We want people to know what they're buying."
Photos from top:
Okanagan Specialty Fruits grows its non-browning Arctic Apples in Granny Smith and Golden Delicious varieties. Credit: Okanagan Specialty Fruits
Neal Carter, president of Okanagan Specialty Fruits, picks an apple from one of the company's trees. Credit: Okanagan Specialty Fruits
Evelyn Iritani, a former economics writer for the Los Angeles Times, won the Pulitzer Prize in 2004 for a series she co-authored on Wal-Mart's impact on the global economy. An interest in Japan, her family's ancestral homeland, was the inspiration for her book, "An Ocean Between Us: The Changing Relationship of Japan and the United States Told in Four Stories from the Life of an American Town." In her spare time, she loves making wickedly rich desserts and herding cows in Montana.

Also on Zester Daily:
» Tips for hosting holiday guests with a gluten sensitivity

» Holiday mail-order tamales: Are they any good?
» A French Rose Champagne that won't disappoint.
» Aunt Norma's sour cream coffee cake for the holiday
Calling all HuffPost superfans!
Sign up for membership to become a founding member and help shape HuffPost's next chapter