NEW YORK -- At 6 a.m. Wednesday, the line has already begun to form outside Dominique Ansel Bakery in Manhattan's SoHo neighborhood, as people jockey for a shot at buying cronuts, a croissant-doughnut hybrid that has seized the New York imagination like a must-see show.
But the first two people in line Wednesday are not pastry enthusiasts or foodies from Willliamsburg or tourists from Germany. They are a pair of cronut scalpers named Joe and Danny Bird who, moments after purchasing four of the $5 treats, have flipped them for $20 a piece to a woman who approached them about a cronut exchange before the bakery's doors even opened.
"Tomorrow, the price is double," says Joe Bird, who works in construction and is just flipping cronuts to pad his income. After his first purchase, he immediately gets back in line to buy a second round, with plans to unload those, too. Before most people are at work for the day, he and Danny are on track to clear $120.
A line like this one forms at every morning and wraps around the corner -- two full hours before the bakery even opens. On Wednesday, it includes tourists from as far away as Asia, office workers seizing on an early-morning sugar high and people looking to surprise their loved ones.
Can taste alone explain why people are so captivated by cronuts? As it turns out, the baked good's allure may be less about flavor and more about the cachet that comes with its rarity. In less than a month on the market, the cronut has turned into the ultimate grand gesture, appropriate for any occasion, and a burgeoning form of social currency -- an object proffered in a bid to ingratiate oneself with a potential business partner, perhaps, or in atonement.
Frank Spina is the latter kind of customer. He arrives at 6:32 a.m. hoping that a cronut will make a suitable offering to appease his girlfriend after a spat.
"I'm in the dog house," he explains.
Last weekend, he and his girlfriend had somewhat naively tried to buy cronuts after 10 a.m., arriving long after the bakery had sold every one of the 200 it had baked that morning.
After an unrelated argument during which Spina offended his girlfriend by pooh-poohing the cronut craze, he knew there was only one way to make it up to her: He lied about going for an early run and took his place in the bakery's line so that he could later surprise her with a cronut-laced apology.
Spina is not alone in his attempt to use cronuts to curry favor with others.
Martin Salisbury, who works in advertising, woke up at 5:30 a.m. and managed to earn a place among the first 10 people in line. He plans to bring cronuts to an all-day meeting as a gesture to an important client, whom he describes as "obsessed" with cronuts.
"Earlier in the week, he was shouting 'cronuts' in the middle of the office," says Salisbury. "You want to reward good clients with things they like. Maybe he'll sign off on a few things."
Having awoken at 5:15 a.m., Khanah Tra is standing in line outside the bakery after coming from Bushwick, Brooklyn. It's his second time in two weeks, but Tra has yet to taste a cronut himself. He's here at the behest of his boss, whose identity he does not feel comfortable revealing.
Vivian Luo arrived promptly at 6 a.m., straight from her job as a first-year banker, seeking a cronut as a reward for pulling an all-nighter. But the pleasure of the confection will likely be short-lived: She's headed right back to her midtown Manhattan office as soon as she's done.
As the Wednesday morning line makes clear, the cronut trend respects no borders, attracting the curious and the sweet of tooth from places even far beyond New York City.
Jennifer Pickard is here hoping to buy a box of cronuts and bring them with her to Orlando to surprise her mother, whose interest in the pastry was piqued after reading about the craze.
Jisoo Oh is visiting New York from Seoul, South Korea, and she refuses to miss out.
"I read a post on the Trump Soho's Facebook page," she explains. "It said cronuts were to die for ... so I had to try it."
Yet there's considerable risk that she might not get a cronut, even after waiting in the early-morning line. The bakery only makes so many cronuts each morning, and doesn't bake another batch for the rest of the day. (Owner Dominque Ansel recently declared to Grub Street that his bakery will "never be a cronut shop.")
By 8:45 a.m., most of the people still waiting in line are guaranteed to go home cronut-less. A waiter from the bakery passes out madeleines, saying no one should go home empty-handed, but they're of little consolation.
Still the question remains: Is the cronut worth all this fuss?
Reed Zaroff, who lives next door to the bakery, recently bought a cronut from a group of teenage scalpers, paying $20. He declares the pastry overrated.
But judging from the chorus of delighted sounds emanating from those exiting the bakery with cronuts in hand, Zaroff's opinion is not widely shared.
"Flaky," one customer remarks.
"Sugary," says another, having sunk her teeth into the new lemon-maple flavor, which is being featured for the month of June.
She and her friends conclude the cronuts were well worth the wait. Many in the group are theater fans who are used to long lines in Manhattan.
"I once waited in line for nine hours to see Liza Minnelli," says one member of the group, Emily Oakley. "This is nothing."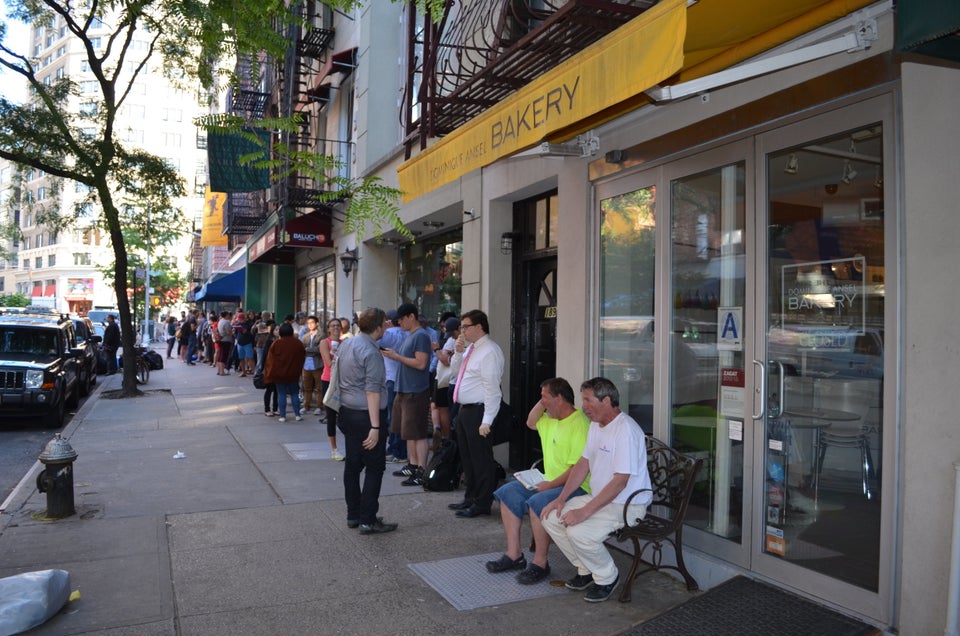 Cronut Craze Takes NYC
Related
Popular in the Community