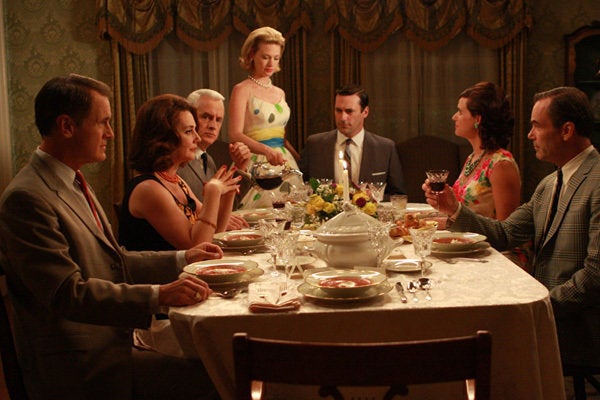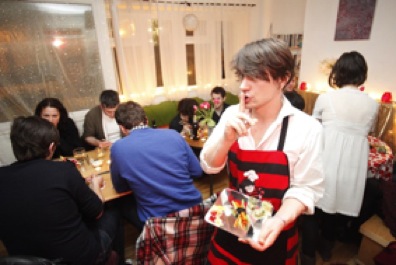 'I've joined too many clubs,' cried one of my friends, 'I have to watch two films a month, read two books and see two exhibitions'.
It's apparently a common problem. The clubs in question are supper clubs. They're everywhere. Six months ago I gathered a group of girls from the art world together to meet and discuss exhibitions. It started with five of us at a local Italian but word spread and now we have sixteen girls. Ours is an informal affair, mainly friends of friends. We keep the meal cheap and cheerful. But when I began to invite people I found that they were scheduling our nights around their commitments to other themed dining engagements. There's everything from The Secret Ingredient a guerrilla restaurant run by Horton Jupiter, a 'pop genius", in his East London living room to Tamsin Lonsdale's The Supper Club a high end international private members club. Costing from practically nothing to a hefty annual donation they all have one thing in common -- the emphasis is on chatting round the dinner table.
London life feels expensive at the moment and whether you've lost your job or are worried that you might, there is a general sense of boredom and lack of desire to hit bars on a Friday night. When I began to mention dining clubs to other friends they usually responded by telling me about their own or looking jealous that they didn't attend one. I spoke with Rachel Khoo who runs an occasional group to show off her immense culinary skill: 'I think people are now looking for a more intimate experience. We live in a society where most of our interaction takes place in the virtual world so it's great to take it back to its roots'. While Rachel is an inventive chef she wanted to create an entire experience: 'Supper clubs are a perfect way of me showing my "ideas" without the commitment or the financial burden of a restaurant. It's also a great way of meeting people... I also got illustrators involved with the table design and a DJ to create the soundtrack. It's about creating a dining experience for all your senses (sight, smell, sound, taste, touch -- the food is often playful/tactile).'
Whilst Khoo works out of chef's kitchens and private rooms, Horton Jupiter has taken the supper club idea to a whole new eccentric extreme -- once a week he turns his living room into a restaurant called 'The Secret Ingredient' (pictured above). Jupiter claims, 'I follow Benrik's "This Diary will Change your Life" and week 2 this year was "start a restaurant in your front room'. I think most Benrikians just did it the once for friends or family, but I immediately saw the potential in it, so after about 5 minutes decided to do it regularly.' Horton saw his idea snowball, from six guests at his first sitting to ten the following week. After that his dinners got so popular he had to create two sittings, he now has over six hundred "fans" on Facebook. Jupiter charges a suggested donation of £15 a head and is booked out every night.
While Rachel and Horton's groups emphasize the culinary experience, other supper clubs are geared towards conversation and networking. Despite the differences between the groups there is a unifying desire for something a bit different -- to meet new people outside of the usual work or social circle. While many of them use social networking sites to advertise their events and keep in touch with fans, ironically most of the hosts and attendees for all the groups I spoke with referred to their own supper clubs as an antidote to life online. Indeed, most of the attendees at all of the groups I spoke with are aged from their mid twenties to mid thirties. They probably can't really remember life before instant messaging and competitive 'friend building'. There seems to be a love/hate relationship with the web, many of my interviewees spoke of it as the opposite of what a supper club is all about but I suspect most of these groups would find it difficult to get off the ground without it. Whether they dislike online chatting and networking or not though they're all interesting and educated people who seem to miss the rigour of university or lack enough intellectual stimulation in their jobs.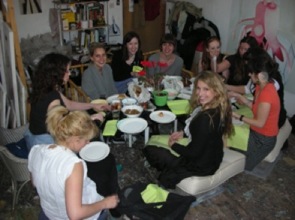 The School of Life is a cultural hub in Bloomsbury, London that seems to have grasped this very point. Recognizing a lack of cerebral satisfaction in everyday life, the school provides lectures and workshops in, among other things, work, play and love and has always realized the value of dinner-based conversation. They hold monthly dinners where participants are provided with a 'conversation menu'. Its director Sophie Howarth explains that the menus are designed with the intention of discovering 'how we can have a more interesting conversation'. She explains that the conversation menu will include biographical questions but not the straight forward 'what do you do?' variety. One question might be for example 'What were your family meal times like?' or 'When did you stop being a child?' The subtly geared questions lead to more enlightening conversations and the quirky unexpectedness of the questions is designed to amuse and encourage participants to let their guard down. Sophie has observed that generally the meals are not about dating, although many guests come alone, their unifying feature is a 'diligent curiosity'. 'We don't have visiting speakers, it's not a regular salon, that's not the point' claims Sophie 'we're interested in inciting a kind of productive nosiness' by making guests ask and answer generative questions conversation tends to naturally thrive.
Tamsin Lonsdale started The Supper Club London four years ago after starting a career in fashion. The emphasis at first was on dating (she's had five couples get married since meeting through her dinners). She started hosting them at home when she was picked up by a British fashion magazine and she instantly received hundreds of emails from people interested in joining. Since then, Tamsin has launched Supper Club in New York and LA and plans to extend further. Membership is $2000 but this is a private members club where the venue constantly changes. Tamsin is sure to get her members into the newest restaurants and "coolest" venues. The emphasis has also moved away from dating to encompass all manner of social networking -- two attendees at a recent dinner are now creating a TV show together. They now have themed events, either with a wine tasting or a speaker and have an online network and concierge service. Member and actress Daisy Aitkens confirms that the networking possibilities are extremely valuable. Like Khoo, she refers to online social networking and underlines how nice it is to connect with someone in the flesh.
Unlike Secret Ingredient and the School of Life, Lonsdale's operation is essentially a private members club without the bricks and mortar but the underlying impetus behind all the groups is the same, a desire to get a bit more out of your week, take yourself out of context, sit next to someone new at dinner and add another friend to your Facebook network.

Support HuffPost
A No-B.S. Guide To Life
Related
Popular in the Community