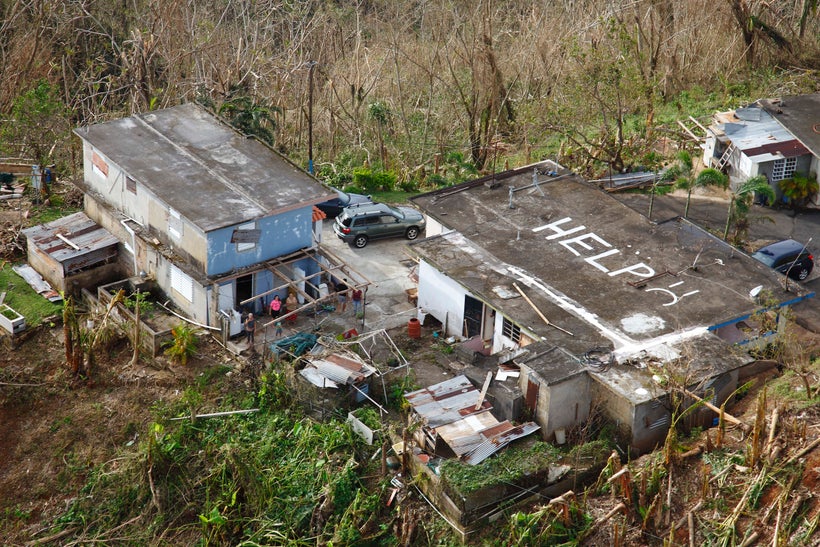 Puerto Rico is now ground zero for U.S. emergency response and public health efforts to avert a worsening humanitarian crisis. Puerto Rico, the U.S. Virgin Islands and other parts of the Caribbean endured near total devastation of infrastructure, electricity supply and, insidiously, healthcare systems, caused by Hurricanes Irma and Maria. Hurricane Maria, the most powerful storm to hit Puerto Rico in more than 80 years, was just 1 mile below a category five storm sparing no part of the island. Puerto Rico's already dilapidated infrastructure and downtrodden people, 3.4 million American citizens, were ill-prepared for this devastating event. Now that relief efforts are underway and the island struggles through months to get the electricity grid back to full capacity, efforts must now turn to the crippled healthcare system to avoid a prolonged public health crisis.
Given Hurricane Maria's strength and island-wide devastation, the official loss of life from the storm at 64 people, is mercifully low, although marred by a growing cloud of inaccuracy. This speaks to the general level of "weather readiness" among the island's inhabitants. However, many more lives are at risk in the aftermath of Hurricane Maria than during the worst of the storm. This harsh reality is caused, in no small measure, by the otherwise idyllic subtropical climate in the Caribbean, the dilapidated state of the healthcare system, and the slow response from Federal authorities in the aftermath. As a result, reports suggest these factors have conspired to claim anywhere between 64 and 900 lives, largely due to medically preventable and treatable diseases. There is also a corresponding increase in crime and violence as the lines between the haves and have nots have been illuminated by the gated communities with generators, while the rest of the island lives in dark, squalid conditions.
Before Maria struck, Puerto Rico was ground zero for a Zika outbreak that affected one in five people on the island. Compounding the already endemic levels of vector-borne diseases, such as dengue and chikungunya, among others, festering pools of water, tropical heat, destroyed homes and mold, along with electricity shortages, the likelihood of further outbreaks is high. In addition to the growing threat of vector-borne diseases, 95% of metered households (corresponding to 1.2 million active meters or half of the population) have running water 3 months after the storm hit. Meanwhile 30% of the island is without electricity. For those with electricity the power supply remains unreliable. The scarcity of potable water and the island-wide advisory to boil tap water, which presupposes the availability of electricity or fuel sources, such as propane, has many people turning to contaminated water sources to stay alive, which heightens the risk of waterborne and gastrointestinal diseases. These acts of desperation will likely compound waterborne diseases on the island, not to mention cases of people consuming water contaminated with industrial waste.
As with all catastrophes of this nature, especially when the devastation to infrastructure is as complete as it is in the Caribbean, the most vulnerable, such as the elderly, children and people with chronic illnesses are in the crosshairs. In these circumstances, treatable ailments are quickly becoming a death sentence as relief and reconstruction efforts grind to a slow start or prioritize urban centers that are comparatively easier to reach. That patients who require insulin to manage the otherwise treatable effects of diabetes suffer greater complications due to no energy or cold storage, underscores the insidious nature of these challenges. Other emergency response capabilities, such as 911 calls and emergency room visits, are greatly hindered by the limited number of hospitals that are fully operational in Puerto Rico. Of the island's 68 full-service hospitals, power has only recently been restored and those that are operational are overwhelmed with patient overflow, staff shortages, medical triage and routinely setback by failing backup energy systems.
Many communities in Puerto Rico remain landlocked due to washed out bridges, roadways, debris and standing water blocking paths. Indeed, the Federal Emergency Management Agency, FEMA, reports that approximately 57% of Puerto Rico's roads are navigable as of November 3, 2017, largely representing the island's periphery. In effect, these communities are left to fend for themselves when it comes to triaging all manner of medical interventions. Those facing chronic diseases and conditions, have little choice but to take matters into their own hands, foregoing routine care or sustaining medication due to supply shortages. Increasing medical evacuation capabilities across the island as well as accelerating access to stranded communities is a critical part of recovery efforts, easing pain and suffering and containing the loss of life, which remains plagued by troubling inaccuracies. Food supply, like the supply chain for medicine, is under similar strain. On an island like Puerto Rico, getting resources to a port is merely the end of the beginning. In-land distribution, warehousing and cold storage, particularly for perishable items or medications, is critical and in scarce supply. The pernicious effects of the Jones or Merchant Marine Act of 1920 compound these supply chain problems by limiting shipments to the island to U.S. flagged vessels, crewed by U.S. sailors, which compounds the landed costs of goods, including medicine and medical supplies.
The more protracted recovery efforts become on an island already struggling with a municipal debt crisis, the massive population exodus from Puerto Rico will only accelerate. Over the last decade more than 500,000 people have abandoned paradise, la isla del encanto, largely representing the middle and upper class and those with the means to leave. While this first wave of mass exodus was caused by deteriorating economic conditions, the second wave may very well be caused by the public health crisis and the collapse of infrastructure. In the humanitarian world, these people who have abandoned their tropical homes would be called internally displaced people (IDPs). When the middle class abandons an economy, they end up taking the medical the healthcare system with them. Doctors who grew accustomed to certain levels of patient care and service pricing, can no longer sustain their business levels relying largely on a base of lower income patients and government-backed welfare programs, which are bankrupt in Puerto Rico. Well before Hurricane Maria, much of Puerto Rico's healthcare system relied on local and Federal financial assistance to provide basic care.
In keeping with the mantra build back better, which Governor Ricardo Roselló adopted for his $94 billion reconstruction request, rebuilding a functioning healthcare system in Puerto Rico requires broad modernization efforts. These should include right-sizing and experimentation, including in how healthcare is financed and delivered. Critically, paving a pathway to a better future in Puerto Rico requires broad debt restructuring and forgiveness, for which Congress and the Federally-appointed fiscal control board must act. Privatization of state-backed programs, such as worker's compensation pool, healthcare and other entitlements must be on the table. Not only would this pave a pathway toward improved healthcare outcomes, it would also begin relieving the heavy financial burden on municipal coffers. As with energy, healthcare depends as much on access as on affordability. This is particularly true in Puerto Rico, where the per capita income is about half of Mississippi's, the poorest of the 50 U.S. states.
In an environment where traditional insurance or cost-sharing mechanisms may not be possible, yet doctors and medical operators face a dilemma of care, coupled with a flight of talent from the island, radically reinventing Puerto Rico's healthcare system is in order. As with revitalizing other sectors of the island's economy, where Puerto Rico was once among the top 10 pharmaceutical development markets in the world with many major pharmaceutical companies having a presence on the island, the path to modernizing the healthcare system can follow a similar route. As with all long-term policies affecting the U.S. territory, much of the authority rests in Washington D.C., which is struggling with a paralyzing lack of leadership and disaster fatigue, following a particularly severe volley of catastrophes.
Averting a humanitarian crisis in Puerto Rico and leaving a well-functioning healthcare system in its place will take a mix of vision, long-term capital and policy commitments the island has not yet seen since becoming a U.S. territory in 1898. This is especially true coming from a place of so much despair, economic strain, and dysfunction. As with basic patient care that goes unattended for years until it becomes a costly life-threatening emergency, the same holds true at scale. Puerto Rico has long been the sick man of the Caribbean and one of the most neglected parts of the U.S. Revitalizing the island and the broader Caribbean depends as much as much on modernizing the healthcare system, as it does on modernizing the electricity grid and restoring hope. This vision need not be a zero-sum proposition in economic terms, as emergency room visits by uninsured patients are costlier than planned, well-managed care. This much is true for individuals, as much as entire economies. Our disaster relief obligations in the Caribbean, for which Puerto Rico can be a proving ground, are about building back better and fulfilling basic humanitarian obligations to our citizens and neighbors. Band-aid solutions in healthcare will only exacerbate economic decline, accelerate exodus and continue eroding the island's competitiveness.
Calling all HuffPost superfans!
Sign up for membership to become a founding member and help shape HuffPost's next chapter
This post was published on the now-closed HuffPost Contributor platform. Contributors control their own work and posted freely to our site. If you need to flag this entry as abusive,
send us an email
.