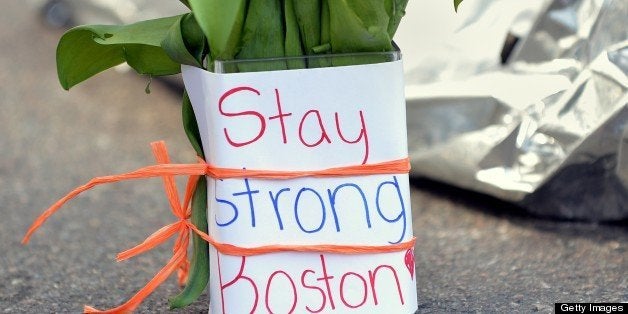 Every year that I'm not running the marathon, I stand halfway up Heartbreak Hill (the 20.5 mile mark) with a sign that asks, "Who's got heart?" Every year, as runners struggle up the last big hill, men and women put their hands on their heart to indicate that they do, or shout "me!" Or perk up and ask "Is this Heartbreak? Is this the last hill!?"
The Boston Marathon is full of tremendous heart. Yesterday, there was incredible heartbreak.
First, there was heart racing. My husband and I were making our way towards our car in the Prudential Center when we smelled smoke and the crowd around us started pushing us back from Boylston Street.
No one knew what was going on. Since Adam had just run 26.2 miles, I wasn't sure how much energy he had left to navigate the swiftly moving crowds, so we hobbled down an alley way away from the chaos. There, my heart pounding, I quickly texted friends to see what was going on. No response. I called my dad in California. He couldn't find any information. Twitter was down. We couldn't get online.
We were stuck in a dead end alley with no information as we heard sirens rage through the city and saw that no runners were coming through the course.
Thinking there had been gunfire (my gut instinct after Newtown and other recent tragedies), we were hesitant to move from our alleyway, yet nervous to stay put.
A few minutes later, a police officer came down the alley and told us we had to evacuate.
Fortunately, a friend lives on nearby Hereford street, and we had just been cheering for runners outside her apartment. We made our way two blocks down to her place, where we were welcomed with open arms.
For the next few hours, we sat on the edge of the couch, glued to the TV and our phones, trying to navigate information as we saw ambulances, police and national guard troops move down Hereford. Our friend generously welcomed in complete strangers, fueling runners and spectators alike with food and drinks, offering power cords for depleted phone batteries and support for those whose hearts were breaking.
It was a surreal experience, watching things unfold on TV in a place that, just minutes earlier, we had been one block away from. We anxiously reached out to other runners, confirmed their locations and ensured that those we knew and loved were in safe places.
As evening approached, we made our way to Massachusetts Avenue and walked across the Mass Ave bridge to Cambridge, our home. As police cars zoomed by us with lights and sirens blazing, a wonderfully kind friend picked us up and drove us the rest of the way home.
As the last 24 hours have unfolded, I have connected with friends who were running or near the finish; heard harrowing tales from those close by; and wept at the tragic and senseless violence we all experienced directly or indirectly.
My heart has broken repeatedly as one story emerges after another. Especially in the case of Martin, the 8-year-old who was watching his dad. There are simply no words.
But, there is also tremendous heart. So many stories of those who jumped in to help victims, lend shelter to runners, carry victims to medical care, provide solace for those in need, offer cell phones to stranded travelers.
Just like the runners I see every year who put their hands over their hearts or utter a breathless "I do" as they struggle up the hardest hill in the race, Boston has tremendous heart. And it's that heart I've seen on display at every moment since yesterday's tragedy. That's the heart we'll continue to have going forward. As grueling as Heartbreak Hill is, it signals the last hill 'till the finish. We may not see the last hill of this horrific event for a while, but I know that we will reach the finish. No one can take away Boston's heart.
Related
Popular in the Community