When Dolores Huerta rallied the crowd at the Dalai Lama's 80th Birthday party to proclaim, "Who's got the power? We've got the power!" Noble Peace Prize winner Jody Williams claimed she wanted to "wash her feet with her hair, like Mary Magdalene." The Dalai Lama beamed, as he took Dolores' hand and squeezed it.
The power to clean up our world lies more in our hands than most of us admit. (That's not to say that legislation isn't necessary, too.) Every day in every corner of the world, there are leaders and everyday folks living more sustainable lives, and leading by example.
Yo Esbensen, the founder of Rogue Status, made commuting by bike cool in Venice Beach, California back in 2003 -- before there were designated bike lanes. Now there are bike centers everywhere along the beach, and designated lanes with bright green lines that can't be missed. He didn't lobby the City Council. He just got on a bike and rode around with his friends. Everywhere. He believes that BMX bikes should be allowed in skate parks or offered equal facilities.
Yo Esbensen, the Founder of Rogue Status, Biking in Venice California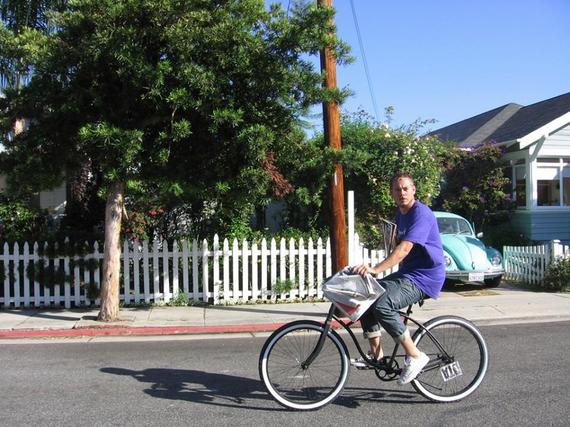 Photo by: Levi Schulze. Used with permission.
Megan Battistella organized a bike drive at her North Carolina elementary school, so that those kids who can't afford to purchase a bike can now pedal around their neighborhoods. 28 bikes were donated in the first year (2012).
Kids rode their bikes to the park in Japan on Earth Day 2012 to promote bike power. The Bike Power community encourages everyone to garage their cars and pedal power themselves on each April 22nd. This is in remembrance of the 11 workers who lost their lives and the 210 million gallons of oil that polluted the Gulf of Mexico when the Deepwater Horizon Oil Rig exploded and sank on April 20, 2010, just two days before Earth Day (source: U.S. Department of the Interior).
Steve Glenn built the first platinum LEED rated home in the United States, and made it pre-fab so you can own one, too. In 2014, in partnership with the Make It Right Foundation, Living Homes built a net-zero platinum LEED home to display at the GreenBuild Conference in Austin, Texas. After the event, the home was shipped to New Orleans, Louisiana, as part of the Make It Right Foundation's renaissance of the Lower 9th Ward.
LivingHomes Net-Zero Platinum LEED Home for the Make It Right Foundation
New Orleans, Louisiana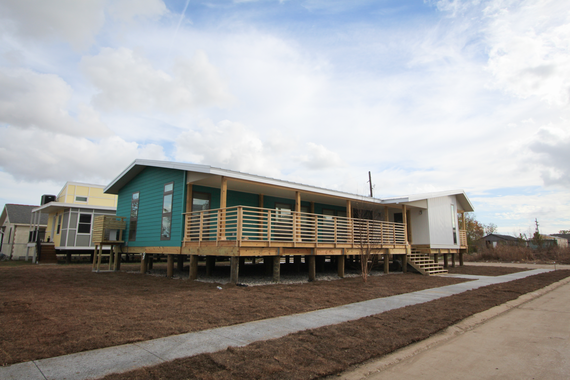 Photo: Cesar Rodriguez. Make It Right Foundation. Used with permission.
Poundbury, England is powering their city with potato peelings, leftover chocolate and farm waste. This bike-friendly city on the southern coast of England opened the UK's first full-scale Anaerobic Digester and Biomethane-to-Grid Plant on November 22, 2012. The clean gas-to-grid project is a joint venture between JV Farming (the local farmers), the Duchy of Cornwall (land owners) and Active Business Partnerships.
The Ritz-Carlton in Denver, Colorado is replacing their incandescent bulbs with LEDs, generating 82 percent savings on their lighting costs for each 90-watt incandescent bulb. The payback for the project is 6-8 months, according to Jasen Brown, the director of engineering.
Eric and Jill Skokan serve up sustainable in every Black Cat Bistro and Bramble and Hare meal. Chef Eric sources food and produce from their 130-acre family farm in Boulder, Colorado, which is in the process of becoming certified organic and was certified animal welfare approved this year.
At his Home Farm, H.R.H. Prince Charles has one of the longest running organic farms in the world. Together with architect/urban planner Leon Krier, Prince Charles designed Poundbury in Devonshire, England to be people-friendly, sustainable and powered by clean energy.
The Pope travels by Fiat, while most world leaders choose armored limousines. His encyclical on climate change sounded the alarms for sustainability and urged all of us to "care for our common home."
His Holiness, The Dalai Lama uses his global platform to urge each nation to "take global interest first, and then national interest. Serving humanity means that each nation gets the maximum benefit. We have to look at this holistically."
Elon Musk made electric cars fast, sexy and cool with his Tesla Roadsters and S sedans.
Tony Hsieh tore down a crime-laden hotel in a creepy part of downtown Las Vegas and built a playground and concert/movie gathering place out of shipping containers. The Downtown Container Park features a flaming preying mantis who greets you at the gate. This sculpture was salvaged from Burning Man.
Stairs are the star of OVG Real Estate's TNT Centre located in Hoofddorp, The Netherlands. That simple, subtle invitation for everyone to take the stairs saves energy and promotes health. There are elevators, if you need them and if you can find them!
The Interior of the TNT Centre in Hoofddorp, The Netherlands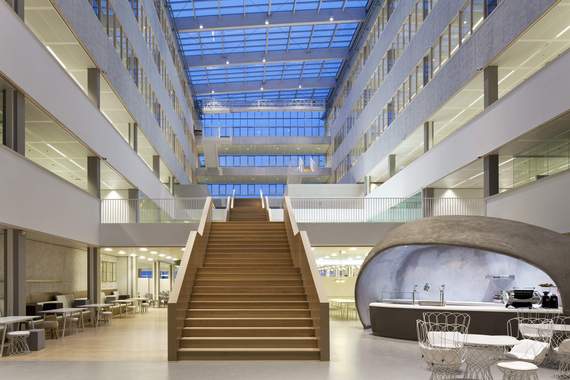 Photo used with permission from OVG Real Estate.
New Yorkers walk and take the train as a way of life.
Whole Foods makes it easy to purchase wild-caught salmon and organic produce all across America, and to support local farmers and artisan bakers. Their lead has inspired other grocery stores to do the same.
The Clinton Foundation has engaged Presidents, world leaders, corporations, NGOs, policymakers, activists and celebrities to make commitments to sustainability, as one of their chief areas of focus. According to a Clinton spokesperson, the Clinton Global Initiative partners have collectively cut or abated 2.7 billion metric tons of CO2, restored 210 million acres of forest, created 4 million clean jobs and engaged 7 million people to promote solutions to climate change.
Around the world, people are taking the power of clean air, clean water, clean power and local, nutritious food into their own hands, and proving that it's not inconvenient or difficult to do so. In fact, as you can see by some of the great photos above, it's gorgeous.
It's simple to get started. In the words of LivingHomes CEO Steve Glenn, just "use less of everything." The Stay Strong Project reminds us to "Stay strong and keep your faith alive."
We can also start planning our Earth Day celebrations now. My friends and I are encouraging everyone to power up the gratitude and power down the grid for one hour on Earth Day 2016, April 22, 2016, between 7:30-8:30 p.m. in your own time zone. Imagine a full day where everyone around the world is walking the walk of sustainability and opening up their hearts to the vibration of gratitude...
It's time to live epic. What do we want to be known for? Where and how do we want to be living in 20 years? In the words of H.R.H. Charles, The Prince of Wales, "Imagine a safer, healthier, economically robust world... Remember that our children and grandchildren will ask, not what our generation said, but what we did. So let us give an answer of which we can be proud."
Stay tuned into this blog for more features on sustainability and gratitude leaders and tips, as we build up to the global Earth Day Gratitude celebration.
Popular in the Community