"Who Am I" is legendary The Who composer and guitarist Pete Townshend's autobiographic memoir that he began in May, 1996. The original manuscript was 1,000 pages long but editor Harper Collins shaved it in half to 500 pages. The chronicle delves into Townshend's upbringing in England, explains the development of The Who, and later probes into Townshend's struggles as a rock star as he battles with drugs, alcohol and fidelity.
Pete Townshend's memoir opens with his childhood in London that immediately followed World War II in May 1945. He lived with his grandmother who allegedly sexually and mentally tormented Townshend based on his limited childhood recollections. His childhood "issues" reappear during Townshend's memoir with alarming frequency.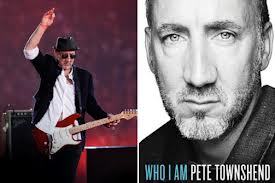 Townshend's stage antics developed primarily by accident and imitation. He claims, "I started smashing his guitars at the end of performances after accidentally pushing one through a club ceiling in 1964 and damaged it." When the fans went wild, he adopted it into his performance which later led Keith Moon to topple over his drum kit and trash hotels. Townshend admits that his trademark "windmill" style of strumming guitar chords was espoused from Keith Richards who warmed-up by swinging his arm prior to going on stage. He explains that music he heard in his head as a child affected his music, eventually developing into rock operas such as Tommy and Quadrophenia.
Townshend's sexuality was often probed throughout his book. He describes himself as bisexual because of a sexual encounter with a male journalist and his sexual interest in Mick Jagger. The other The Who members were so disgusted with Townshend's lack of sexual prowess that they paid a prostitute to infect him with gonorrhea. Distancing himself from life as a rock star, he studied under Indian guru Meher Baba. While under Baba's tutelage, Townshend avoided drugs and adultery but he periodically descended into the world of drugs, alcohol and female lovers.
Life after The Who led to Townshend's employment as an editor at Faber and Faber where he commissioned literature and began philanthropic charity work including the establishment of a shelter for battered wives. His charitable work led to problems and Townshend was arrested for supposedly downloading child-pornography. Townshend explained that he was fighting child-pornography by setting up a research program support system for survivors of childhood abuse. He was given a formal police caution because Townshend "was in no frame of mind to live through another eternity - this time in court." He later wished he had gone to trial to prove his innocence.
Townshend's insightful autobiography is worthwhile in how it accounts his creative process in creating music. This memoir is comprehensive, intimate, and candid. The memoir uniquely explores deeply into Townshend's mental state and psyche. He exposes his defects as an angry guitar hero, delves into his mind as an introspective composer, and contrasts the segment of his being that is a spiritual seeker versus the hedonistic drug user that he returned to often. At times Townshend appears tortured, unable to cope with life as he searches for something beyond his reach.
Even though the memoir was chopped in half, book editing was uneven at times, with either too much detail or choppy incomplete narrative. His intellectual tone lacked exuberance and created a dull narrative while he crams too much down the reader's throat. This chronicle is recommended exclusively to dedicated hard-core Pete Townshend fans that will appreciate every minute detail that he does an impressive job of recalling. However, even die-hard The Who fanatics would be better off reading a The Who biography than sitting through an opera when you really wanted to listen to classical music.
About this review: George Rajna, MBA, MS Communications Disorders, is a bilingual speech therapist who has traveled to 100 countries across six continents. He composes music on the guitar and ukulele, and spent two years working in rural education for Peace Corps Paraguay. He is the co-author of Traveling in Sin and has been on the road with his wife since July 2012. Follow their journey at We Said Go Travel.
Related
Popular in the Community