Always the pitbull of a spokesman for Governor Ritter, Evan Dreyer described it this way:
He's referring to a demonstration held last Thursday that called on Governor Ritter to stop clowning around when it comes to confronting global warming. But the real publicity stunt seems to be coming from Evan's own boss, Governor Ritter himself.
In 2008, Governor Ritter signed a landmark executive order calling for a 20% reduction in greenhouse gases below 2005 levels by 2020 and an 80% reduction by 2050. According to the governor, "Scientists tell us that to head off disruptions to our economy, environment, and society by the second half of this century, we must reduce greenhouse gas emissions by at least 80% below 2005 levels by 2050."
I'll be the first to admit how refreshing it is for a politician to heed science, particularly when it comes to confronting global warming. After all, it's hard to go wrong with the thousands of Nobel Peace Price-winning scientists from 194 countries around the world that comprise the Intergovernmental Panel on Climate Change.
Yet there seems to be a major disconnect developing between what Governor Ritter is saying and what's he's doing.
That's because greenhouse gas emissions are actually on the rise in Colorado. The reason? Carbon dioxide emissions from Xcel Energy's coal-fired power plants, which are already the single largest source of greenhouse gases in Colorado, are slated to increase by more than 3,000,000 tons a year.
Let me put it another way. Despite Governor's call to reduce greenhouse gases in Colorado, they're actually projected to increase.
How can this be? It's true that Xcel Energy has committed to shutting down its two smallest coal-fired power plants -- the Arapahoe plant in Denver and the Cameo plant Grand Junction. But even after these plants are shut down, greenhouse gas emissions are going to increase. The reason is Comanche 3, the brand-new, coal-fired boiler in Pueblo, Colorado that Xcel plans to have fired up by the end of the year.
Even after Arapahoe and Cameo are shut down, the massive new 750 megawatt Comanche 3 boiler will increase carbon dioxide emissions by more than 3,000,000 tons annually in Colorado. That's according to Xcel's own emissions data, much of which is presented in WildEarth Guardians' "Xposing Xcel" report.
So much for reducing greenhouse gas emissions in Colorado.
Then what needs to be done? The fact of the matter is that if Governor Ritter is serious about reducing greenhouse gas emissions in Colorado, he's got to get serious about reducing the amount of coal burned in Colorado.
That means we need to start shutting down more coal-fired power plants. I'll give Xcel some credit on this front. With their decision to retire the Arapahoe and Cameo coal-fired power plants, they've already shown retiring coal plants is a reasonable and realistic solution. But we need to go further.
And the great thing is, we can go further.
In fact, Colorado has more than enough renewable energy potential to more than meet our electricity needs without coal. Earlier this year, Xcel Energy itself received 14,000 megawatts in guaranteed bids to develop wind, solar and biomass for Colorado. That's twice Xcel's peak generating capacity of 7,000 megawatts. Put another way, Xcel received enough bids to generate all its electricity and then some from renewable energy.
And while it's true that a full conversion to renewable energy isn't going to happen overnight, it won't happen at all if Xcel Energy is given the green light to keep increasing its coal burning.
With Colorado's greenhouse gases projected to increase, Governor Ritter can talk all he wants. But until he starts actually doing something to reduce greenhouse gas emissions, it looks like he might be the one pulling the real publicity stunt.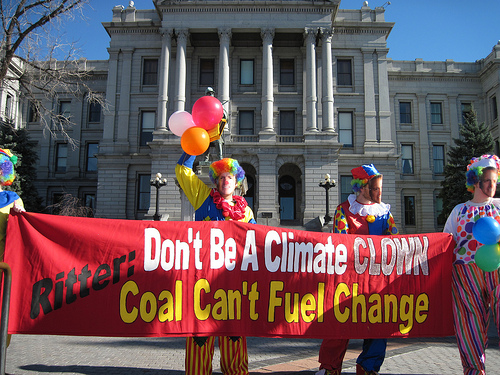 REAL LIFE. REAL NEWS. REAL VOICES.
Help us tell more of the stories that matter from voices that too often remain unheard.