Hillary Clinton may just crash through the biggest glass ceiling of all, becoming America's first woman president.
So if we can have a woman president, why can't we have women as orchestra conductors?
Think about it -- how many professions can you name, in today's era of relative equality, where men still fill 99 percent of the top roles?
It's not true in politics, medicine, business, finance, or just about any field you can name.
Except, of course, orchestras.
So why is it so hard for a woman to get a baton, and an orchestra, of her own?
Cynthia Woods is one of America's most prominent and successful female conductors, serving as music director of the Cambridge Symphony Orchestra and serves on the conducting faculty of the New England Conservatory.
According to Woods, a number of factors coalesce to keep women off the conducting podium, but the chief one is fear.
"Orchestra boards these days are very conservative about programming choices," Woods says. "They're worried about doing something that will alienate the audience. Bringing in a young woman scares them. They're more comfortable with the traditional older guy with fuzzy hair."
Audiences and orchestra members don't seem to have any trouble accepting women conductors.
So why don't more rise through the ranks?
"The boards are mostly male," Woods says, "and they make the decision about who conducts and who stays home.
"There's also a lot of generational disparity," she says. "So many people on boards are much older, and they come in with a 1950s or 1960s idea of what women should be. It's hard to change that concept at that age."
Board members may balk at women conductors, but most musicians have no such qualms.

"The vast majority of orchestra musicians are the easiest when it comes to accepting women," Woods says. "That's because they are such purists. They don't like conductors generally, so if you go in there and you do the job, you show them you've taken the time to learn your music, and you want what's best for the orchestra, you have them. It's never even a discussion again."
Are all orchestra members so enlightened?
"I've had the issue of gender arise with a few random players over the years," Woods says. "Those are just things you have to ignore and get on with."
The challenges facing women conductors actually begin long before they apply for jobs.
In many of the top American conservatories, women cannot even get educated as conductors.
"Sometimes they'll say to your face, 'It's a personal relationship, and I'm just not comfortable teaching a woman,'" Woods says. "Would a conducting teacher say the same thing to a black or Hispanic student? Doubtful. But somehow, with women, they can get away with it."
Marin Alsop became one of the first American women ever to have her own orchestra, when she was named Music Director of the Baltimore Symphony Orchestra in 2007.
"There was a huge rebellion in Baltimore," Woods says. "Some of the musicians actually rebelled because they thought she was going to send them into bankruptcy. They didn't even want to try because they were so scared, but when they did try, working with her was enormously successful."
Woods credits her own success to conducting guru Harold Farberman, who, she says, "had no issues teaching a woman how to conduct.
"He was smart enough to say, 'You're different. You should probably use some different gestures. Your body is different, so we have to figure out different ways of looking powerful, and give you different tools, so you can accomplish the same thing but in a way that's comfortable for you. This is your space."
Woods says she was lucky to have Farberman for a teacher, but there aren't that many Farbermans out there, apparently.
"Why isn't Marin also conducting big orchestras more often?" Woods asks. "Why isn't JoAnn Foletta being asked? Why aren't some of the women with huge careers in South American and Europe coming over and conducting in the United States?"
It's a Catch-22, says Woods.
"The industry says, 'Well, they're not qualified.' But This is a job where you learn on the job, and so much of what you learn comes from experience.
"So if we never give women the experience, we'll never catch up with the men. They will always be underqualified."
Despite the travails women face ascending the orchestral podium, Woods says she is "actually very positive and hopeful for change. I don't want to sound angry, but I think that we have to acknowledge that there's an issue. We can definitely do better."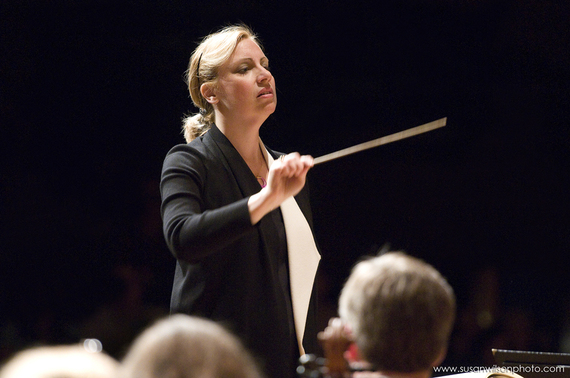 Related
Popular in the Community