Last night (Tuesday/Wednesday from 12:30 am to 1:30 am), Craig Ferguson delivered another brilliant night of TV by simply doing away with the audience and talking for one hour to one guest. Of course, he loaded the deck by making that guest the endlessly witty, clever, insightful, thoughtful talk show-guest-of-your-dreams Stephen Fry. But still, it was an arresting, wonderful hour akin to the glory days of Dick Cavett when he would just spend a day or two or an entire week talking to someone that fascinated him (and therefore us).

Craig Ferguson and Stephen Fry roamed over the landscape: their friendship, the remarkable success of pal Hugh Laurie, drug addiction, Fry's bi-polar disorder (is disorder rude? bi-polar-ishness?), Twitter as it links to poetry and telegrams and the missives of our Founding Fathers, as well as the rather remarkable suggestion that Fry (a genuinely beloved figure in the UK) might consider becoming a US citizen. If you missed it, do watch it online. The show reminded me how much I enjoy Ferguson, how refreshing he is and of an idea I've had but yet to execute.
For months now I've planned to spend a week and watch every minute of every major late night talk show and then declare a winner. Who is the king of late night, I wanted to know. Of course, I've watched everyone in bits and pieces and I'll tape any show with a guest I'm especially keen on, particularly musical guests. So let's face it: I already knew who I believed was the king of late night.
I hoped to be -- and was open to being -- surprised or at least discover something new about some of the hosts. But would my ranking change much? I doubt it; not after years (sometimes decades) of watching these people work. My plan was foiled by all the late night folderol, which threw everything into turmoil. But the result of years of watching and a certain keen anticipation for my proposed task -- which led me to pay closer attention even to the likes of Jimmy Kimmel -- is this:
DAVID LETTERMAN -- is in a class of his own. He's already ascended to the pantheon, alongside Johnny Carson, Steve Allen, Jack Paar, Dick Cavett and just a few others. He's not coasting by any means. But his legacy is assured, so he doesn't get ranked alongside the others.
JAY LENO -- gets no respect from critics like me and certainly his monologue doesn't deserve it. But he can squeeze out the odd strange fact from a guest a la Larry King just by his own disingenuousness. He's a genuinely nice guy so it's interesting that his funniest bits involve (gently) mocking the stupidity of regular folk via Jaywalking.
JIMMY KIMMEL -- bad standup, bad with guests unless that guest is his ex, the hilarious Sarah Silverman.
JIMMY FALLON -- makes Jimmy Kimmel look good. He's the Merv Griffin of late night, with every guest a dear dear friend and his most penetrating comment being "that's hilarious" or "that's great" followed by a giggle. He's so nervous and awkward in interviews it's painful to watch, with Fallon invariably gushing or talking over the guest or coming up with some inane comment. Perfectly likable guy in other contexts but a genuine flop as an interviewer of any sort, which is indeed a major job of the talk show host. You feel bad for him.
CONAN O'BRIEN -- he was just starting to get his rhythm in the earlier time slot. I pooh-poohed the idea that a guy who'd been doing a talk show for more than a decade could need time to adjust but 11:30 is indeed a whole new ballgame. Happily, Andy Richter had finally moved to the couch where he belonged. But even after all these years, Conan remains a very, very bad interviewer unless the guest is someone he deeply cares about or is a woman he's deeply attracted to. He can be funny on his feet of course. But Conan is glued desperately to his note cards and regularly makes the most awkward transitions imaginable, ruining any possibility of believing for a moment that he and his guest are actually just talking rather than hitting on pre-arranged talking points. The comedy bits save him, as does Richter's invaluable presence.
CRAIG FERGUSON -- the new king of late night. (With Letterman as the philosopher-king some miles above him and already sainted/knighted/whatever one does with great late night talk show hosts). He's been charming the pants off us for some 1,000 shows now and doing it effortlessly. I wondered if his signature tossing away of his note cards when a guest sits down is a pointed slam at Conan but he doesn't seem a nasty person. It's just his way of ensuring that they talk and he stays focused on the conversation rather than some scribbled idea for a question. He has the gift of gab of course.
Craig proved last night he doesn't need an audience. But he proves every night that he barely needs guests. Ferguson can chat away and be thoroughly engaging for more than half an hour before he brings out a guest. Then if he gets into a good rhythm with someone, he regularly just keeps talking with them and bumps the other guest and the musical act (if any). I do feel sorry for the second guest or the musical act (as well as the booker) because they are shunted aside so very often. But they're probably enjoying themselves too much in the green room to care. He can be silly, serious, insightful, frivolous and just about any other appealing adjective you can imagine. His most important gift is perhaps the ability to make us believe he's just having fun, just trying to please himself and do what amuses him. And that we're just clever enough to be in on the fun and enjoy it too.
The puppets, the musical lip-syncing numbers that sometimes open the show, the end of show moment where he rambles about what we've learned on the show that night, all of it is loose and silly enough to create an air of potential anarchy when of course he works like the devil to prepare so he can relax during the taping and let things happen. Like Letterman, he enjoys himself and is very funny. Like Cavett, he can speak intelligently about almost anything. Like Paar, he can dive into a serious monologue and do genuine soul-searching (about the death of his father, out of control pop stars, Rush Limnaugh and Haiti) that is absolutely riveting. Like Johnny, he allows his guests to shine; nothing gives him more pleasure than an entertaining guest. He is, indeed, the new king of late night.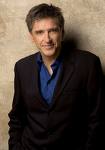 Calling all HuffPost superfans!
Sign up for membership to become a founding member and help shape HuffPost's next chapter