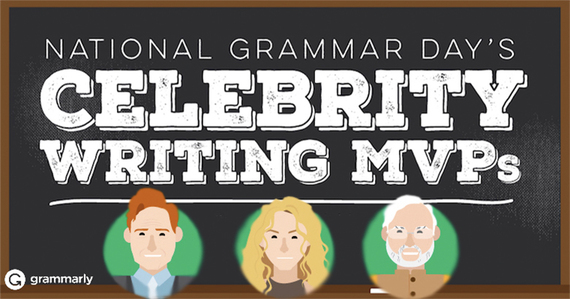 National Grammar Day (March 4) is not just for nerds and editors! In fact, some of your favorite celebrities may be grammar gods and goddesses. Take Conan O'Brien, for example, who averages only one mistake every 476 words he tweets!
To highlight the importance of good writing, Grammarly, the team behind the popular writing app, is recognizing the celebrities whose "social media slinging skills match their star power." Grammarly ranked the top 50 most-followed celebrities on Twitter by their spelling, grammar and punctuation.
It turns out, some of the best grammar role models are talk show host comedians. While Conan ranks #1, Ellen DeGeneres and Jimmy Fallon fall in the top five. Other top fivers are Bill Gates and President Obama.
Additional insights from Grammarly's study:
The top three most grammatically correct celebrities attended Harvard.
Two of the top 10 celebrities speak English as a second language. Shakira's native language is Spanish, and Narendra Modi's is Hindi.
In general, the older the celeb, the better he or she writes, although Daniel Tosh's ranking made the 40-49 age group the exception.
You may ask, in this age of texting and tweeting, whether grammar matters. We write, tweet and Facebook (if you will allow the verbification) from our phones. Shouldn't typos be expected?
Michael Mager, Grammarly Marketing Analyst, had this to say,
"Language is fluid. Although the rules, not to mention our means of communication, may change over time, there will always be a need for clarity. Grammar helps us make ourselves understood."
This writer--who took the Grammarly Celebrity Grammar Buddy Quiz and got paired with Ellen DeGeneres--would add that anything you write reflects on you and your personal brand--whether you work for a company, work for yourself or attend school. Poor spelling and grammar make your work look sloppy, calling into question the veracity and quality of your content.
When you make grammar goofs, at best, you make a sloppy impression; at worst, your grammar goof causes readers to misinterpret or misunderstand what you have to say.
Poor grammar in an email or note will likely make the recipient wonder how much you care about communicating with him or her.
In a blog post, in a business proposal or report, on a website, in an article or in a book, grammatical errors will cause readers to question whether there are mistakes in your research, data, knowledge and reasoning. Then, isn't it worth the time to learn the rules of grammar and proofread your work (or find someone who can do that for you)?
Who's your celebrity grammar buddy? Take the Grammarly quiz and find out:
This infographic from Grammarly provides additional insights:

And, by the way, don't attempt to correct Conan on his grammar unless you're pretty darn sure of yourself. This video shows what can happen.
Share your favorite personal or celebrity Grammar goof, or your takeaways from the quiz and study.
Related