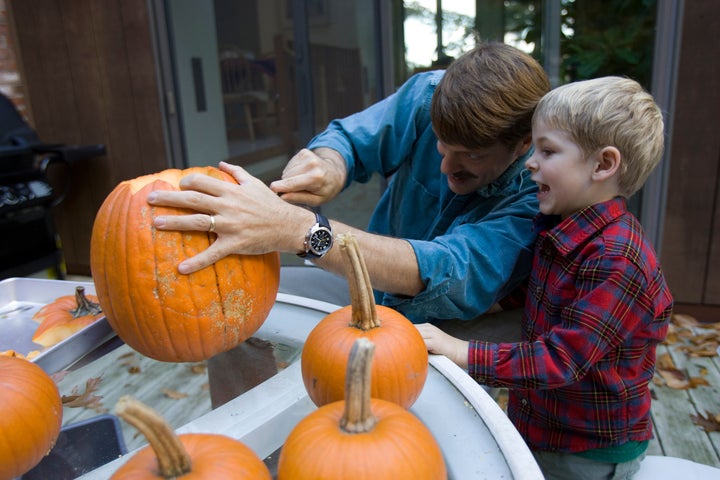 Yesterday I watched a neighbor's nanny drape the front shrubs with that spider webby stuff in anticipation of Halloween. Such fun, I thought. Then I noticed her charges, two little guys ages eight and five were right there... watching. As far as I could tell, their job was to stand there and yell "Car coming!" when necessary.
At the risk of repeating what I wrote in last year's Halloween blog (Let Halloween Be the Kids' Holiday), it's time to remind you that the degree of memory-making fun in this holiday is proportional to the child's direct involvement. Childhood memories that stick are made from hands-on experiences in costume designing, house decorating, pumpkin carving (including, yes, letting the kids handle all the gushy, messy pulp and roasting the seeds), candy sorting, and the like. Halloween is an experience like no other. And it all starts weeks before the big day.
In my little village of Pacific Palisades, the store owners invite the kids to decorate their store windows for Halloween. Already I have seen fabulous child-made witches, ghosts, bats, and haunted houses adorning the antique store and the manicure place. It was easy to see all the effort the children had put forth. No adult brush strokes were evident. I remember well when my own children, now grown, did the same. Best of all, so do they.
I must admit I have all but given up on getting parents to help their kids to create their own costumes. You know, the homemade kind? My pleas for doing so are met with complaints of no time, no talent, and frankly, no desire. It's just so much easier to buy them, they say. But whose needs are they meeting? What a great experience it is for kids, four years old and older, to think about what they want to be and figure out (usually with your help) how they might do that. So much better than standing in front of an array of tacky, plastic costumes, trying to choose. I want to be Spiderman, no... Superman, no... Bob the Builder, no... Belle. Year after year, the best costumes that come to my door are the ones that are homemade (or home put together). And the pride that child feels, exclaiming, "My mom and I made it!" is hard to beat.
Parking lots have sprouted pumpkin patches on every other block. Seasonal Halloween stores have taken over the Lost our Lease storefronts. Stores are fully decked out in black and orange, and the ubiquitous dish of candy corn sits by the cash register. Grocery shelves are overstocked with irresistible specials on all my favorite candy. Yes, it's the Halloween season. And manufacturers are trying to make us believe that they do it best. I believe Halloween is about much more. It's about the memories your kids make for themselves and not all the things you buy buy buy.
I admit that Halloween is kind of a strange holiday. We encourage our children to do things that we otherwise discourage: Go out on the street at night; talk to strangers; accept candy (or anything!) from strangers; eat candy...and lots of it. But Halloween is one of the joys of childhood because of all that. It's kind of a bandit's delight, breaking the rules legally. Halloween is for the kids and about the kids, and it should be by the kids, too. That's what makes it special and truly memorable.

Related