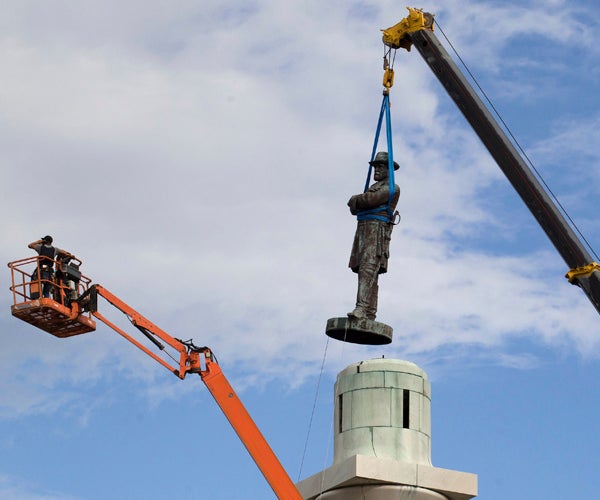 By Adrian Benepe & Charlie McCabe
With the nation still reeling from the recent events in Charlottesville, VA, it is worth taking the time to look at how and when those monuments came about, and examine other ways we commemorate our history in monuments. President Trump has lauded Confederate monuments and tweet-lamented "…the history and culture of our great country being ripped apart with the removal of our beautiful statues and monuments." But as America confronts our ugly history of slavery and our more recent history of racial repression and denial of basic rights, many communities are rethinking the presence of Confederate monuments and seeing them as symbols of repression. Some communities are removing these monuments or providing more context. At the same time, long-ignored elements of our history, such as the struggles for civil rights of African Americans, Native Americans, women, and other victims of discrimination, are now commemorated in new monuments and local, state, and national parks which tell those forgotten stories.
How extensive is the commemoration of Confederate leaders and soldiers? Apart from the many names of towns, geographic features, streets, and places, a survey done in 2016 by the Southern Poverty Law Center revealed more than 1500 commemorations of the Confederacy and its leaders (excluding Civil War battlefields, monuments, and markers), including 12 statues in the U.S. Capitol.
The Trust for Public Land's Center for City Park Excellence (CCPE) has also done some recent, preliminary research on the matter of Confederate monuments in parks. Overall, the CCPE has found at least 76 parks in 22 states which have a Confederate memorial or monument—in some cases the park itself is the memorial, in others it contains a monument. Of these, 11 have been removed and 9 others are scheduled for removal (either covered up or in the process of removal). The CCPE analysis does not include any statues or monuments in courthouse lawns or cemeteries, even though the latter are often managed by parks and recreation departments.
Even as the President laments the taking down of monuments to a secessionist movement dedicated to preserving human enslavement, we should note that our nation's history (and that of many nations) is bookended by the physical act of taking down statues. On July 9, 1776, after hearing the Declaration of Independence being read, colonial patriots tore down the equestrian statue of King George III that stood in Bowling Green Park in New York City. 227 years later, in April 2003, US Marines played the lead role in the toppling of a giant statue of Saddam Hussein Firdos Square in Baghdad, during the US-coalition Invasion of Iraq. In-between those incidents there has been a lot of history made, made up, ignored, and re-thought in the monuments that have been erected across America.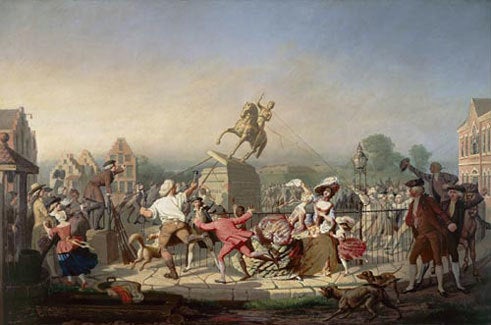 Last week's events at Charlottesville began when Neo-Nazi and white supremacist groups came to the city allegedly to protest plans to possibly remove a statue of General Robert E. Lee from Emancipation Park (formerly Robert E. Lee Park). Days later, Baltimore Mayor Catherine Pugh ordered four Confederate monuments in the city to be taken down.
As the presence of Confederate monuments in cities and towns is being debated, we should note that the vast majority of the monuments and park names that CCPE found were not created in the immediate aftermath of the Civil War as memorials to fallen soldiers. Rather, they were installed in a roughly 15-year period from 1910 to 1925, with some earlier and several much later—in the 1940s and 1950s. Almost all of them were installed at the behest of a group called the United Daughters of the Confederacy, a group originally founded to provide philanthropic support for elderly Confederate veterans and widows, but later shifted their focus to memorializing and celebrating the Confederacy through monuments, historic preservation, and education. Or as they put it, "To perpetuate the memory of our Confederate heroes and the glorious cause for which they fought," and "to endeavor to have used in all Southern schools only such histories as are just and true." Historians suggest the monuments were installed less as memorials and more as symbols of white supremacy at a time when Jim Crow laws, the Klu Klux Klan, and other efforts to deny rights to African Americans were in ascendancy.
There has been an increasing effort in recent years to recognize the oft-ignored contributions of Americans who have been the victims of discrimination and racial violence. From city parks to national parks, places have been created or named, and monuments or temporary public art created, to commemorate the struggles of individuals and groups.
In New York City, for example, there were more than 800 statues and monuments in its parks – virtually all of white men, installed from the mid-1800s through the 1960s. In recent years, efforts by outside civic committees working with the NYC Parks & Recreation Department have led to the installation of statues of Duke Ellington, Jackie Robinson, Frederick Douglass, Sojourner Truth, Harriet Tubman, and Eleanor Roosevelt, among other figures that broadened the demographics of those commemorated in civic monuments. Statues of Elizabeth Cady Stanton and Susan B. Anthony are in the planning and fundraising stages.
In the late 1970s, The Trust for Public Land purchased five homes on the block of Auburn Avenue that included Dr. Martin Luther King, Jr.'s childhood home. These homes formed the core of the Martin Luther King Jr. National Historic Site, which has expanded to include more than a dozen properties and a pedestrian greenway. More than a million people visit the site each year to experience the neighborhood as Dr. King would have remembered it.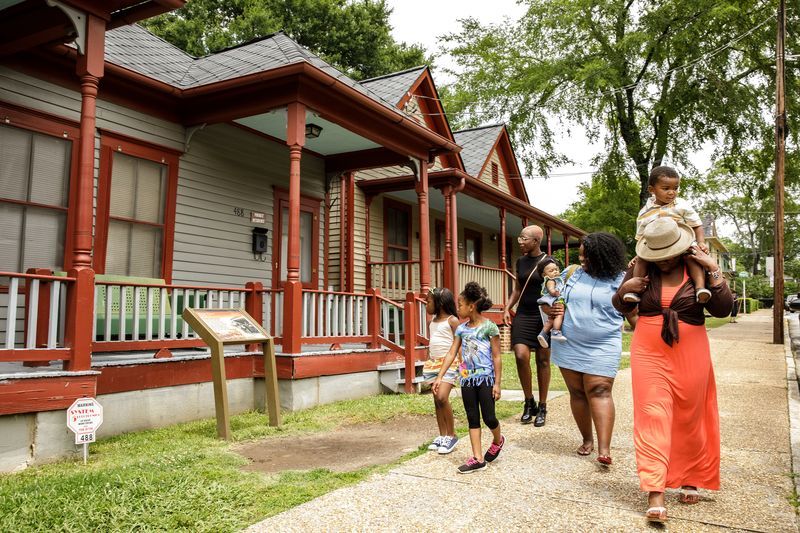 In 1993, when the school at the center of the landmark Brown v. Board of Education Supreme Court decision was in danger of being demolished, the Trust for Public Land worked with community members to transform the Monroe School into a the Brown vs. Board of Education National Historic Site. The site opened in 2004, in time for the 50th anniversary of the court's decision, and features educational and artistic exhibits that celebrate the school's historical significance.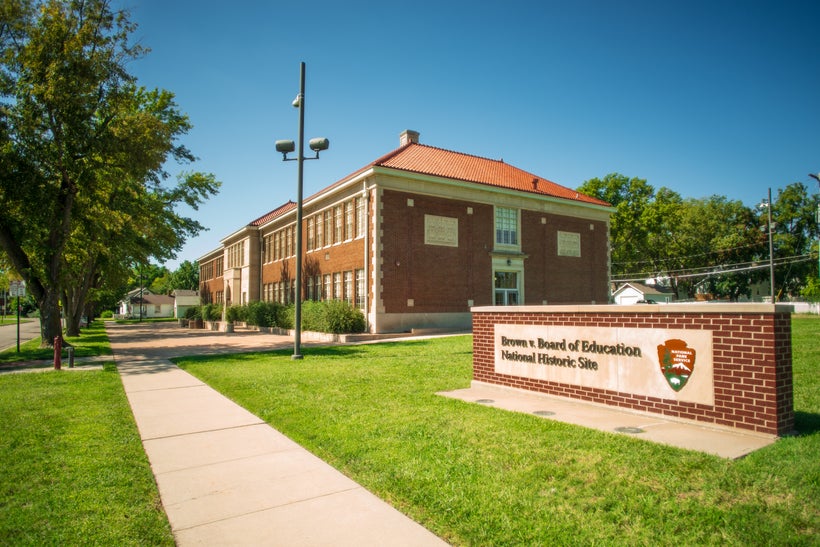 In 2016, TPL worked with the NYC Parks Department and the National Park Service to preserve the Stonewall Inn and recast adjacent Christopher Park in New York City as the Stonewall National Monument to the struggle for LGBT rights.
Murphy Farm in Harper's Ferry West Virginia housed Stonewall Jackson's troops during their raid of Harper's Ferry and was also home to the fort of famed abolitionist John Brown. W.E.B. DuBois and the Second Niagara Movement (which would later become the NAACP) made a pilgrimage to the site in 1906. In 2002, TPL saved the 99-acre farm from being developed for residential housing and added the property to the Harper's Ferry National Historic Site.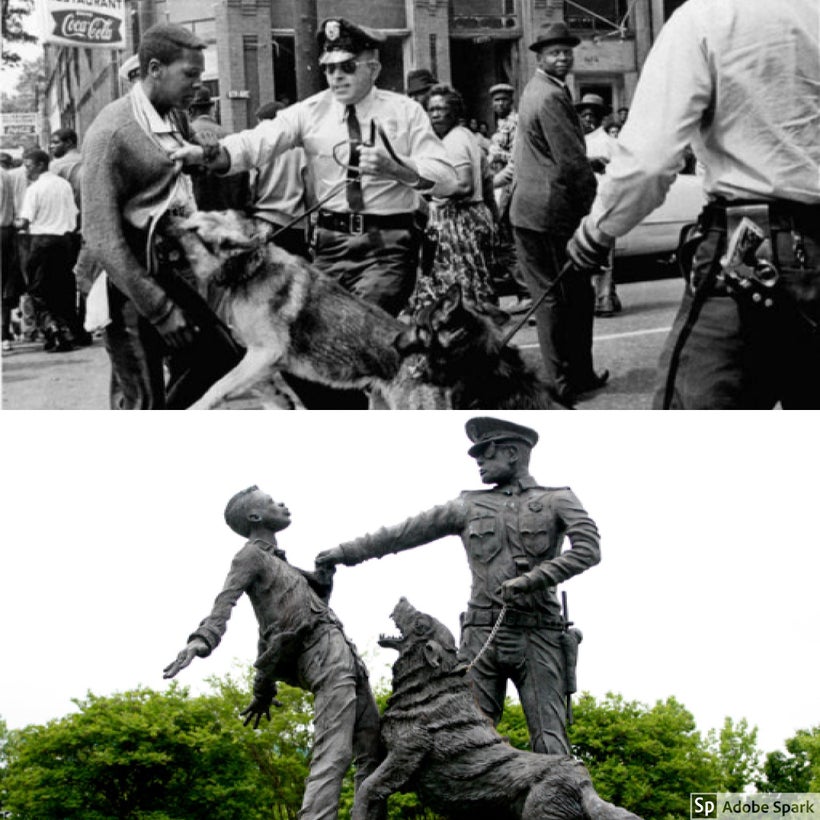 After almost two centuries in which only white men were commemorated in monuments, statues and other artistic interventions have been erected or are being planned in cities, including the monument to Rosa Parks monument in Grand Rapids, MI, the Bloody Sunday Memorials in Selma, Alabama for Hosea Williams, John Lewis, Amelia Boynton Robinson and Marie Foster, Civil Rights leaders who were attacked and beaten by police during the Selma to Montgomery March, and the Birmingham, AL sculpture of an African American civil rights protester being attacked by a police dog, based on real events of 1963, in Kelly Ingram Park.
Given the passion surrounding monuments over time, and the roles they play in interpreting history, it is likely that those passions will continue to be on display as parks and other public places continue to serve as both public for a for debate and discussion, and as outdoor museums of expressions of culture and history.
Charlie McCabe is the Director of the Center for City Park Excellence at The Trust for Public Land. Additional research by Tim Ahern and Kate Donatelli of The Trust for Public Land.
Calling all HuffPost superfans!
Sign up for membership to become a founding member and help shape HuffPost's next chapter
This post was published on the now-closed HuffPost Contributor platform. Contributors control their own work and posted freely to our site. If you need to flag this entry as abusive,
send us an email
.