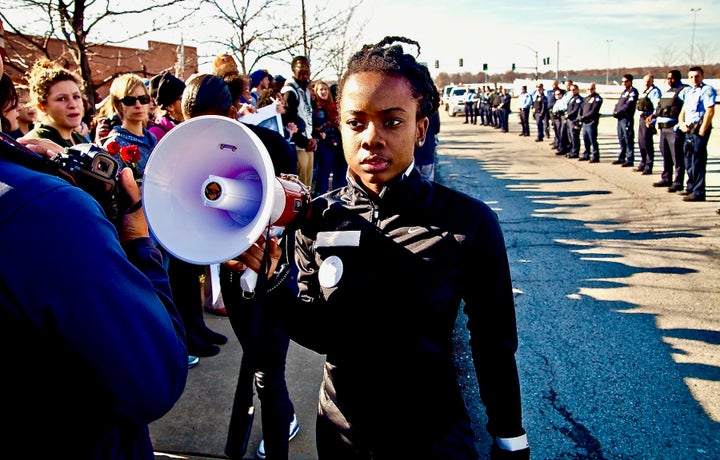 On August 9, 2014 in Ferguson Missouri, Michael Brown, who was unarmed, was shot dead by Darren Wilson, a white police officer. His body lay on the ground for four hours, cordoned off by cops. This incident sparked a cycle of unrest in this northern suburb of St. Louis that evolved into demonstrations and a national movement. Whose Streets? takes you to the epicenter that became a wake-up-call for a previously sleepy generation of black millenials.
The creators of this eye-opening project are writer/director/producer Sabaah Folayan, who journeyed to Ferguson in September 2014 with cinematographer Lucas Alvarado-Farrar to chronicle what was the beginning of a transformative time. Co-director/producer Damon Davis, a St. Louis artist who's worked in music, film and painting, partnered with her. This thoughtful and artistic team was augmented by composer Samora Abayomi Pinderhughes and editor Christopher McNabb, who respectively added a memorable urban soundtrack and deft editing to the 100 minutes of film that must have been culled from hours-upon-hours of raw footage.
The documentary is divided into five chapters that parallel the initial incident, then ad hoc memorials at the scene of death, mounting awareness, demonstrations, rioting, a fight for justice and the outcome of those efforts. A normal informative documentary would just report the facts and figures with interviews, archival footage and news clips. This insightful non-fiction film follows the lives and experiences of protestors who stayed in the battle; from organizing protests, to dodging tear-gas canisters in the heat of confrontations, to adjusting to the toll their participation took on their lives, careers and families.
Brittany Ferrell, a young nursing student, meets Alexis Templeton and the two women, who eventually marry, form Millennial Activists United (MAU). They are dedicated social/revolutionaries and organizers. Brittany: "You sacrifice your comfort, your security…. you sacrifice everything to do this work." A local resident named David Whitt, a father of four children, is galvanized after hearing multiple shots on the night of the killing. He is rarely far away from the center of activity without his camera in hand. Whitt is estranged from his father, yet his dad reaches out to him to say he is proud that his son is involved with social change. Whitt: "Since the police are not being held accountable we have to hold them accountable."
Other activists (Tef Poe, Kayla Reed and Tory Russell) have their reasons for participating in the movement. And as they do, the filmmakers' cameras are looking over their shoulders, into their living rooms, courtrooms and onto the front lines as they stare down growling police dogs, stern cops and even police officers who have tears in their eyes.
The actions of these people are not just about one man's controversial death and the justice system's response. The fight is also about the treatment of low-income African Americans and the daily indignities that are commonplace. The culmination of the incident and decades of discrimination provides the fire in the belly that is manifested by the featured activists on view and those who join them. As one anguished mom puts it, "I don't want you killing my child just because he walked out the door."
The emotions on view run the gamut from shock, to mourning, to grief, anger, outrage, resignation and back again. The one emotion that is not on view so much, though it is a part of the equation and seemingly overlooked, is fear. The exception might be when Brittany is arrested and she has symptoms of anxiety. Being scared must be a part of the experience they're having, but they've found ways to cope and it doesn't debilitate them. Most display a courage and clarity in mission that is astonishing.
2014 was a pivotal time in the way that protests were viewed and organized. As one activist so astutely states, "This is not your daddy's civil rights movement." Indeed, as was the case with the Trayvon Martin, Eric Garner and even the Occupy Wall Street protests, this generation of activists has learned to use social media, smart phones and camcorders to their advantage. Twitter is also a tool of choice. Posters and flyers are almost extinct. A meeting can be called in a minutes with just 140 characters.
Giving depth to their reporting, the filmmakers follow the decision by a local grand jury not to go forward with a case. That choics was mirrored by the Justice Department, whose findings were relayed by Attorney General of the United States Eric Holder, Jr. So did the work of these activists have any effect? If you've heard the expression "Hands up don't shoot," the answer is yes. If getting rid of a police chief and other officials that caused black residents in Ferguson misery is proof, the answer is yes.
What is not in this very absorbing and enlightening documentary are the detailed facts surrounding the case. Camera footage from the convenience store that Brown was in shortly before his death is not shown. Specifics about why the grand jury did not push the case are fleeting. In-depth interviews with direct witnesses or Brown's family are also absent. Insights from police officers who sometimes wear wristbands saying, "I am Darren Wilson," would have added a wider perspective and given the audience even more to contemplate. But in truth, even a two-semester college course could never unearth and analyze all the facts and details involved in this epic and complex case.
Clearly there is room for other documentaries to explore the actions surrounding Michael Brown's death, the aftermath and all the implications. Whose Streets? chose a specific vector: a glimpse into the lives of the people who felt justice had not been served and were determined to find it. In that way this film's insights are illuminating.
This is courageous, grassroots filmmaking at its best.
Visit NNPA News Wire Film Critic Dwight Brown at DwightBrownInk.com.
Support HuffPost
The Stakes Have Never Been Higher
Related
Popular in the Community